Posted on
Georgia State Retirees Fight for COLAs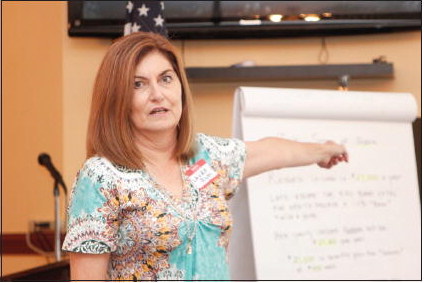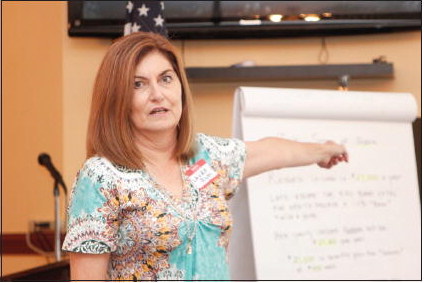 mrandolphadvance@gmail.com
The Georgia State Retirees Association, Savannah Coastal Chapter, met in Lyons on Thursday, September 7, to discuss the need for state retirees to band together in the fight to receive Cost of Living Adjustments (COLAs) to their retirement payments.
The Association has three missions: to protect pensions, obtain COLAs, and ensure that all retirees have health care benefits. According to the group, inflation has risen in the state by 41.4% since 2009; yet, state retirees have only received two COLAs in those years – a one-time 1.5% adjustment in 2022, and a one-time 0.5% adjustment in 2023.
Meanwhile, the representatives shared that educators in the Teacher Retirement System receive COLAs of 1.5% every 6 months, other public school employees in the Public School Employees Retirement System (PSERS) got 3% COLAs, legislators within the Legislator Retirement System receive 2% COLAs, and judges, lawyers, and district attorneys in the Judicial Retirement System received 2% COLAs.
"I know everyone has felt the effects of inflation," Savannah Coastal Chapter Member Lorr Elias remarked. "What has happened to us in terms of our loss of any kind of COLAs compared to what happened to other groups – I call it elder abuse. There is a definition [of elder abuse] by the World Health Organization that says elder abuse is 'a single or repeated act or lack of appropriate action occurring in any relationship where there is an expectation of trust, which causes harm and distress to an older person.' In my personal opinion, we are experiencing elder abuse."
Elias went on to share that the Association had formed as a method to have a voice in legislative decisions through lobbying. "[The Association members] have had to work hard just to get what we have gotten recently in the last two years," she added.
According to the Association, currently, two bills in the state House of Representatives continue to threaten the possibility of future COLAs for state employees. The group said that House Bill 824 would create a new law enforcement retirement plan to be bundled together with other state retirement plans and funded through the same pension fund, meaning that Georgia State Troopers and others will be given significant benefits as retirees, which will reduce or eliminate the possibility of an adjusted income. Also, House Bill 746 will allow state retirees to receive certain amounts of retirement pay while simultaneously working a job, further diminishing the retirement fund.
In order to fight these bills, the Association shared the need for membership, which costs $20 per year. This membership helps to fund the lobbying efforts of the group, which is currently composed of 5,500 members. Through membership, the group will also keep everyone informed of the happenings that affect or may potentially affect state retirees' benefits, such as the voting on these bills. Attendees were also encouraged to reach out to their state senators and representatives to share with them perspectives on the legislation, as the Association representatives confirmed that they planned to meet with Senator Blake Tillery (R-19) of Vidalia at an undecided date to discuss the issue.
Savannah Coastal Chapter Representative Laura Ryan also emphasized the difference in bonuses and COLAs, stating that bonuses limit the amount of income that state retirees may receive. She shared a story of "Rosie the Retiree" comparing the impact of bonuses and COLAs on a $27,000 income per year. According to Ryan, if Rosie receives two 1.5% bonuses added to her income each year, she will receive up to $40,000 less than she would receive if she was given a COLA each year. "This is elder abuse and it's discrimination," Ryan stated. "We are being undervalued."
The group concluded the meeting informing the audience of the Association's annual meeting, which will be held on October 9-10 in Columbus. A membership sign-up after the meeting garnered 12 new members and interest in forming a local chapter of the Association.
For more information on the Georgia State Retirees Association, visit the group's website at www. mygsra.com, or email savannahgsra@ gmail.com.