Posted on
Porchfest Will Rock the Neighborhood This Saturday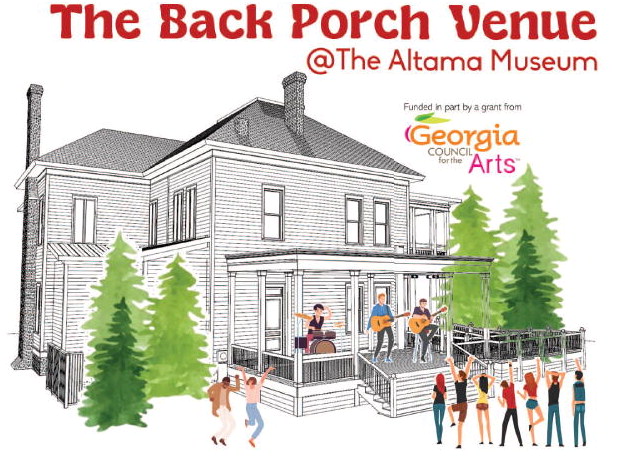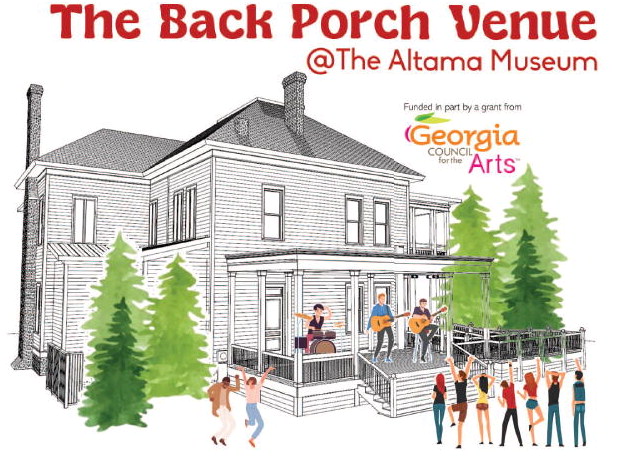 mrandolphadvance@gmail.com
Music, art, and food will bring the community together again this Saturday, November 18, as the Vidalia Porchfest spreads across Jackson Heights from 10 a.m. until 6 p.m.
According to Porchfest Committee Chairman Wes Chapman, the festival was originally designed to be held during this season – Fall – but unforeseen circumstances led to it being held initially last March. "We're bringing the festival back to begin its celebration when it was intended – the Fall. We plan to hold it this time of year every year from now on," he emphasized.
The event will have a similar setup as the March celebration as various bands and porch performers will be scattered throughout the neighborhood. Artisans will be selling their wares at the Altama Museum of Art & History from 10 a.m. until 4 p.m. and performances will go on from noon until 6 p.m. during the festival.
Artisans scheduled to set up at the event include Panick Inc., Finer Frontier, Inner Crafters, BitandBug Designs, Destiny's Raging Candles, Grace & Goodness Botanicals, Purplicious Jewelry, Loops & Moore, Tres Chicas, Sh'macarons, Dot's Kindling, Special Kneads, Sewn by Sarah Ellis, Needle & Hook Stitchery, Fanny's Monograms, Letty Peterson, Whimsy Creations, and Escape Art by Scott. "Everyone should bring their spending money – this is a great opportunity to get some Christmas gifts for people in your life," Altama Museum of Art & History Executive Director Jenn Martinez commented.
In addition to these artisans, several food vendors will also be set up, including Renae's Café, Lottie's Pocket, Nineteen-O-Three, Roadtisserie, Scoops, Elkhatib's Mediterranean Sizzle, Red Stag Tavern, Pie Society, M & J's Backyard BBQ, Ocean in Motion, and Johnny Boy Cookies.
All of these vendors and artisans will be set up at the Altama Museum of Art & History on Jackson Street, and will begin their sales at 10 a.m. This location will also host a demonstration by artist Scott Gore to exhibit his painting techniques, which will happen throughout the day, along with a showing of the University of Georgia vs. University of Tennessee football game at 3:30 p.m. for all Georgia Bulldog fans.
Starting at 12 p.m., performers will entertain audiences from local community members' porches, as attendees are invited to stroll the sidewalks and enjoy the showcases of local talent. The scheduled performances are spread throughout the neighborhood, and will go on all day until 5 p.m. The scheduled performances are: • 11 a.m.-12 p.m.: Franklinia Playhouse (502 Jackson Street) • 12 p.m.-1 p.m.: Ethan Wynn (710 Jackson Street); Kristin Powell (Dr. Mark & Tonya Spivey Public Library); Benwa (405 Durden Street); Venus Valensia (504 Durden Street)
• 1 p.m.-2 p.m.: Lo Wave (Altama Museum of Art & History); Timmy & the Trilobites (Toombs County Prevention, Treatment, & Recovery); Brewton-Parker College (206 Pinecrest Street); Dave & Tracy (411 Jackson Street); The Oaks Ukulele Band (Comfort Care Hospice); Savanna Poole (504 Durden Street) • 2 p.m.-3 p.m.: Screaming Ghosts (409 Durden Street); Black-HAMMOND (The Davis House Photography Studio); Red Shed Band (710 Jackson Street); Brian Hamilton & Friends (503 Durden Street) • 3 p.m.-4 p.m.: Indulgence (404 Jackson Street); Kaylee Randolph (503 Durden Street); Joseph Golightly (711 Jackson Street); Dondi Blazar (206 Pinecrest Street); Station 7 Band (611 Jackson Street) • 4 p.m.-5 p.m.: Judson Hall (601 Durden Street); Tiger Creek Band (404 Jackson Street); Katie Peltier (711 Jackson Street) Upon arrival at the event, attendees may visit the Altama Museum of Art & History to get a map of the neighborhood, which will outline the performance areas, schedule, artisan areas, and more. This map will also be available online at the Vidalia Porchfest Facebook page. Preparing for the Future
The Altama Museum is preparing for future Porchfests and other activities, as the museum has gained a Cultural Facilities grant from the Georgia Council for the Arts to create the 'Back Porch' – a relaxed outdoor staging area behind the museum.
The museum is one of 31 entities in 23 counties across the state to receive funding, for a combined total of $1.2 million for the acquisition, construction, restoration, or renovation of a building to be used for arts programming.
"These grant dollars will allow arts organizations in Georgia to focus on their primary mission to bring art and cultural events to their communities by ensuring their facilities are in good condition," said Georgia Council for the Arts Director Tina Lilly. "Georgia Council for the Arts is excited to help our arts communities continue to foster economic and cultural vitality by improving their facilities, and we are grateful to the Georgia General Assembly for providing this support to improve quality of life across the state."
Georgia Council for the Arts received applications from arts organizations from across the state, including performing arts centers, museums, galleries, amphitheaters, and arts classroom spaces. Cultural Facilities grants are available to arts organizations for repairing, preserving, or acquiring an arts facility, or for purchasing equipment.
According to Altama Museum Executive Director Martinez, this grant funding will be combined with investments from the greater Vidalia community to construct a "Back Porch Venue" addition to the rear of the museum. This new combination stage-porch will support increased programming, including The Altama's flagship event Vidalia Porchfest. The space will also be available, along with the rest of the historic 1911 Brazell House, as a unique venue for weddings and other social occasions.
"The 'Back Porch' will enable us to offer concerts, demonstrations and social events in a safe and pleasant environment that responds to the needs of our patrons and artistic partners," Martinez emphasized. "We look forward to expanding and diversifying arts opportunities for The Altama and Toombs County."
These fundraising efforts will begin this weekend at Porchfest, as attendees have the option to donate toward the needed matching funds for the project.
FDI-1867M-A AECSPAD – jwxk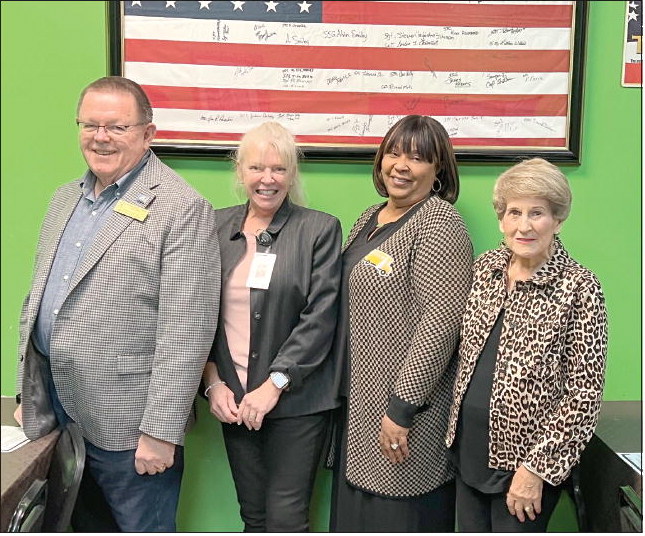 TCREA NOVEMBER MEETING — Toombs County Retired Educators Association met Thursday, November 2, 2023, at Chatter's Restaurant. The speakers were Johnny Smith, Director of Communications for Georgia Retired Educators Association, who gave the latest updates from the GREA Governing Board, and Lisa McKensie, AMBA representative, who discussed AMBA insurance benefits for educators. L to R: Johnny Smith, Lisa McKensie, and TCREA members Kay Summerset and JoAnne Beasley.