Posted on
Icelanders Breeze Through Toombs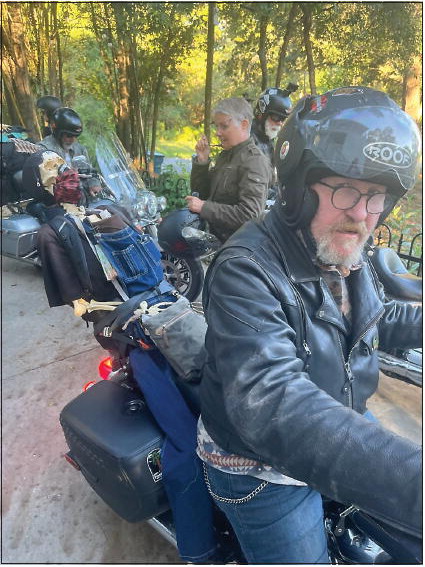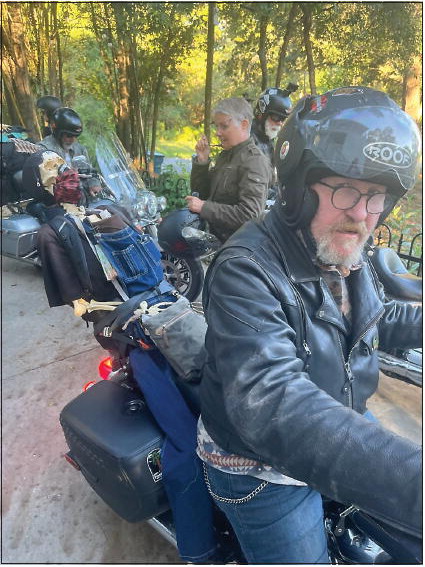 A group of friends from Iceland breezed through Toombs County on September 22 as they continued their motorcycle trip across the Southern United States. Stopping over at the historic Nine Columns Bed and Breakfast in Lyons where they were met by their host Victor Wolfe, the cyclists were nearing the end of a journey that began in Los Angeles on August 22 and ended the following week at Orlando, Florida, just ahead of Hurricane Ian.
How they got from their home in Reykjavik, Iceland, to South Georgia is quite a story. The Icelanders agreed that they were just doing what anyone would do if they had the chance — leaving their cares behind, enjoying the wind on their faces, and relishing the ride.
After renting their motorcycles in LA, the group headed up the California coast to Monterey, visited Yosemite National Park, then turned northeast to take in the sites in Wyoming, South Dakota, and Utah. They visited Jackson Hole, rode the famous Bear Tooth Highway in Montana, saw the Great Salt Lake, and ventured into the town made famous by the television series "Deadwood." At least one of the group's members had been to the infamous town in a previous trip and had become a fan. Einar Ragnarsson, who suggested Deadwood as a stop, had also been to Sturgess, South Dakota, well known for its annual motorcycle rally that attracts thousands.
"When I turned 50, I gave myself a birthday present and went to the rally in Sturgess," Ragnarsson said. He owns about 15 motorcycles, many of them vintage. "Some people collect stamps. I collect motorcycles." Ragnarsson's riding partner is a full-size replica of a skeleton that he dresses up in gear he buys throughout the trip. In Lyons, his riding partner sported a new strand of pearls that were a gift from Wolfe. The Icelanders took in the Bad Lands of South Dakota where they stayed at a ranch before traveling south to ride through Kansas, Nebraska, and Missouri. The group stayed at a B& B in a little town in Nebraska with 150 residents spread out over 200,000 acres. Their road trip took them to Hurricane Mills and Nashville in Tennessee, where they toured the famous downtown music scene — but did not visit the Grand Ole Opry because of time constraints.
They rode through the Great Smoky Mountains and tackled some famously treacherous trails like "Tail of the Dragon" and "Hellbender." They exited Tennessee and rode into Georgia at Chattanooga, making their way through the state and stopping for the night in Lyons. Their stay in Toombs County included going for pizza and ice cream in downtown Lyons.
The travelers always opt for the backroads where they can absorb the scenery at a slower pace and meet interesting people along the way. In fact, when asked what was most memorable about their trip, they agreed unanimously that it was the kind and helpful people they met. All of the members of the group speak English, albeit with charming accents which sometimes require the listener to ask a question a second time.
The day they arrived in Lyons, the early fall weather felt more like high summer with temperatures in the upper 90s. Coming from a country where hot weather is 70 degrees F., the group was eager to jump into the pool at Nine Columns after their road trip through Georgia.
This was the second trip across the United States for most of the Icelanders. They had toured the South and Southwest about four years ago. They hope to return to the U.S. as soon they can.
In Iceland, where retirement age is 67 to 70, the workforce is granted a four to six week vacation, allowing for extended holidays. That is just one of the perks of living in Iceland. Health care is free, crime is low, and it is a great place to raise children. The country is clean and energy-efficient; the capital city runs on geothermal resources. While sunlight is limited at certain times of the year, Iceland is renowned for its dramatic landscape of glaciers and geysers.
Of course, what the Icelandic tourists have in common is a love of travel, riding motorcycles and a sense of adventure; but their backgrounds are varied.
Inga Gudmunsdottir is a tailor and a cook — and also an opera singer. Musicianship runs in the family. She is the sister of internationally- known musician Bjork. Ragnar Ragnarsson is a construction supervisor and a carpenter. Svan Hiltur is an office manager, and Jim Fletcher, her companion from the United Kingdom, is a mechanic and owns a bicycle shop. They two met in France where Fletcher was "bumming round" and she was in college. Einar Ragnarsson is an electrician and a lineman for the national power company in Iceland. He is Ragnar's brother. Jon M. Sigurdsson repairs automatic machines. Elisa Gudmunsdottir (not related to Inga) draws mechanical plans for architects.
While the motorcyclists enjoyed seeing the U.S., and may come back some day, they were eager to get back home to see their families. Like Dorothy said in the Wizard of Oz, "There's no place like home."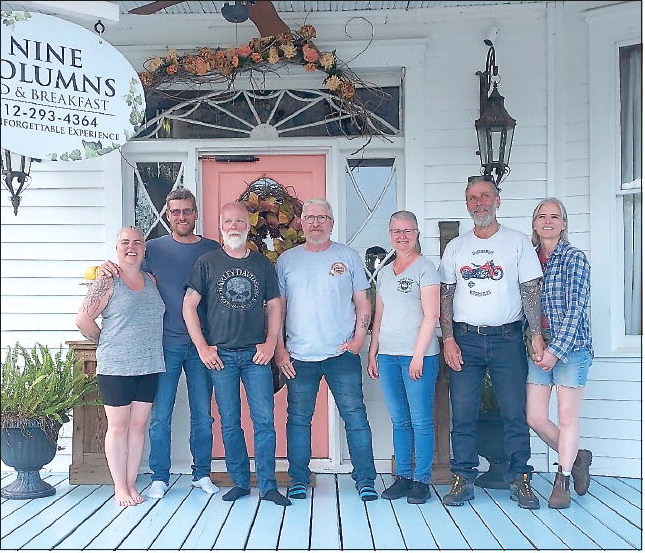 ON THE PORCH — Gathering for a group photo on the porch of Nine Columns B&B in Lyons, are from left, Inga Gudmunsdottir, Ragnar Ragnarsson, Jon M. Sigurdsson, Einar Ragnarsson, Elisa Gudmunsdottir, Jim Fletcher and Svan Hiltur.Photo by Deborah Clark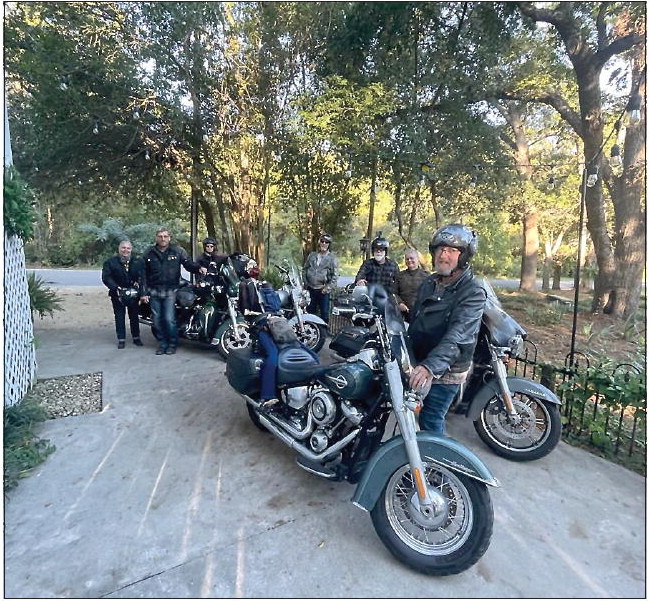 TAKING OFF — The motorcylists from Iceland depart Nine Columns B&B on September 23 and head for Florida, the last leg of their tour of the United States.Photo by Victor Wolfe