Posted on
Lady Dogs Over Pierce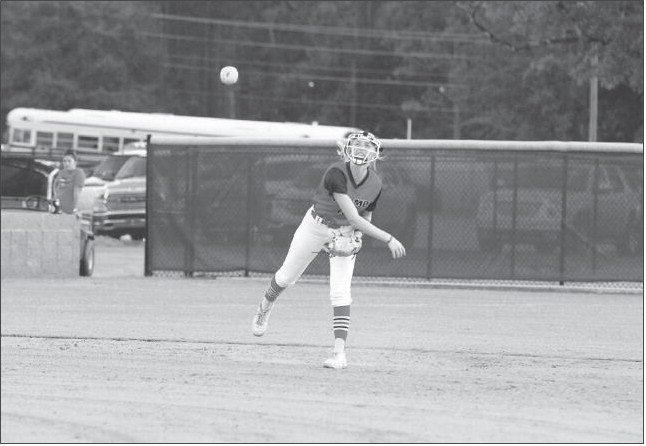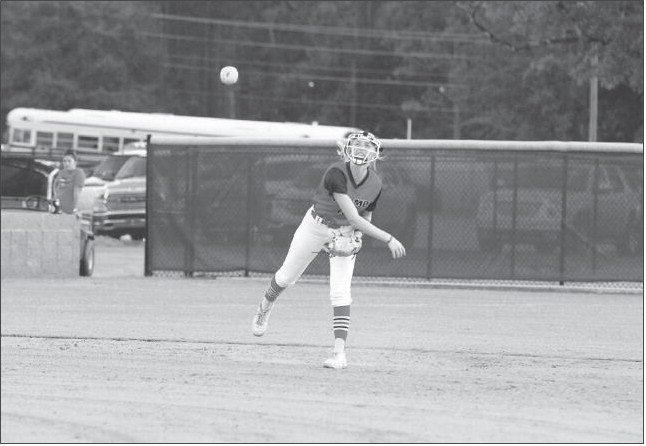 The Toombs County High School Bulldogs softball team took on three Region foes last week as they faced off with Appling County, Pierce County, and Vidalia. The Bulldogs dropped their games to Appling and Vidalia but got a win over Pierce.
Vs. Appling
The Lady Dawgs fell behind early and couldn't come back in a 7-1 loss to Appling County on Tuesday of last week. Appling County took the lead on a single in the second inning. And scored in every inning after but the 6th. Appling added two runs in the third, fourth, and fifth innings to build up a 7-0 lead over the Bulldogs. Toombs finally got a run on the board in the top of the sixth inning, but dropped the game 7-1 to the defending AAA State Champions Toombs County struggled to contain the highpowered offense of Appling County, giving up seven runs. The Bulldogs could not get their bats going as Appling County's pitcher threw all seven innings striking out 15.
Shay Stringer led things off in the circle for Toombs. Stringer allowed five hits and five runs over three and a third innings, striking out four. Casey Cantwell threw two and two-thirds innings out of the bullpen.
Vs. Pierce
On Wednesday the Bulldogs took on Pierce County and bounced back with a win. Toombs County pulled away for good with five runs in the third inning. In the third Kassidy Brantley singled on a 1-2 count, scoring two runs, Stringer singled on the first pitch of the at bat, scoring one run, Brinley Miller was hit by a pitch, driving in a run, and Natalie Quintero singled on the first pitch of the at bat, scoring one run.
Stringer was credited with the victory for Toombs. She went four innings, allowing no runs on five hits, striking out six and walking zero. Casey Cantwell started the game for Toombs County. The righthander allowed five hits and three runs over three innings.
Toombs County socked one home run on the day. Cantwell went deep in the fourth inning.
The Lady Dawgs totaled nine hits in the game. Riley Lumley, Stringer, Quintero, and Cantwell all managed multiple hits for Toombs County Varsity Lady Dawgs. Cantwell, Quintero, Stringer, and Lumley each collected two hits to lead Toombs County Varsity Lady Dawgs. TCHS Head Coach Hayne Brant said, "I'm proud of the girls and how we came out and played against a very good Pierce County team."
Vs. Vidalia
Toombs County fell behind early and couldn't come back in a 9-2 loss to Vidalia on Thursday. But the score was 5-2 in the top of the seventh inning before the Indians pulled away late. After Vidalia scored one run in the top of the third, The Lady Dawgs answered with one of their own. Vidalia scored when Lydia Smith hit a solo homer. TCHS then answered when Kassidy Brantley grounded out, scoring one run.
Stringer pitched and allowed nine hits and nine runs over seven innings, striking out three.
The Lady Dawgs collected seven hits on the day. Riley Lumley and Stringer all had multiple hits for Toombs. Lumley went 3-4 at the plate to lead the Bulldogs.
Coach Brant added, "Well, this was definitely not the outcome we wanted. We did not play good defense and we did not get timely hits. I am still proud of how we still had fight after giving up 4 runs in the top of the seventh. If we didn't give up those runs, we had a chance to tie the game up in the bottom half. But next week is going to be another big week for us."
Toombs is now 7-10-1 on the season and they are 1-7 in Region play.
This week the Bulldogs faced off with Wheeler County on Monday and Brantley County on Tuesday both after presstime. They will be back in action on Thursday in Blackshear against Pierce County at 6:00 p.m.