Posted on
Former FBI Agent Speaks on Fraud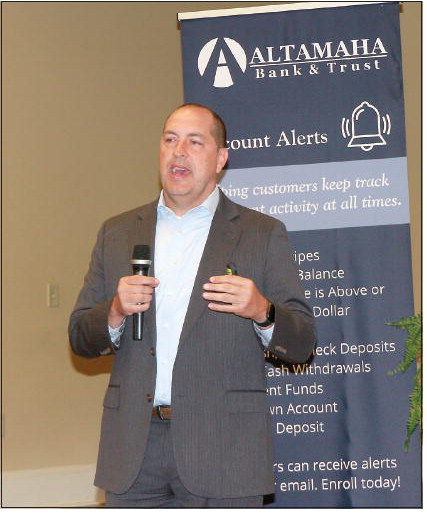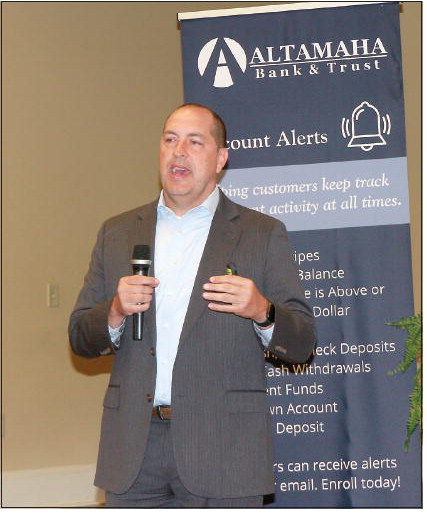 During a fraud forum held by Altamaha Bank & Trust, former Federal Bureau of Investigation (FBI) agent Todd Renner spoke to attendees about cybersecurity threats and ways which they may protect themselves. Renner made a career out of handling cybersecurity, as he served as the FBI representative to the National Security Agency (NSA) and U.S. Cyber Command. He now travels throughout the nation to inform others of cybersecurity threats and the best way to manage them. One of the most important tips which Renner gave was to utilize the ic3. gov website. "Whenever you find that you have been struck with fraud, submit your instance to the ic3. gov website," he told attendees. "This website is essentially Cyber 911. You may never hear back from the report, but it notifies authorities of the instance and allows them to begin working to return security to your accounts." According to Renner, there have been $43 billion of cyber crime since 2013 – a number that continues to rise. "There are tons of different threats and schemes criminals use to commit fraud," he explained. "We have to be aware of these tactics to avoid falling into them."
Some of the methods which Renner says criminals use to steal information and commit fraud are sending fake invoices to emails and manipulating people through sympathy and romantic relationships to send money to help "loved ones." He even shared that a common target of fraud is elderly people, as even the former director of the FBI was targeted in one of these schemes, which promise elderly goods and services without ever delivering.
He also shared that there are threats of Chinese and Iranian interventions within the American cyber world. There is also the threat of criminals within the United States hacking into the cyber world, as Renner says all cyber criminals have one goal: money. "They are all seeking money – that's what drives them in this effort." Tips for Cybersecurity and Fraud Awareness Renner and officials from Altamaha Bank & Trust shared several tips to avoid being scammed by cyber or fraud criminals.
• Be skeptical of tele phone calls, text messages, and emails claiming to be from your bank. Always immediately call your bank and verify if it is them.
• Always call a busi ness and confirm they sent an invoice before paying it.
• Never give private information, such as your social security number, bank account number, passwords, or Personal Identification Number (PIN) over the phone. Your bank will never call and ask for this.
• Don't trust caller ID or emails. Fraudsters often manipulate these to look like some business or someone you know.
• Use caution when clicking links in emails.
• Back up your com puter to a source outside of the internal computer storage.
• Acquire secure pass –
words.
Reflections from Altamaha Bank & Trust
Bank Information Security Officer Michaela McCoy says the bank was inspired to hold this session after seeing multiple financial fraud attempts locally throughout the past several years. "Our customers and community members need to be aware of the various scam tactics used by criminals and organized crime rings, so that we are all better prepared to recognize and avoid being scammed. Check scams, romance scams, email hacking, and work from home schemes are very prevalent. If something sounds too good to be true, it probably is." She continued to share, saying criminals now prey on vulnerable members of the population through social media.
McCoy says she hopes this event has not been informative only to individuals, but also businesses. "We hope to encourage local businesses of all sizes to train employees on cybersecurity awareness and ways they can prevent falling victim to Ransomware, Malware, and computer Viruses which seek to steal confidential account information. The threats of business email compromise and other cybersecurity related threats are concerning, but there are steps everyone can take to protect themselves," she said. "We are very pleased with the number of community members who were present at the event, and we feel it was successful," McCoy remarked. "We encouraged the community to stay informed of current fraud trends and to share information with their elderly and younger loved ones who may be targeted by fraudsters. This event was truly a first for us, and we hope to expand and hold educational events like this in the future to help bring awareness and help our community members learn how to recognize scams."
Informational brochures on fraud may be found within any branch of Altamaha Bank & Trust, and the bank has placed links to information regarding the subject on their website.