Posted on
Deputy Clerk Crossing County Line To Assume Post as Probate Judge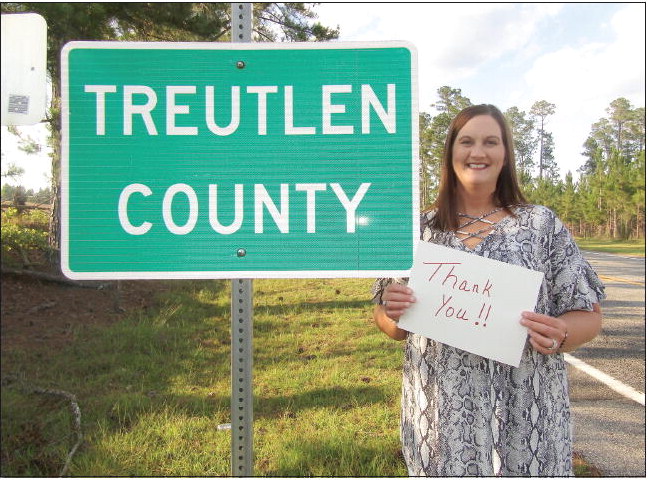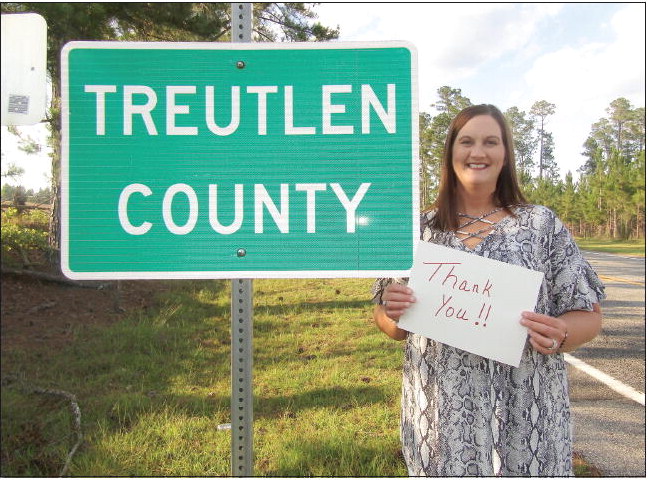 Starting this month, the Montgomery County Probate Court office will be missing a familiar face as longtime Deputy Probate Clerk Tiffany McLendon vacates her position to serve as the Treutlen County Probate/Magistrate Judge.
McLendon, who served under Montgomery County Probate Judge Rubie Nell Sanders for 19 years, won election to her new post in a runoff election on July 13. She said of her reason for seeking the seat, "I have greatly enjoyed working with Judge Sanders and learning from her throughout these years. I love Montgomery County, but Treutlen County forever holds my heart — I feel that it is time to bring the experience and knowledge I have gained back to the county where I grew up," she explained. McLendon is a lifelong Treutlen County resident, graduating from Treutlen County High School in 1998. She lives in the Orianna community of Treutlen County with her husband, Charles "Chuck" McLendon and worked as an administrative assistant at the Treutlen County Farm Bureau insurance agency until joining the office of Judge Sanders.
"Working for Judge Sanders is one of the best decisions I ever made," McLendon said. "I have gained so many skills, and I have truly grown confident in my abilities. Most of all, I have made lifelong friends that have been phenomenal in their support throughout this endeavor."
The Treutlen County Probate/Magistrate Judge position was vacated in April when Judge T.J. Hudson decided to run for the Georgia Secretary of State. Three individuals qualified to run for the position: Treutlen County Deputy Probate Clerk Jackie Gressinger and McLendon as Republican candidates, and Jeremy Johnson as an Independent candidate.
The initial race was held June 15, and the voting was close with Gressinger amassing 320 votes, Johnson earning 396 votes, and McLendon winning 367 votes. The slim margins threw the race into a runoff between Johnson and McLendon with McLendon winning by 272 votes. McLendon spoke highly of her predecessor. "Judge Hudson's shoes will be almost impossible to fill, but armed with experience and guided by knowledge I acquired with Judge Sanders, I feel that I will be successful and I will work earnestly to accomplish my goals." Judge Sanders also shared her sentiments about seeing McLendon go to her new post. "I am so very happy for Tiffany's successful election but this is somewhat bittersweet. She is like a member of my family, and I will miss her greatly. But I am happy for this new opportunity for her and know she will do a great job and serve Treutlen County well!"
McLendon officially began working in the Treutlen County Probate/ Magistrate Court office Monday, August 2. Her swearing in will take place later.
In preparation for her absence, McLendon has trained her replacement Stacie Randolph, who has worked within the County Administrative Operations for many years. Randolph assisted her mother, Lawana Sharpe, in the Tax Commissioner's office from 2002-2004 and has worked with elections intermittently for 20 years. Randolph was guided in the logistics of administrative operations by her stepfather, Dwight Newsome, who served the county as the Clerk of Court and Magistrate Judge for several years. Currently, Randolph has been working under Judge Sanders and Registrar Bobbie Carpenter to oversee elections within the county.
Throughout the years, McLendon and Randolph built a strong and close friendship after meeting through their jobs in courthouse offices. Knowing Randolph well personally and professionally, McLendon felt that she would be excellent in her service to Montgomery County.
"After spending 19 years in the community, I would not want my position to go to anyone who would not love and serve the citizens just as I do," McLendon emphasized. "I have no doubt that Stacie will work earnestly to do her best for the county and I know she will serve the citizens wonderfully."