Posted on
ask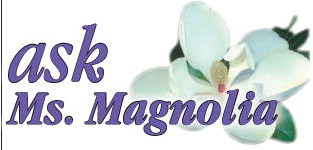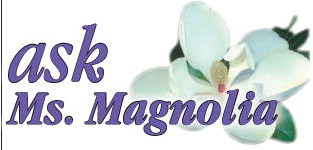 If you have a question for Ms. Magnolia, please mail it to P.O. Box 669, Vidalia, GA 30475, or e-mail to msmagnoliaadvance@yahoo.com.
Ms. Magnolia
Dear Ms. Magnolia, My husband and I farm full-time and are very busy right now. My fatherin- law is in his early 80s and has been diagnosed with cancer. My mother-inlaw has multiple health problems. They are both becoming forgetful, fearful, and crotchety. Every conversation we have with them seems to become an argument with hurt feelings all around. What can we do? H
Dear H, Try to put yourself in their shoes. Nearing the end of life is scary. When you reach this stage of life, how will you want your adult children to act?
Here are some ideas: Check on them daily. Admire things around them. Show them respect. Speak less, listen more. Really listen to their complaints and concerns and write them down. Give them time to think, to respond. Don't interrupt or correct them if they get unimportant details wrong. Answer their questions honestly, but avoid giving unnecessary details. Don't give advice unless it is asked for. Don't be bossy.
If you are legally handling their personal and financial affairs, keep
them involved, and never make any major decisions without their knowledge. Keep it simple. Stay calm. Let them know that the bills are being paid on time, arrangements for appointments are being made, and the pets are being taken care of. Work with them, not against them.
Encourage them to tell you stories about their past for the umpteenth time. Good memories can be very beneficial. Ask questions. Show inter est. You might even want to video or audio record them for future generations. You don't have to solve all their problems, just have the compassion to listen, to hug, to hold hands. Your main focus should be, "I want to understand and help."
Letters have been edited for length and clarity.