Posted on
Eagles Fall To Portal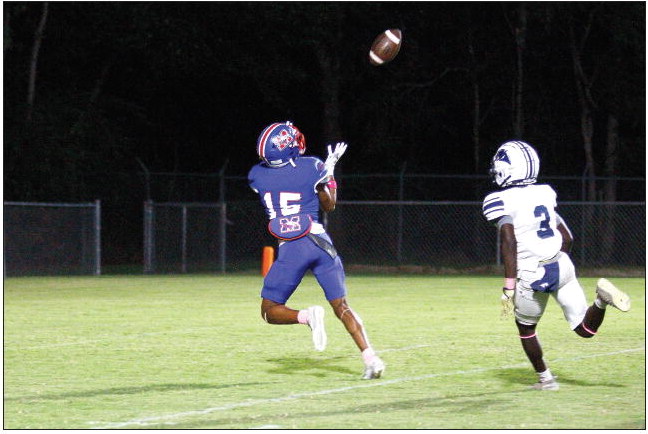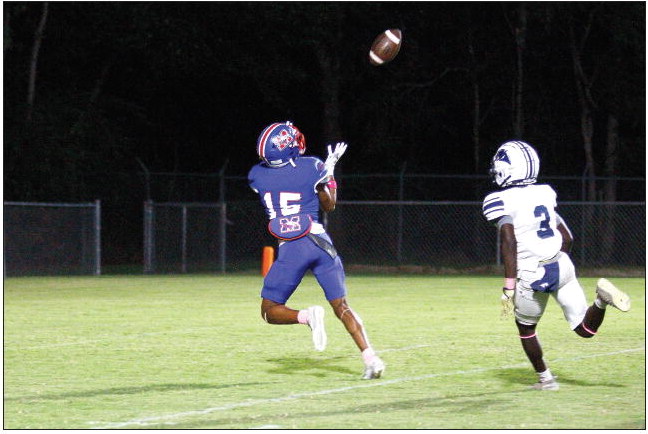 Courtesy of MCHS
The Montgomery County High School Eagles jumped out to an early lead in their first Region contest of the year over Portal, however Portal proved too strong for the Eagles and pulled away for a 51-23 victory over the home team.
The Eagles started out the game by recovering a botched kickoff return by the Panthers and recovered the ball on the opponent 40-yard line. It took the Eagles only a few plays before quarterback Joseph Owens found Marquis Martin in the end zone for a 37 yard touchdown pass. Martin also ran in the two point conversion to give the home team an early 8-0 lead. Portal came down the field with a long drive of their own and tied the game at 8-8. Portal was able to force a turnover on the following MOCO drive and went down to score once again to increase their lead to 15-8. Portal threw a 90 yard touchdown pass with only a few seconds left until halftime to make the score 29-8 at halftime.
The Eagles came out after halftime and put together one of their best drives of the night that was capped off by another touchdown pass by Owens, this time finding Tristian Bell for an 8 yard touchdown pass to make the score 29-15.
Portal proved to be too strong for the home team in the second half, scoring three more touchdowns in the second half. MOCO was able to put together one more scoring drive in the fourth quarter capped off by a 29 yard touchdown run by Jamun Coglin, but it proved to be too little too late, as the Eagles fell to Portal 51-23.
Owens finished the night with 13 completions on 23 attempts for 113 yards and two passing touchdowns. Martin was the leading receiver for the Eagles with 6 catches for 74 yards and a touchdown, while Coglin was the workhorse on the ground with 138 yards rushing on 26 attempts and a touchdown. Darius Wells led the defense for MOCO with 11 tackles.
The Eagles go on the road this week to McIntosh County Academy for another region contest. Kickoff is scheduled for 7:30 p.m.