Posted on
TCES Clubs Shine at Board Meeting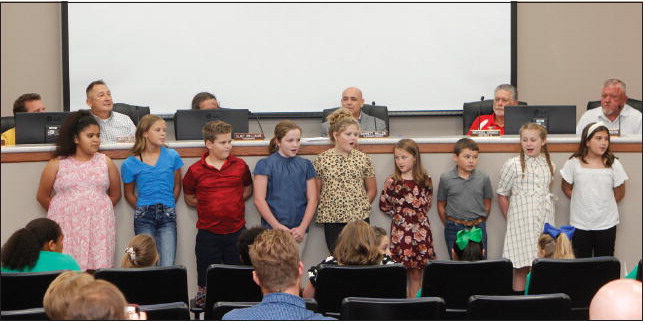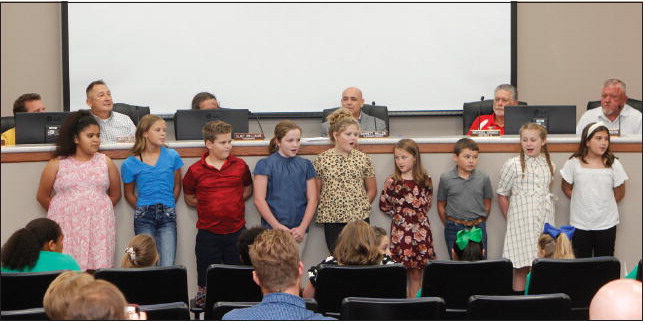 mrandolphadvance@gmail.com
The regular monthly meeting of the Toombs County Board of Education was filled with students on Thursday, September 14, as the Toombs Central Elementary School Children's Choir, Spanish Club, and Kindness Club all gave presentations during the monthly Spotlight on Student Achievement in Schools.
Each month a school within the Toombs County School District is given the opportunity to speak on accomplishments and activities in which the students are engaged. This month, Toombs Central Elementary School was set to present, and decided to allow the three clubs to speak on their involvement and activities, showcasing the diverse options for elementary school students to participate in extracurricular activities. The Children's Choir, led by Rachel Davis, began the presentations, as they performed a worship song for the Board and meeting attendees. The Spanish Club followed, as Club Sponsors Michelle Padgett and Ivone Smith shared that their group focused on learning about the foods, traditions, and flags from each Spanish-speaking country.
"Last year, we started the Spanish Club at Toombs Central, because we wanted to let our students – grades two through five – be able to learn a little bit more about different cultures, specifically Spanish- speaking cultures, as a lot of these children have never traveled beyond the U.S. and do not know a lot about other places," they explained.
The Kindness Club took turns speaking to the Board about why they chose to be a member of the organization, citing reasons such as desire to be a light in their community and school. Currently, the Club, which was formed after the discovery that a student was being bullied, has 150 members who have all been inspired by what they learn during meetings. One student, Anniston Hartley, even shared that the Club had inspired her to create a space at school where she collects dental floss and other oral health items to give to students.
Toombs Central Elementary School Principal Destiny Levant commented on the clubs. "We highlight and take pride in our student achievement, but at the same time, we know that we teach students more than just reading, writing, and arithmetic at schools. We teach them how to cope, how to be, how to live, how to sing – so, we're happy to highlight some of the extra that goes into our school," she emphasized.
During the meeting, Superintendent Barry Waller also presented the Extra Mile and WOW Awards, which commemorate a certified and noncertified staff member each month for going above and beyond their expected duties.
The Extra Mile Award, which honors certified staff members, was presented to Audio/Video Pathway Teacher and ESports Coach Tyler Corley. "Mr. Corley has taught for 9 years in the Toombs County School District. During that time, he has demonstrated a level of dedication and commitment that is truly exceptional," Waller read from the award nomination. He went on to share how Corley had excelled in his work with the ESports team, which has gained many accolades in its three years of existence, as well as the school district You-Tube channel.
The WOW Award, presented to a classified employee each month, was given to Lyons Upper Elementary School Secretary Tara Collins. Waller read the nomination for the award submitted on behalf of Collins. "She goes above and beyond for our school. When you walk in the school at Lyons Upper Elementary School (LUES), she greets you with a warm smile and immediately will do anything to help you.
"Mrs. Collins has a great relationship with students, staff, and parents. Anytime we ask her a question or for help, she will do whatever it takes to ensure that she can help. She is a very hard worker, and will do anything for anyone in the school or our community. We are so thankful to have Mrs. Collins to keep everything at LUES going," he shared.
The Board also officially set its portion of the Toombs County millage rate at 14 mills, which Waller said was as low as the rate could go without causing the district to lose $2.3 million of federal funding. This new rate is rolled back from last year's rate of 14.37 mills, but due to reassessment values, is considered a tax increase because of being 3.79% more than the state-calculated rollback rate.
Board members approved allowing the Toombs County Ag Center to be used on October 6 and 7 for a rodeo, and on October 18 and 19 for a circus. They also agreed to allow students in Toombs Central Elementary School to travel on two out of state field trips – first and second grades to Jacksonville, Florida, on April 12, 2024; and third fourth and fifth grades to Washington, D.C., on March 21-23, 2024.
The Board consented to a land lease agreement for a portion of the school district's property on Quint Shrine Road to be used for the Warmouth Sands Golf Course in exchange for the Toombs County Middle and High School golf teams to be able to utilize the facility.
Also, during the meeting, Waller informed the Board that the current Special Local Option Sales Tax (SPLOST) collections are 3% higher than they were at this time a year ago.
Waller reflected on the Community Tailgate event, which was held on September 8, in Lyons, sharing that several community members, school clubs, and other organizations had come to the Downtown Lyons area to take part in the event. He also stated that there would be an assembly on Tuesday, September 19, during which Rick Gage, who led the GoTell Crusade in Baxley last week, would speak to the middle and high school students. Waller concluded his report by reminding the Board that Fall Break is October 6-11.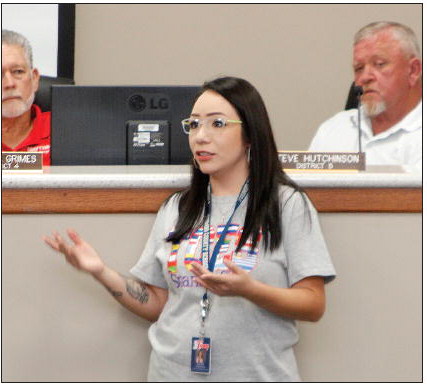 LEARNING ABOUT CULTURE – Toombs Central Elementary School Spanish Club Sponsor Ivone Smith told the Board that the club focused on learning about Hispanic foods, traditions, and flags. She highlighted the students' involvement in a traditional Mexican "Day of the Dead" celebration, and their sampling of several different foods from other countries, such as Colombia, Nicaragua, and Costa Rica.Photo by Makaylee Randolph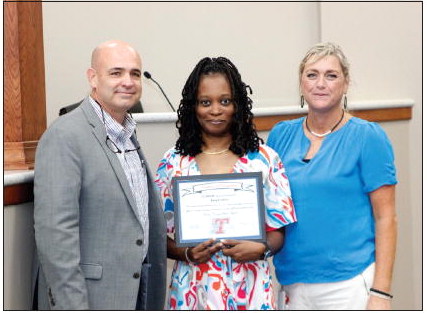 WOW AWARD – L to R: Superintendent Barry Waller, Tara Collins, and Lyons Upper Elementary School Principal Rhonda Stone.Photo by Makaylee Randolph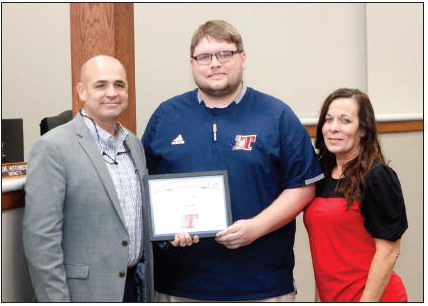 EXTRA MILE AWARD – L to R: Superintendent Barry Waller, Tyler Corley, and Toombs County High School Principal Marissa Morris.Photo by Makaylee Randolph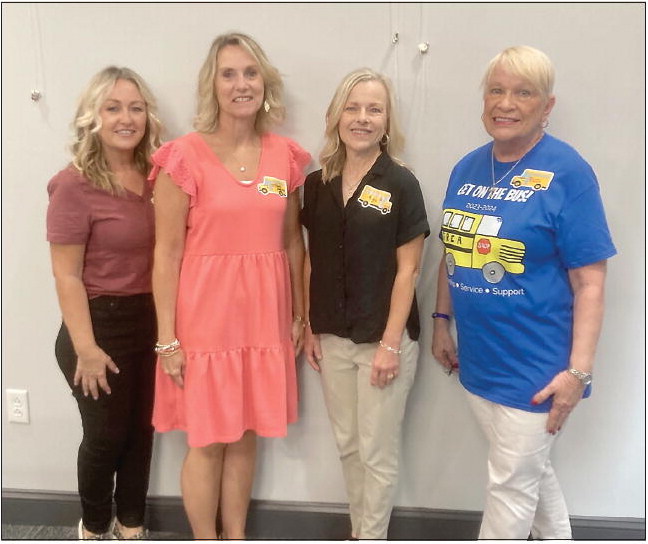 TCREA SEPTEMBER MEETING — Toombs County Retired Educators Association President Lucy Claroni welcomed three newly-retired educators who joined TCREA during the September meeting. L. to R: Joy Collins, Tracy Adams, Angie McKie, and Lucy Claroni.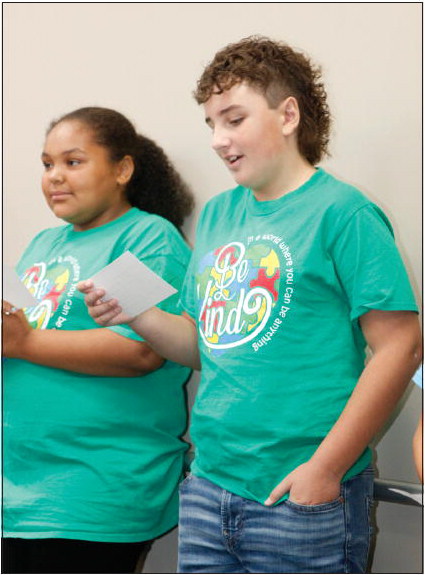 CHOOSING KINDNESS – During the Toombs County Board of Education meeting on September 14, Toombs Central Elementary School fifth grader Bentley Rollins shared that he chose to join the Kindness Club because he wanted to show kindness to his school and community.Photo by Makaylee Randolph