Posted on
Dot Foods Announces Winners of 2023 Forklift Rodeo National Championships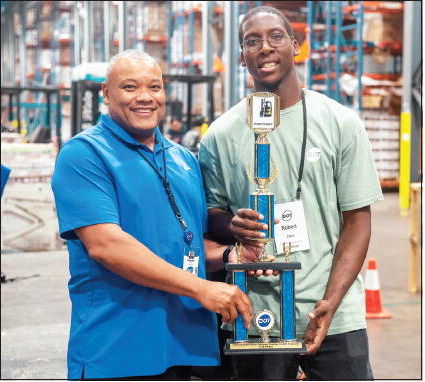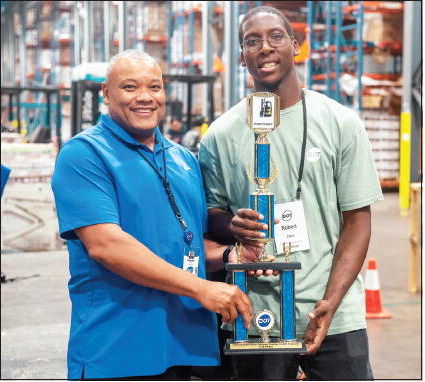 Winners Receive
Expense-Paid
Vacations
MT. STERLING, ILL. — Dot Foods, Inc., the largest food industry redistributor in North America, congratulates employees Robert Dent and Frankie Garcia, both of Dot Foods Georgia; Isaac Flores, Dot Foods California; and Jon Moore, Dot Foods Mt. Sterling. All four employees took home the top prizes in the company's 2023 Forklift Rodeo National Championships.
In this competition, Dot's warehouse employees test their skills on four different pieces of material handling equipment and compete for large prizes, including a trophy, a free vacation, and bragging rights. The event is held annually at its Mt. Sterling, Ill, headquarters.
Each of Dot's 12 U.S. distribution centers holds a regional event, and the companywide national championship brings those finalists from all locations together to compete at the national level in Mt. Sterling. And, for the first time, finalists from Dot Foods Canada's two distribution centers also participated in the National Championship.
"The Forklift Rodeo is a wonderful annual event and one of our favorites at Dot Foods. It showcases the expertise of our warehouse staff, who are the best in the industry," said Chris Landrum, vice president of warehouse at Dot Foods. "The event is a unique way to showcase our warehouse teams' ability to operate safely while also celebrating the incredible job they do every day. And it happens to be a lot of fun as well!"
To win, employees had to show their mastery of job duties and safety practices by completing an obstacle course using one of four pieces of material-handling equipment: narrow aisle, sit-down/stand-up forklift, order selector, and pallet jack. Contestants were penalized for contacting walls, improper stops, incorrect horn usage, and dropping a basketball balanced on a trash can that represents an order. The winners took home a trophy and large prizes, with the first-place finisher on each piece of equipment earning a free vacation.
Dent of Vidalia, Ga., won the forklift competition, Garcia of Uvalda, Ga., won the order picker competition, Flores of Turlock, Calif., won the narrow aisle competition, and Jon Moore of Golden, Ill., won the pallet Jack category. The winners received a travel voucher and Dot will pay for the trip of their choice.
"Our warehouse teams have a challenging job day in and day out keeping America fed," added Landrum. "The Forklift Rodeo is a great opportunity to all gather in Mt. Sterling and celebrate the talents each worker has and continue to build community between distribution centers."
Dot's distribution centers are hiring, and the company has a robust compensation package for employees in addition to their regular pay, including productivity incentives, overtime, and quarterly bonuses. To learn more about careers at Dot Foods, visit Careers. DotFoods. com and follow @DotFoodsCareers.
ABOUT DOT FOODS AND DOT TRANSPORTATION: Dot Foods, Inc. carries 125,000 products from 1,020 food industry manufacturers making it the largest food industry redistributor in North America. Through Dot Transportation, Inc., an affiliate of Dot Foods, the company distributes foodservice, convenience, retail, and vending products to distributors in all 50 states and more than 55 countries. Dot Foods operates 12 U. S. distribution centers, which are located in Bullhead City, Arizona; Modesto, California; Bear, Delaware; Vidalia, Georgia; Burley, Idaho; Mt. Sterling, Illinois; University Park, Illinois; Cambridge City, Indiana; Williamsport, Maryland; Liverpool, New York; Ardmore, Oklahoma; and Dyersburg, Tennessee. Dot's 13th U.S. location will be located in Manchester, Tennessee. Dot Foods' Canadian operations are located in Toronto, Ontario and Calgary, Alberta. A new Dot Foods Canada distribution center is currently under construction in Ingersoll, Canada. For information, visit DotFoods.com.
Dot Foods and Dot Transportation are both looking to fill several positions for full and part-time drivers and warehouse personnel at all U.S. locations. To learn more about careers at Dot Foods visit Careers. DotFoods.com and follow @DotFoodsCareers. For more on opportunities available with Dot Transportation, visit DriveForDTI. com.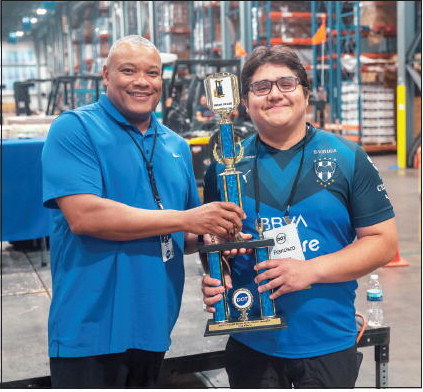 Reggie Cannon, left, Warehouse Manager from Dot Foods New York, presents Frankie Garcia, right, of Uvalda, with the trophy for winning the order picker competition.