Posted on
Raffensperger Rolls Through Rural Georgia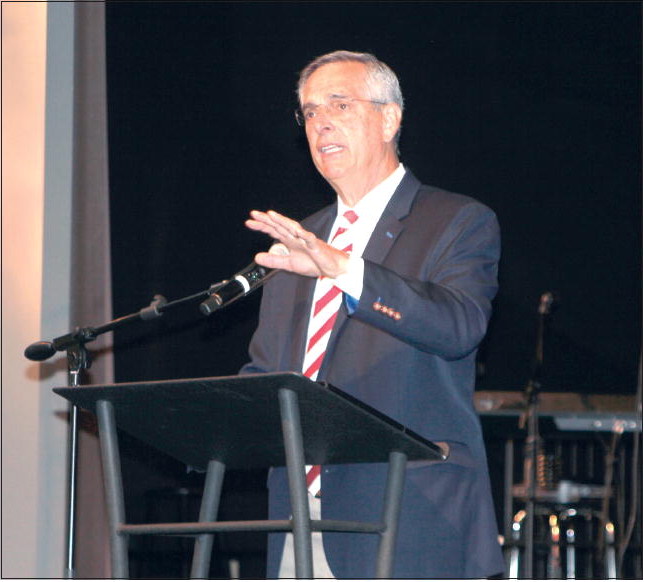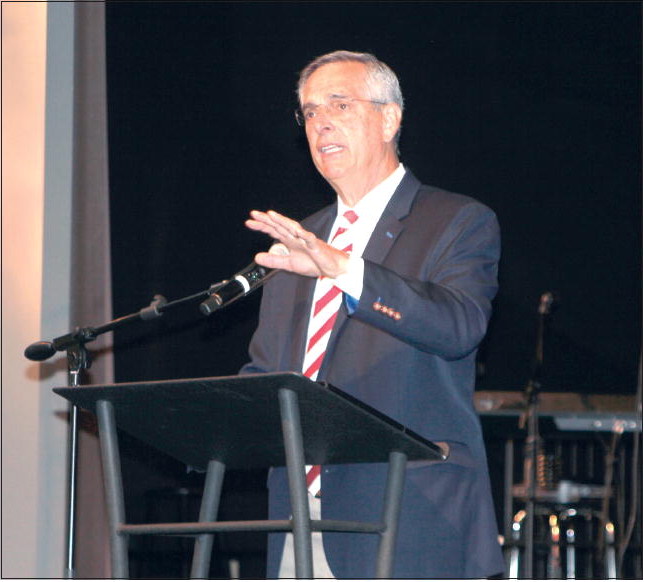 mrandolphadvance@gmail.com
Secretary of State Brad Raffensperger traveled to rural Georgia for a breakfast event on July 21, that was jointly sponsored by the Greater Vidalia Chamber, Toombs County Development Authority, Vidalia Kiwanis Club, and Vidalia Rotary Club, to address concerns about elections, professional licensing, and financial literacy and civics classes for high schoolers.
Raffensperger began by explaining his affinity for small businesses. "I loved what one of our former presidents said back in the 1920s. He said that America's business is business. He said that all he wanted to do was talk about business, then go home around 2 p.m. and call it a day. He believed in limited government, but also empowering individuals to build the best futures they could for themselves and their families while also creating jobs for their fellow Americans. It's really important."
The Secretary of State went on to explain that the business of his office is to oversee elections, professional licensing, corporations, charities, and high school financial literacy and civics education, all of which have an effect on the future of small businesses.
Regarding elections, Raffensperger said, "When people think about the Secretary of State's office, I know most people think that we have something to do with elections. It's hard not to, because you think about what happened in 2018 when one of the candidates running for governor lost by 55,000 votes and did not concede. It took about four and a half years and about 12 lawsuits that we pushed back on and won every single count. Then, we had the 2020 race, and we got it from the other side. So, we've been push-ing back on these kinds of issues since day one.
"I want to give you – first of all – confidence in the election process. It is secure, it is accurate, it is fair, and it is accessible. If you really have a dog in the hunt, and you really care who is elected next year, I encourage you now to get involved in that race and make sure you get people out to vote so you aren't disappointed," he added. According to Raffensperger, there was a great difference in the number of people that voted for the presidential election and those that voted for other offices in the 2020 election. "When we started rolling out the new machines in 2020, we were going to have a new verifiable paper ballot system. I said I knew how polarized America is – that half the people are going to be happy with the results, and the other half would not be – but we wanted people to have confidence in the process. So that's why we went with a verifiable paper ballot system so that we could hand recount 100% of the ballots if we needed to," he stated.
"After the 2020 race, we actually recounted all 5 million ballots of the presidential race. We got virtually the same results. Briefly stated, the reason that President Trump came up short [in Georgia] that many people are not aware of is because 28,000 skipped the presidential race – they didn't vote for anyone on the ballot, and yet, they voted for other races down below. They voted for U.S. Senate, a state representative, a state senator, county commissioner – that's why you saw that your state representatives typically got 5-6% higher totals than President Trump did."
Raffensperger also shared that his office oversaw professional licensing, corporations, and charities. In his work in professional licensing, Raffensperger said that he had learned that the state of Georgia – he felt – licenses too much. "We have 140 different licenses and 40 different boards. But I do think that some things should be licensed. I think that nurses should be licensed because we're talking about public health and public safety. Engineers definitely should be licensed because your structural engineers must design your building to code so that if you have a hurricane, if you have a tornado, it is going to withstand anything that nature throws its way. I think that's about public safety," he shared. "That's why, this year, we formed the Georgia Licensing Reform Commission. It is a bipartisan commission."
This new reform commission is made up of four state representatives – two Republicans and two Democrats, four state senators, and three board members that have been on state licensing boards for over 10 years. Raffensperger also said that the Georgia, Savannah, and Metropolitan Atlanta Chambers of Commerce have been contacted to gain business leaders' perspectives on the issue.
Among those named to this Commission is District 156 State Representative Leesa Hagan of Lyons. "We're really grateful that one of the Board members that we have on that board is Representative Hagan," Raffensperger emphasized. "So we're bringing her on board because she is going to be speaking, we think, not just for her political viewpoints, but she's going to speak to communities across this entire region."
The group will hold its next meeting in Athens, but Macon and Savannah are also in the target list for meeting locations. Raffensperger encouraged the public to contact his office with their perspective and opin- continued from page
ions of what they would like to see different about professional licensing. He also thanked Senator Blake Tillery of Vidalia for his work in the State Senate Appropriations Committee to help raise funding for further expertise for the Professional Licensing Board. "We are very grateful for Senator Tillery, the General Assembly, and the Governor for funding us for three additional analysts on the Professional Licensing Board," he commented.
Raffensperger also shared that during his time as Secretary of State, the number of corporations in the state has increased tremendously. "If you watched the TV stations in 2020 during Covid, you thought, 'Wow, this is really, really bleak. This recession is going to turn into a depression.' Yet, in 2020, in the middle of Covid, we had new record formations. More new corporations were formed in 2020 than any other year up until then. Then, coming out of covid, 2021 was another record year," he emphasized.
In these years, Raffensperger changed the longevity of a corporation licensing from one-year licenses to two-year and three-year licenses, which he said has been utilized by most of the corporations within the state.
Raffensperger closed his presentation by explaining that a new priority of the state government is to provide a competency in financial literacy and civics to Georgia high school students, and that he has contacted the State Superintendent of Schools to aid in the cause.
He finished the event with a question and answer segment, which included his thoughts on the transition of elections from the Probate Courts to Board of Elections, the future of politics, and more.