Posted on
Montgomery County 4-H'ers Attend Cloverleaf Camp at Jekyll Island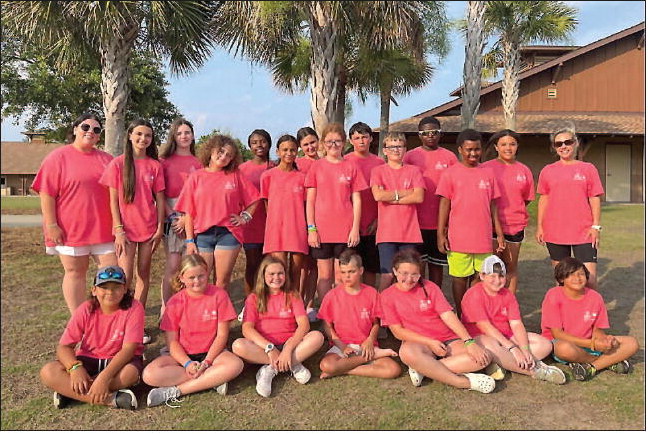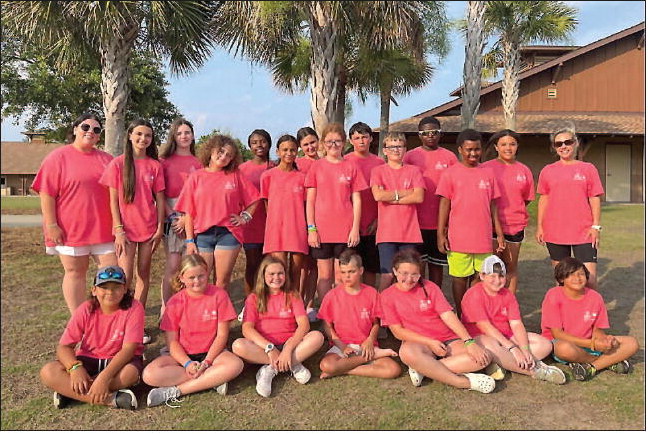 By Lauren Stanley Montgomery Co. Agriculture & Natural Resources/4-H Youth Development Agent
Twenty-one Montgomery County 4-H'ers packed their bags and headed to the coast on Monday, June 5, to spend the week at Camp Jekyll with other campers from Treutlen, Coffee, Appling, Dodge, and Jeff Davis counties. Each group was assigned a color crew and learned they'd be competing throughout the week for the coveted Captain's Bell. Montgomery County campers made up most of the green crew for the week's activities.
Campers participated in a variety of educational activities. These voyages included biking a five-mile trail around Jekyll Island, canoeing, exploring the maritime forest, and spending time with a bearded dragon, corn snake, and turtle in herpetology. The marsh and beach ecology voyages allowed campers to explore both environments, learn more about their surroundings, and even identify some native wildlife!
For the last voyage, campers cast their nets in the Atlantic Ocean and identified the sea creatures they caught while seining. Our campers identified several crab and fish species, a tiny squid, and shrimp!
When not out exploring the island, campers were busy earning points to win the Captain's Bell! Campers swam in the ocean, attended a campfire, took a trip to Summer Waves water park, competed in the Pirate Games and a sand sculpture competition, made s'mores, played basketball and volleyball, danced, shopped, and much more!
Thursday night activities signaled a wrap-up to the fun, busy week. Campers gathered for one last night of fun before departing for home the next day. Each color crew presented a skit during the Thursday Night Extravaganza. After the color crew skits, campers enjoyed a dance and camp slideshow.
The real treat came at the end of the Extravaganza, when their counselors put on their own variety show, filled with music, dancing, and skits of their own. After the variety show, it was announced that the Blue Crew won the Captain's Bell.
Campers from Montgomery County were Easton Thigpen, Italy Thornton, Maddison Hill, Ayla Hardeman, Jurdan Hudson, Chasen Ford, Peyton Patterson, Arnez Howard, Isaac Serrano, Avimael Serrano, Maggie Palmer, Lyric Thomas, Alyssa Richardson, Grace Richardson, Macy Bradley, Kaydence Beecher, Karmin Johnson, Kinley Barber, and Kash Waller.
Georgia 4-H empowers youth to become true leaders by developing necessary life skills, positive relationships, and community awareness. As the largest youth leadership organization in the state, 4-H reaches more than 225,000 people annually through University of Georgia Cooperative Extension offices and 4-H facilities. For more information about Georgia 4-H, contact your local UGA Extension office or visit georgia4h.org.