Posted on
City of Alamo PD Gets $259,380 Grant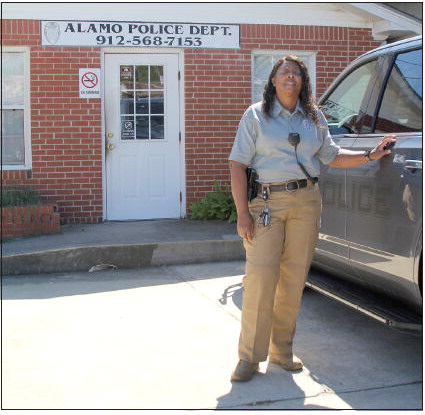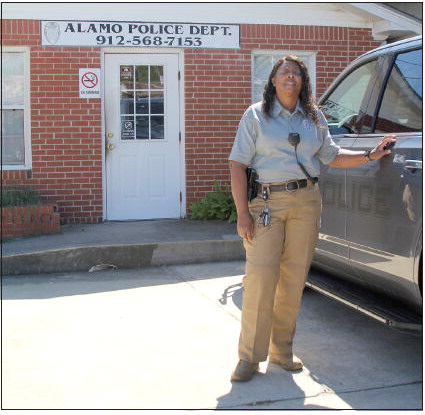 The City of Alamo is among the recipients of preliminary grant awards totaling $83.5 million announced June 9 by Governor Brian Kemp. The funds will go to 118 qualified projects across the state to improve community-level public safety measures and address law enforcement staffing challenges that arose during the COVID-19 pandemic. Alamo was awarded $259,380 for two additional police officer positions. The grant will pay the officers' salaries for three years.
Over the last few years, the Alamo Police Department, like most departments in small communities, has experienced a consistent and crippling staff shortage. "We are focused on being competitive in recruiting and retaining our officers," Alamo Police Chief Karen Zanders said. "This grant will allow us to do that."
The department provides law enforcement for Wheeler County's largest municipality, a town of 771 residents, plus the approximate 2,000-inmate population of the Wheeler County Correctional Facility that is located within the city limits. The Wheeler County Sheriff's Office, also located in the City of Alamo, the county seat, provides law enforcement for the entire county.
Chief Zanders defined herself as a "working" chief, meaning she rotates patrols with her four, full-time staff members including Sgt. Jamie Ricks. She said the funds will enable her to send one employee, who is now serving as a night watchman, to the Georgia Public Safety Training Center to be certified and to go on duty as a police officer. He is scheduled to attend the training center in July.
A fifth officer will be hired to round out the complement of officers and ensure that the workload is more effectively distributed. "The extra staff will allow the department to be more visible and connected in the community," Chief Zanders said. The funds will also allow her to spend more time in her office tackling duties traditionally handled by police chiefs.
The chief credited Christopher Lowe, a government support specialist with the Heart of Georgia Regional Commission, for assisting the City of Alamo with obtaining the loan. "He has done an awesome job. I am truly appreciative of the work he has done," Chief Zanders said.
Governor Kemp said of the $83.5 million grant, 'Public safety has always been a top priority of my administration and will continue to be. With the increase in violent crime seen in communities across the country, including here in our state, we're sending reinforcements to keep hardworking Georgians and their neighborhoods safe.
"From tackling staffing needs to deploying new equipment and technology, these funds are being invested so that our brave first responders have the resources they need to fight back against dangerous criminals.'
In accordance with grant requirements, awarded American Rescue Plan Act (ARPA) funds will be utilized to supplement law enforcement staffing, support violent crime reduction or community violence intervention programming, and invest in technology and equipment to address and respond to the rise in community violence resulting from the pandemic.