Posted on
Beasley Going To Truett McConnell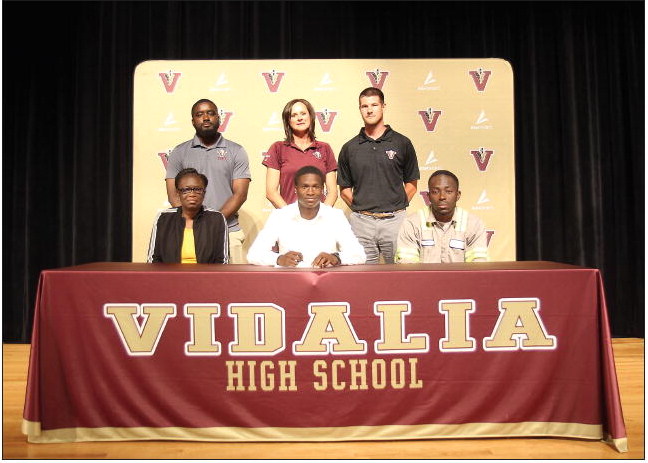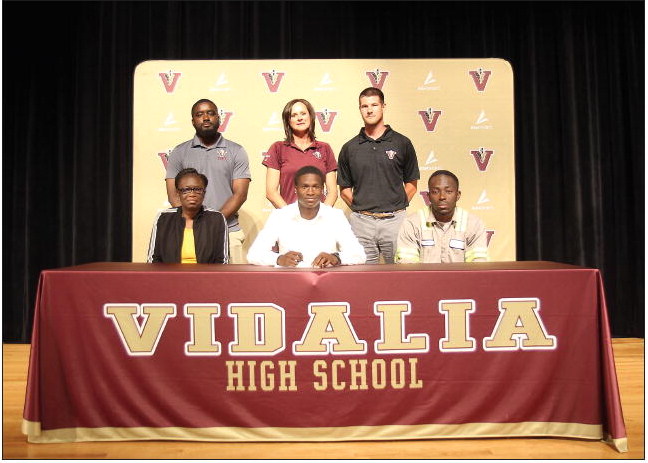 On Thursday of last week Vidalia High School's Brandon Beasley signed his letter of intent to run track for the Truett McConnell University in Cleveland, GA.
Beasley leaves VHS as one of the top performers in the history of the school's track and field program. He has gone from placing 8th in the long jump as a sophomore to becoming a State Champion in the triple jump this year, Beasley has shown what it takes to fight through adversity and disappointment to reach his goals. Beasley was also a captain of this year's team. He is a twotime Region Champion in the long jump and the triple jump and a twotime Sectional Champion in the triple jump. Beasley was also part of the State Champion 4x200m relay team that holds the school record.
Beasley said, "I am very excited for this chance. I can't wait to get up there and start working and show what I can do. I really like Truett McConnell and I think that is going to be a great fit for me. I have to thank all of my coaches for all they have done for me over the years."
Rendie Beasley, his mother, added, "I am very excited for him. He has persevered and has worked hard to get to this point. I am proud of him, he wasn't sure this is what he wanted at first, but he thought it over and decided this is where he wants to be. Just look forward to seeing what comes."
Head Coach Mandy Godbee stated, "He has fought every step of the way. His first year in triple jump he jumped 39', this year to win the State Championship he jumped 46'4", which would qualify him for the collegiate nationals at Truett McConnell.
"He was injured for the first time this season, but he battled through and rehabbed and earned that title. Even when he wasn't competing, he was always there, helping his teammates, and he is a great leader."