Posted on
U.S. District Judge Bowen Addresses Decrease in Trials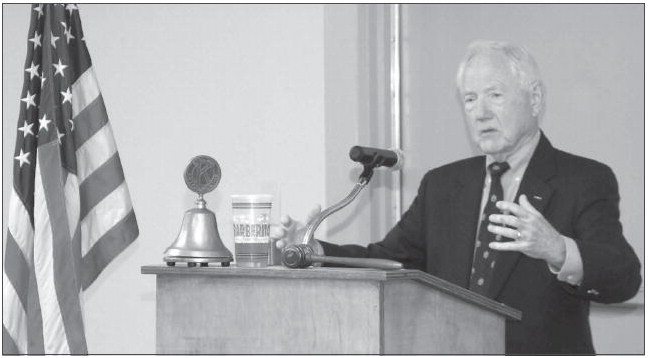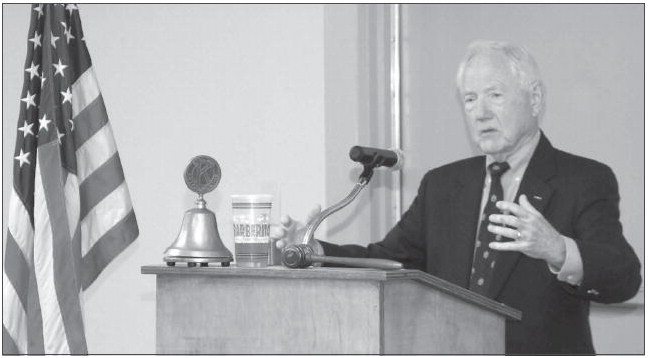 mrandolphadvance@gmail.com
U.S. District Court Judge Dudley Bowen, Jr., spoke to the Kiwanis Club of Vidalia recently on the changes that he has seen in courtrooms across the southeast.
Background
Judge Bowen joined the bench as a judge for the U.S. District Court for the Southern District of Georgia in 1979, after being nominated by President Jimmy Carter. He has completed around 60 years in the field of law, which includes the time he spent in law school. He has served as a United States Army lieutenant, private practice lawyer, and Southern District of Georgia Chief Judge before receiving his senior status in 2006.
"I didn't start out with any idea whatsoever of getting to be a lawyer – it never occurred to me until I was in Europe [during college]. I was in Spain. I had majored in Spanish because I just enjoyed it, and I did pretty good at it, so I had gone to Spain for the summer," he explained. "It occurred to me toward the end of my summer school that I was going to have to graduate, and if I graduated, I was going to have to go to work. The only place I had to work at that time was in my father's hardware store, and I loved it, but I didn't want to make a career at the hardware store."
According to Bowen, even at that time in the 1960s he knew that the larger chain stores would be making it hard for the smaller businesses to stay alive. He was right in his belief, as his father's hardware store closed less than five years later.
Meanwhile, Bowen applied to the University of Georgia Law School. "While they never would admit me today, they did back then," he told the audience with a laugh. "It was one of the great things that happened to me. It was not the best thing that happened to me; the best thing that has happened to me is marrying my wife Madeline. But, apart from that, getting admitted to law school was the right thing for me to do. Not that I'm such a good lawyer or such a great judge, but the law, the practice of law, and the opportunity of serving in the courts has meant everything to me for such a long time."
Appointing Counsel
Bowen spoke on his affinity for his time spent serving clients whom the court appointed him to represent. These clients usually could not afford counsel, but had to be represented under Constitutional rights, so the courts would appoint counsel to these cases.
"We do it to fulfill the Constitutional principle," he emphasized. "However, there is a great deal more to the appointment of lawyers in particular cases. There is much more of a global concept to that, which means so much to me."
He continued, "Most of you do not know that the Southern District of Georgia – our district – is one of two [courts] out of 97 districts that do not have a federal public defender. Now, there is nothing wrong with having public defenders, most of the counties in Georgia have them, [and] obviously, most of the federal districts have them. But to me, most of the institution of indigent representation is far more important to the unity of the concept of the practice of law and our profession than most people would ever realize. I would not be standing before you today as a federal district judge – in my opinion – if I had not taken criminal appointed cases."
According to Bowen, he took those appointed cases because of the experience and pay which the federal cases provided him. It was these cases that introduced Bowen to the federal court system and federal judges. "Because of that experience, I had the opportunity to be at the right place at the right time and to be invited to become the Bankruptcy Judge for the Southern District of Georgia," he remarked.
These appointed cases also gave Bowen the chance to be considered as a U.S. District Court Judge. "I think that is a tremendous benefit – not only to individuals, like me, who may benefit personally from it, but to the profession as a whole," he suggested.
"We do not have the number of trials – as a profession and as a society – that we did 30-50 years ago," Bowen told the attendees. "Our trial practice has been limited by various means: arbitrations, alternative dispute resolutions, mediation, and settlements that come through means other than trials."
Bowen said he was unsure of the statistics of the number of trials in the local superior courts, but estimates that the number of actual trials in the federal system have decreased by around 50% from 30 years ago, and possibly by around 75% from 50 years ago. "We just don't have the actual trial process in utilization as we did before," Bowen reinforced.
The Effect
This decrease of trials has greatly impacted the judicial system, as many lawyers are lacking the opportunities to get experience that the lawyers of yesteryear held.
"My friends in this room have experience as trial lawyers. When I look at Bobby Reeves, when I look at Paul Calhoun, I am thinking about people who are fine trial lawyers. They can pick a file, try a case, and do their client proud. You get this type of ability only from experience. Sure, you can learn a lot in law school, but standing in front of a jury, in front of a judge, in a courtroom full of spectators and gallery people, there is nothing like it. There is nothing like experience," Bowen said.
According to Bowen, without the experience of trials, the judicial system will suffer. "If we do not have that experience by one mean or another, we will be losing that talent, that ability, and that rare quality that makes the law a reality in and through the trial process," he concluded.
Bowen shared his gratitude for his time in the court-appointed legal counsel system, and concluded by stressing the importance of practicing law rather than merely studying it.