Posted on
continued from page For almost ….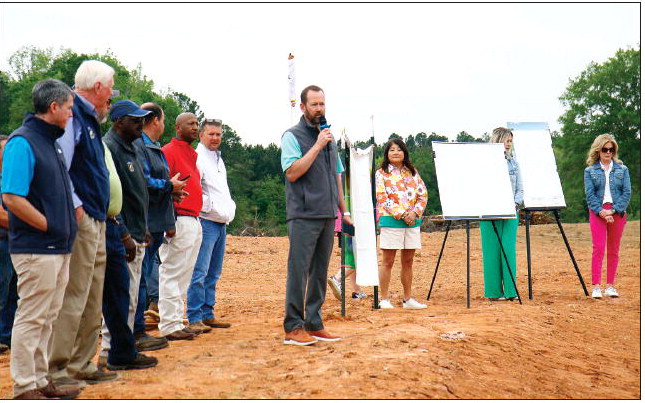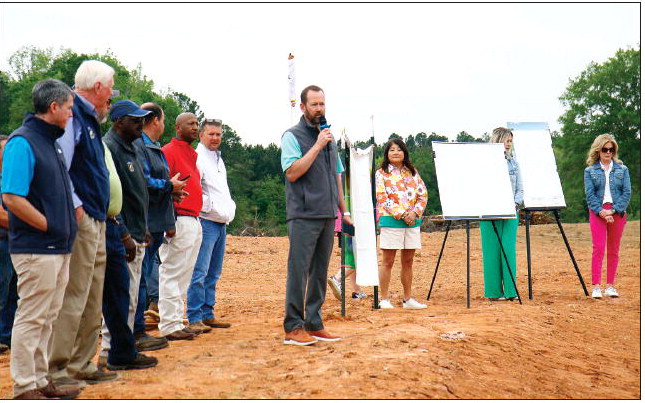 continued from page
For almost two years, our current council has been working diligently on this issue while at the same time applying for and receiving grants to support this project. With those funds in place, with a big thank you to Senator Blake Tillery, the time has come to move forward and bring golf back to our great community.'
The Mayor continued, "I can't tell you how many meetings that have happened, the emails, the phone calls, but here we are. Now the work really begins at the next level. This is a huge undertaking, and to have these citizens willing to take on these roles, for no pay, just because they are committed to this community is incredible. We are also blessed to have two industry professionals that are on board with course architect Mike Young and Ray Cutwright to guide us in this process. Mike on the design side and Ray on the operational side.
"Today is just exciting, and you can tell by the amount of people that have showed up today. We are ready to get golf back for our youth, we are ready to get it back for the nonprofit groups that have been impacted, and for this great community."
Mayor Roper added that the Golf Authority is an umbrella under the City of Vidalia, and they are charged, with oversite by the City Council, with the management of the course. They will hire a superintendent and additional staff at the appropriate time. And no local money is being used to construct or will be used in the operation of the course.
Course Architect Mike Young said, "I am honored to be a part of this. Ohoopee Match Club opened this area up to a lot of people. That course is now internationally known, and this course should be able to feed off that. We are trying to build this course so that it can be taken care of and provide this community with golf for many years to come."
Mike Young began his design career in 1986 with Fields Golf Club in La-Grange, Ga. His Cateechee Golf Club in Hartwell, Ga., was named one of Golf Digest's "Best New Courses" in America when it opened in 1999. Later, the course was recognized as the first Audubon International Signature Sanctuary course in Georgia. He has always believed that the best golf courses are the ones that provide solid, strategic challenge within a natural environment.
For more than three decades, Mike has continued to design or renovate golf courses around the world.
In 2018 The Advance spoke with many of the heads of the charity events that relied on golf tournaments to help raise funds for some of the great organizations that help those in need in this community.
Brian Bishop, who was President of the Chamber and one of the Sweet Onion Classic board members, stated in 2018, "From a community perspective, losing the golf courses is very detrimental to our community, our charities, our schools and our economic development efforts. For perspective, the Chamber of Commerce tournament grossed approximately $18,000 from the last tournament and the Sweet Onion Classic grossed around $90,000."
Along with that $108,000 from those two tournaments, the United Way Tournament raises an additional average of $15,000 each year, according to Executive Director Patricia Dixon. That is nearly $125,000 that came under jeopardy, and all that money goes directly back into this community. There are also many other charity golf events that raise money for many different athletic programs, smaller charities, businesses and others.
The United Way helps over 20 different organizations, and the Sweet Onion Classic chose different groups each year to focus on.
Bishop added, "All of these tournaments raise money that directly benefits our community and touches so many lives here. The economic impact of that money is staggering. That's a lot of money that does some great things in the community. You also need to consider the effect on our local schools and the students who need a golf course to practice and have tournaments and the effect on our economic development authorities from a quality-of-life perspective for the industries we are trying to attract."
The city realizes the importance of golf as a recreational opportunity for patrons of all ages along with the significance of golf in high school sports.
This is a big project for the city, and it is something that this community needs. With the pedigree of Vidalia High School golf, and the big changes that Toombs County High School has made for their golf program, this will be something that will help both of those programs. Robert Toombs Christian Academy also has a golf program as does Montgomery County and Heritage Academy. All schools will be able to benefit from this project as well.
It will also be great for the many charities such as the Sweet Onion Classic, the United Way Golf Tournament, and the many other businesses and nonprofits that will be able to hold events there. The amount of money that has been raised for this community through charity golf events, and the help that it has provided over the years has been tremendous.
With the course construction underway, this community should be excited about this endeavor and what it truly means for this area. Golf may not be everyone's cup of tea, but the impact that a course has on a community cannot be understated. It touches everyone in one way or another through the charities, through the schools, or through the business that it helps to bring to the area. With the official groundbreaking now completed and the course name announced, golf will soon be back in Toombs County.