Posted on
Forge Holds First Graduation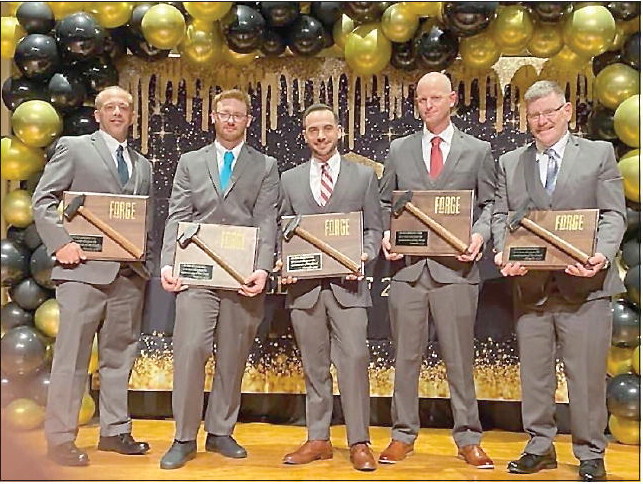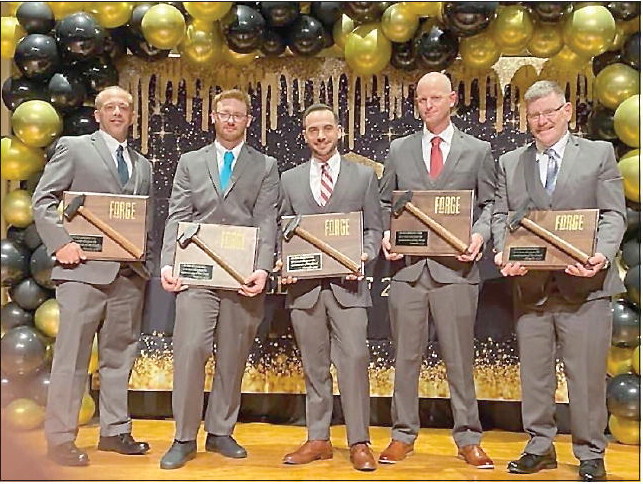 mrandolphadvance@gmail.com
Forge Men's Recovery Center celebrated another milestone on March 18, as the first graduation service for men who have completed the program was held.
In the past 5 years, Forge has moved from being a dream in the mind of a recovering addict, Craig George, to now having helped over 30 men, housing almost 30 more, and even obtaining an apartment building to provide men with housing upon their departure from the inpatient facility. "We've been waiting to be here a long time, so I just want to thank God – this is very clearly His work. If you know me well enough, you know how reckless I am as an individual, and you know how bullheaded I can be, and you know there is no way something like this could be pulled off by me alone and some good luck," George remarked on the growth. "I never will be able to express my gratitude to each of you who have believed in us, each of you who have been praying for us, [and] each of you who have come alongside us on this journey."
During the March 18 ceremony, five men – Mike Erwin, James Thevenin, Andrew Lillard, Tim Fowler, and Michael Podlesny – were all honored as they began their transition back into everyday life. Each of the men received a plaque to recognize their success in the program and spoke about their experience.
Mike Erwin
After receiving his plaque, Erwin first addressed his guidance from God throughout his time at Forge. "God has just kind of guided me through this whole process," he began. "About 7 years ago, I was in Richmond Hill, and I told Craig I was going to come see him — he was actually locked up. God has a funny way of doing things, and I did meet Craig — I was behind a holding cell in jail with him. Fast forward a little bit more, and Craig actually came and got me out of jail in Tennessee, and he asked me to go on a mission with him — he was opening up a rehab. I thought, 'Why not? I had the time.'" He continued, "Craig has always had a good heart, so when he told me about it and asked if I wanted to go get my bags, I said, 'No, let's just go.'" According to Erwin, the pair traveled to a house in Vidalia, where men in recovery were staying. "We pulled up to this house and there was 9 guys in the house, and I thought 'What did I get myself into?' It's come a long way and I'm thankful for the program, the community, and the guys that are here. You have helped me, and I'm just grateful for that."
James Thevenin
Thevenin explained that he came to Forge less than a year into the program's establishment. "I didn't know what I was getting myself into, and I didn't have the entry fee to get in to this program [upon my first arrival]," he recalled. "I put in an application [previously], and I look at it as God worked for me and it worked out right because Craig had never gotten my application; he just came and talked to me one day. But the night he came to visit me, he sponsored me for the program, and I left jail that night."
Thevenin said that his time at Forge had allowed him to witness a lot of growth in both the facility and the people around him. "I've gotten to see a lot of changes in people and myself. I've been through a lot here [and] it's been safe. I really don't want to leave, but every good thing must come to an end. I'm going to make some more memories and will be working for [Forge] shortly," he concluded.
Andrew Lillard
"I first met Craig in March 2021 in the courthouse," Lillard began. "I was stoned out of my mind and couldn't even look at him. That wasn't the right time for me to get here."
According to Lillard, he did not join the recovery program until the following September. "God made a way for me to be blessed enough to join this organization," he remarked. "I have a lot of disabilities, being [that I am] a disabled veteran, and I'm thankful and grateful that Craig took me in, gave me a chance, showed me how to live, and gave me the tools I need to make it through."
He gave the men still residing at Forge a word of advice. "To the guys: make connections. Talk to your sponsor every day. Get numbers. Network. That will help you in your process as you grow."
Tim Fowler
Fowler began his speech by asking the audience to applaud his fellow graduates and the men currently residing at Forge. "I am so proud of every one of you," he told the men. "You guys have carried me when I couldn't deal with myself. When I couldn't hear God or anything, you guys carried me, and I am so thankful and grateful for that."
He told the audience, "When I came to Forge, it was the weakest moment of my life — the lowest part of my life — but at that time, I was able to say those two hardest words to say, and that's 'Help me.' At that time, God showed up in my life, and He began to work in my life. Any credit for me being here today is owed to my Higher Power. He carried me when I couldn't do it."
Fowler thanked George for being his sponsor and for guiding him through the 12 steps of recovery. "He's been an example of what it means to be in recovery and he's shown me what it means to walk like a man in recovery."
Fowler concluded his speech with a quote which he said Forge often reminds the men. "There's a saying we use in this program: 'A grateful addict will never use.' So today, I like to share my gratitude. I'd like to put insurance on my clean day, protection on my clean day — September 27, 2021 — so that it never has to change. Today, I stand here in gratitude, so thankful for my sponsor, so thankful for my Higher Power, so thankful to these guys at Forge, so thankful to the community, so thankful to the Board of Directors — all you guys that have helped us. I'm here because of you guys," he emphasized.
Michael Podlesny
"It's an honor to be here," Podlesny reflected. "I remember when you picked me up, Craig. I swore I would have never made it. I didn't believe in myself, but you believed in me, and everybody here believed in me. Really, I didn't do anything — all I did was not give up when I wanted to give up. God did the rest."
He spent the remainder of his address thanking Forge staff, residents, and community figures for their impact on his recovery. "Y'all are my family. I'm not from here, but y'all have loved me before I could love myself. The opposite of addiction is connection," Podlesny explained.
He spoke first to Forge Board of Directors Member Glen Williamson. "Glen, I look up to you. You are an inspiration and a good role model," he said.
He thanked his boss for allowing him to work. "Y'all love me and give me anything I need, and it is a honor to work with you," Podlesny shared.
"To the guys at the Forge, you are my brothers and my family," he continued. "It's been a journey, y'all, and if I can do it, you can do it. My compass never pointed North. It took a lot of consequences and looking at myself before I got it right."
He added, "To the guys I'm graduating with – Mike E., man, you're an example. You're an inspiration, and I love you, man. James, we started this together, [and you were] my first friend here. Tim, we got stuck together for every project, and I grew with you — I became a part of the community with you, I completed projects with you, it was something I had never done before — you're my brother, dude. We did it. Andrew, you taught me a lot about myself; we've been through our ups and downs, but you taught me about compassion, you taught me about ego, and you taught me about friendship."
Podlesny continued throughout the remainder of his speech to thank people like Toombs County Family Connection and Zen Den Owner Paige Williamson, his Connection Church Small Group, his mother, and more.
Reflections
Current Forge residents, Forge Board of Directors, and friends and family of the graduates were invited to speak throughout the ceremony to share their perspectives on the program and the men. Many praised Forge for its community involvement and tight-knit brotherhood, as others shared their desire to see many more of these graduations in the future.