Posted on
continued from page He ….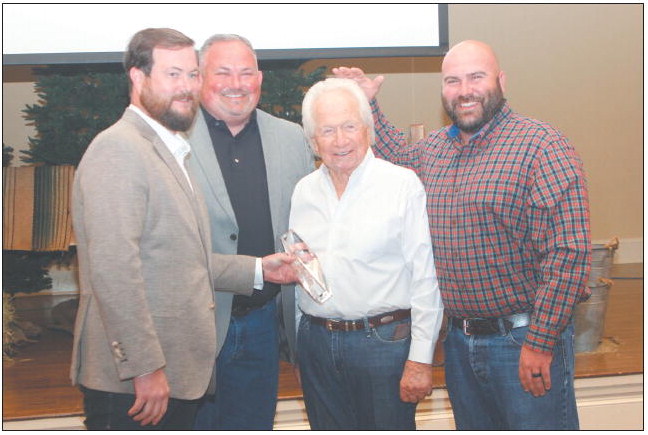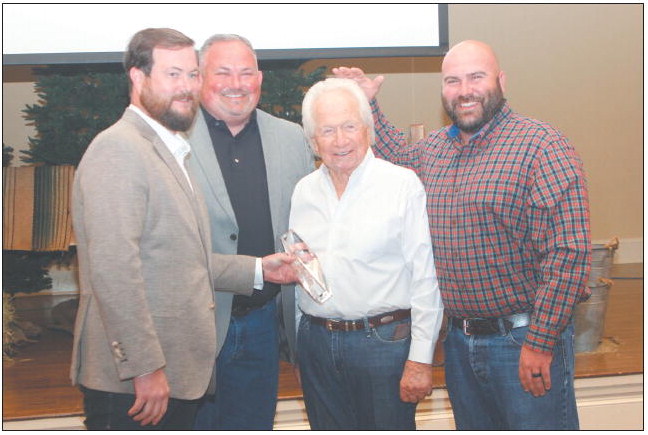 continued from page
He went on to share some trials the pair's farm has faced this year. "If you remember the storm that made the tornadoes that tore apart the town of Pembroke – that storm went directly over our field, only it had changed to hail by then, luckily," he informed attendees. "It could have easily taken out our entire crop, but it didn't, and we are so grateful for that."
He concluded, "Hopefully, we will have a great crop this year. We love what we do, and we will continue to do it. Thank you again!"
B & H Farms began in 2004, as the pair decided to begin farming together. The company has 300 acres of Vidalia Onions, 400 acres of watermelons, 100 head of Angus cross cattle, and a rotation of peanut and cotton crops. Both men also operate poultry houses for Claxton Poultry.
The men use the farm as a chance to give back to the community, helping as fundraisers for the Shriners' Temple, Masonic Lodge, and others. They also work to package their own goods in their own facilities, and strive to make sure the farm has the most effective stateof- the-art equipment possible.
The Other Nominees
Sikes Farms, owned by Alan Sikes, shared the farm's history of family participating at their farm, as two of their sons currently study at Abraham Baldwin Agricultural College (ABAC) and plan to return home to work at the family farm. The submitted summary speaks of several memories in establishing the farm. "In the old days, it was just Tracy and [Alan]. If [they] had a good year, [they'd] buy another cooler. If [they] had a tough year, [they'd] hold [their] cards close and try again the next year," it read.
Dry Branch Farms explained that they had faced hardships and struggles this year, as their packing shed burned down on August 19, 2022. Yet, as the family revealed in their submitted statement, the work ethic and perseverance of the Jarriel Family will not easily fade away. "Initially, that incident seemed to bring only heartbreak and devastation, but through some deep thought and prayer, it swiftly became an opportunity – an opportunity to rebuild and redesign our packing facility to make it work to the best of our ability," the summary shared. "Jarriel Farms will soon rise from the ashes of Dry Branch Farms, stronger than it ever was, because the foundation of the family cannot be burned out."
Special Career Recognition Vidalia Onion Committee Hall of Famer Bob Stafford has officially retired from the industry and returned home to his family farm in Florida; yet, his retirement did not stop the Committee from honoring Stafford's successful career and thanking him for the work he put in for several years.
Cliff Riner, Troy Bland, and Aries Haygood all spoke of the legacy which Stafford leaves behind. "It's not very often that someone who has already been inducted into the Hall of Fame gets recognized again," Riner told the crowd. "But we are going to do that tonight in a special way."
The men spoke to the memories they shared of Stafford – their nicknames for him, such as "the Hair," stories of driving his truck in Atlanta, and tales of his visits to them regarding the business.
"I personally want to thank your family for allowing us to have him for so many years. He's really special to us, and we've been glad to have him," Riner emphasized to Stafford's family.
"When I was little, I didn't know his name – we always called him 'The Hair,'" Troy Bland reminisced with a laugh. "Bob has put the industry first for a number of years. He's always been there for us when we needed him."
Bland turned to address Stafford. "I can't begin to tell you how much I appreciate you, Bob, and everything you've done for us over the years."
"Most everyone who grows onions knows Bob. Most everyone who goes to events knows Bob," Haygood stated. "I was telling a guy I work with that I was speaking about Bob tonight, and he told me a story about the first time he met Bob. He said Bob would pull up in a Camaro with dark-tinted windows, and my friend said, 'I knew that guy was serious.'" Haygood said that Stafford impacted him personally for several years, as he helped to guide Haygood through the process of beginning an onion farm. "He took me under his wing at the beginning," he said. "We would ride around a lot. He hated to drive in Atlanta, and I loved to drive his Harley Davidson truck, so I would."
Haygood noted, "Bob would always try to find a way to stay 'on the fence' with all of us growers and convince us about how important it is to consider the others' opinion. I respected him because he wasn't a basher – he truly respected everybody's opinion, and that taught me a lot."
Stafford reacted to the award with gratitude, as he spoke on his enjoyment of his job through the years. "I met some of the finest farmers I've ever known in my life right here. This has been a lot of fun. Throughout the years, I've been called a lot of names, but my favorite is 'Uncle Bob,' and I hope that's how you all remember me – as Uncle Bob."
Special Research Recognition A special recognition was also given to members of the University of Georgia Extension Offices in local counties, who have been working together to conduct research on a variety of issues, including center rot in onion crops. This group of agents recently received an award from their state for their teamwork throughout the years; thus, the Vidalia Onion Committee felt it was appropriate to recognize these individuals.
"The only way to study and check for center rot is to cut open the onions, so these individuals have cut thousands of onions open and put a lot of hard work and time into this research," Vidalia Onion Center for Research Employee Chris Tyson explained. "This has been an ongoing project that 6-7 guys and girls have worked on for several years."
Those extension agents working on the project included Tattnall County Extension Agriculture & Natural Resources Agent Aubrey Shirley, Tattnall County Extension Derrick Bowen, Toombs County Extension Agent Jason Edenfield, Candler/Evans County Extension Agent Ross Green, Emanuel County Extension Agent Savannah Tanner and Treutlen County Extension Agent Steven Powell.
Courtney Wilkes Ag Scholarship The 2023 Courtney Wilkes Ag Scholarship Recipient Jason Dukes was unable to attend the event on Friday night, but in his absence, Bob Stafford spoke to the crowd on the purpose and importance of this scholarship.
This scholarship was established almost 12 years ago, after the brutal murder of Courtney Wilkes, a local agriculture standout student who was killed while on vacation with her family. Wilkes was well-known in the Vidalia Onion farming community.
"This scholarship now serves as a way to remember Courtney," Stafford emphasized. "We try to find someone who is very similar to her and her values. She was top of her class and very athletic, and her desire was to be a veterinarian."
Several of these scholarships have been given to standout students interested in a career in agriculture, and the first scholarship award recipient has even gone on to become a practicing veterinarian.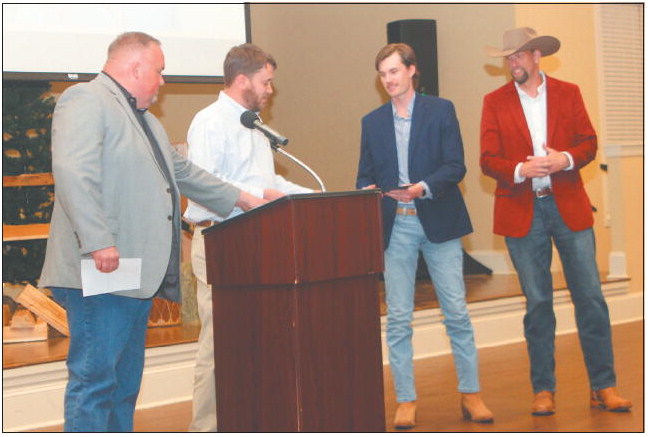 RESEARCH TEAMWORK – A group of local University of Georgia Extension agents were honored for their teamwork when researching center rot in Vidalia Onions. L to R: Clint Riner, Chris Tyson, Derrick Bowen, and Jason Edenfield.Photo by Makaylee Randolph