Posted on
Four Rivers Patriots Chapter Spreads National Motto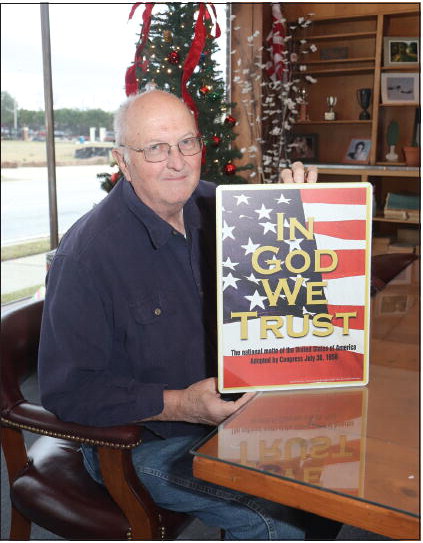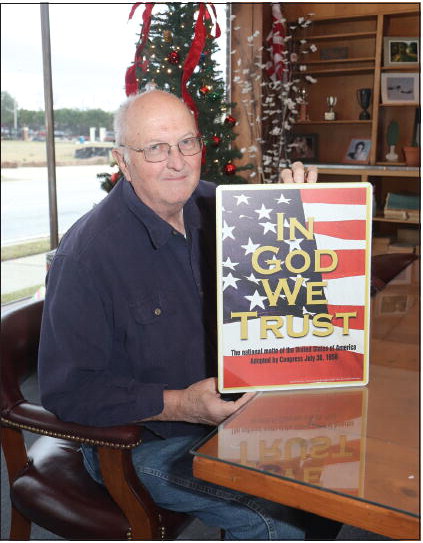 The Four Rivers Patriots Chapter of the Sons of the American Revolution is working to share reminders of our nation's motto to students throughout Toombs County.
The Chapter has worked to place signs, which read, "In God We Trust, Our Motto," in classrooms as a reminder of the foundation of the country. This project was the vision of former Chapter President Matt Oxley, who worked to oversee the donation of these signs to several of the schools in Toombs County. After Oxley stepped down from the position, former Chapter President Steve DeWeil made sure that the project was completed by donating the signs to the Vidalia City School System.
According to DeWeil, the idea arose when Oxley found out that the placing of the American Flag, National Motto, and State flag in classrooms from Kindergarten to 12th grade, is not only authorized by the state legislature, but is encouraged. "It has been a privilege for the Four Rivers Patriots to provide this patriotic service to our community," DeWeil emphasized.
The group acknowledges the importance of patriotism in the community, as every member must prove genealogical ties to those involved in the American Revolutionary War to join the Chapter, which consists of around 10 men. "A few years ago, my wife became very interested in genealogy," DeWeil explained. "She did a study and found 6 of my ancestors and 8 of her ancestors that were all involved in the Revolution."
This personal connection to the American Revolution, along with DeWeil's personal experiences, fuels his passion for promoting patriotism throughout the area. "I went to high school in Winter Park, Florida, and before we could graduate, we had to take a class that focused on the difference in communism and life in America," he reminisced. "They would take us into the auditorium and share all of these promises, then break down the reality of implicating these promises, which took away the appeal. It really showed us the reality of all the freedoms we have and how important they are."
DeWeil's knowledge of American freedoms grew even larger during his time in the military, when he said he became even more grateful for the nation. "I've spent time overseas – I know how good these freedoms we have are," he emphasized.
Currently, the signs have been provided to all school systems within Toombs County, both public and private, which was approved by the schools' officials. These signs were purchased through funding received by chapter members, local organizations, and local businesses. Some of these organizations and businesses include Vidalia Federal Savings and Loan, Altamaha Bank and Trust, Kiwanis Club of Vidalia, Big Al's, Ronald V. Hall Funeral Home, Vidalia Rotary Club, Vidalia Cornerstone Church Men's Thursday Morning Prayer Group, Realtor Tom Peterson, and People's Bank of Lyons.
"The Chapter's whole purpose is to honor our country and those who made the sacrifice to establish our nation," he remarked. "What better way to honor and to reflect the nation [than through these signs] because the placards are there to proclaim what this nation is all about. It says in our Declaration of Independence that 'we hold these truths to be selfevident, that all men are created equal, endowed by their Creator with certain unalienable rights: life, liberty, and the pursuit of happiness.' 'In God We Trust' – that points back to the Creator."
DeWeil continued, "Unfortunately, in schools these days, that point is not being made, and teachers aren't allowed to bring it up. [So with these signs,] it is not a matter that someone might file a lawsuit or something, it's been endorsed by our state legislature."
These signs may act as conversation starters, as DeWeil explained that if a child asks about the sign, the teacher may reply and inform them; they merely may not initiate the subject by law. "We are not a perfect nation, but we're working on it," he said. "This project reminds students of that."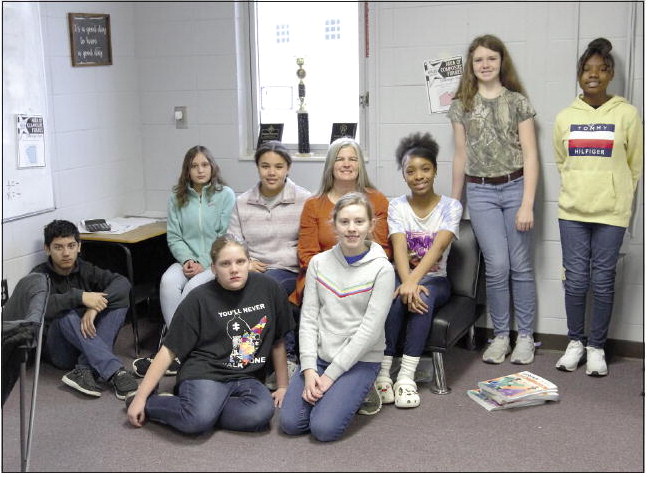 THOMAS REPRESENTS RESA REGION – Montgomery County Eagle Academy middle grades teacher Leslie Thomas has been selected as one of two representatives from the Heart of Georgia RESA region for the Georgia Association for Gifted Children (GAGC). Through this position, Thomas will serve as a liaison between the 10 school districts within the RESA region and the GAGC. Here, Thomas poses with her gifted students. Back row, L to R: John Corum, Kiley Lynn, Karmin Johnson, Teacher Leslie Thomas, Taliyah Jackson, Shayna Hasty, Ly'ric Thomas. Front row, L to R: Gracie Hopkins, Tatum Williams.