Posted on
K E Butler Jewelers attends national jewelry buying show in Minneapolis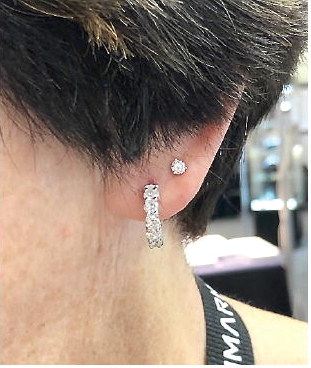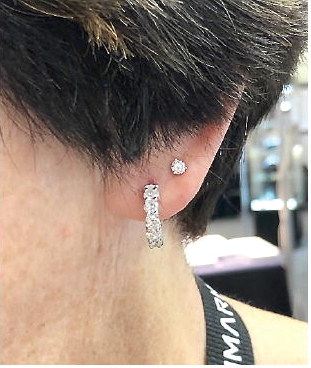 Kathy Butler models soon to arrive 2ctw diamond huggie earrings at the 2022 Retail Jewelers Organization (RJO) Summer Buying Show in Minneapolis, MN.
Earl and Kathy Butler from K E Butler Jewelers recently attended the exclusive 2022 Retail Jewelers Organization (RJO) Summer Buying Show in Minneapolis, MN. The 3-day event, themed Summer Speakeasy, provided jewelers from around the nation the opportunity to purchase new items at pre-negotiated prices, share business ideas, network with peers and check out the latest industry trends. According to Earl, "The buying show is an incredibly impactful event for our store. It enables us to stay current with industry trends while highlighting the latest innovations happening. By attending, we are able to stay competitive but pass along savings and top-of-the-line products to our customers. Purchasing jewelry at pre-negotiated prices at the RJO show is critical because we're able to compete with the larger national retailers."
Hundreds of jewelers attended seminars covering a range of topics including digital marketing strategies, security implementation and employee recruitment and retention.
For more information about K E Butler & Co Jewelers or to view some of their new purchases, visit them at 1303B E. 1st St. in Vidalia or online at kebutler. com.
About RJO
In 1966, RJO was founded by a small group of independent jewelers who joined together to command better vendor prices by buying collectively. Since that time, RJO has added hundreds of members, essential support programs and marketing services while remaining owned by its jeweler members. For more information, visit www.rjomembers. com.