Posted on
All-American Soapbox Derby Champs Lauded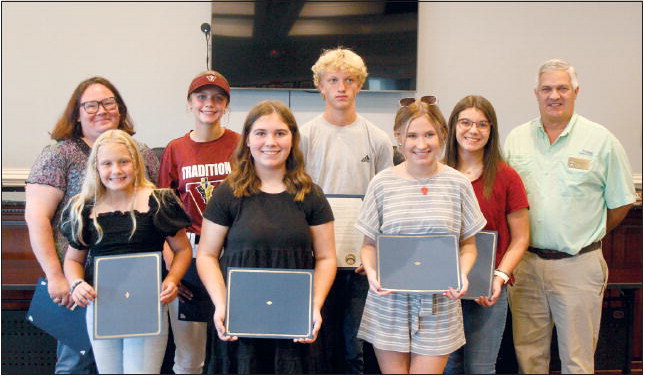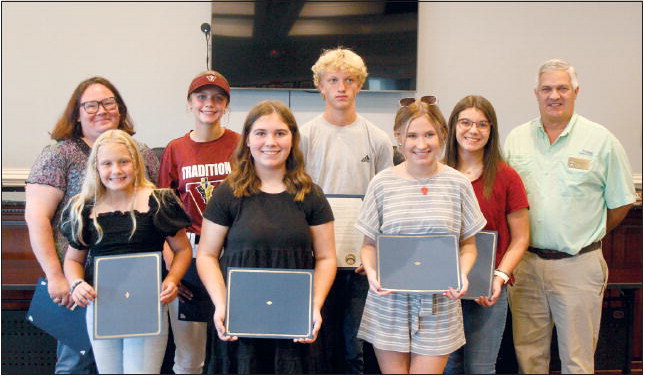 mrandolphadvance@gmail.com
The Lyons City Council recognized participants from the 2022 FirstEnergy All-American Soap Box Derby World Championships in Akron, Ohio, at the regular meeting on Tuesday, September 6.
Southeast Georgia Soap Box Derby Winners Chevy Evans, Levi Dopson, Quinn Driggers, Aidyn Driggers, Cash Driggers, Alexis Head, Alyssa Head, Noah Gordy, and Emma Waters traveled to Akron to compete against the best in the world at their respective divisions on July 16-23. Cash Driggers took home the All-American Rally Masters World Championship, while Aidyn Driggers came in 2nd for the All-American Local Super Stock Race, and Alyssa Head placed 6th in the All-American Rally Masters Race. "We are so proud of these young people and really believe they represent our city and area well," Mayor Willis NeSmith commented. Each participant received a copy of the mayor's proclamation of pride in the participants and winners and continued to celebrate after the meeting with a dinner at the Durden Cabin at Partin Park.
Action Items
Councilmembers approved the interconnection agreement between the cities of Vidalia and Lyons for a shared waterline. This line currently is not in use and has remained unused for several years but serves as a backup in case of emergency. It is located adjacent to Highway 292 and may be activated through a singular valve. The agreement states that either party should notify the other prior to opening the valve, and each 1,000 gallons of usage should be accounted for through payment based on the supplying city's current water rates. If either city decides to terminate this agreement, a written notice must be provided 90 days prior to termination.
Resolutions LMIG Contract Sikes Brothers, Inc. was awarded the contract for the Local Maintenance & Improvement Grant (LMIG) projects being funded by the 2021 and 2022 grants. The construction group will repave North Victory Drive (to the city limits), Aiken Circle, East Stewart Avenue, Leafmore Cove, South 10th Street, and West Columbia Avenue for $306,350, following unanimous approval from Council, except for Councilman Ivy Toole's abstention and Councilman John Moore Jr.'s, absence.
Solicitor Appointment
Jack M. Downie, Sr., was appointed chief solicitor for the municipal court after previous solicitor Jess Clifton submitted his resignation due to a new job offer. Downie received his undergraduate degree from Georgia Southern University and studied law at the Florida Coastal School of Law and the Judge Advocate General's School for the United States Army. He practices law locally at the Law Office of Tipton-Downie, and serves part time as a commissioned officer in the United States Army Judge Advocate General's Corps.
Reports Main Street Lyons Main Street Association Executive Director Daphne Walker informed the Council that an estimated 400-500 participants came out to the Downtown Throwdown community pep rally and downtown tailgate prior to the Toombs County Bulldogs' season opener against Wheeler County on Friday, August 26.
Walker said preparations for the annual Real Squeal festival are underway, as 24 professional barbecue teams, 4 backyard barbecue teams, and 12 Arts and Crafts vendors have registered for the event, which will occur October 7-8.
The second annual Scare on the Square Downtown Trick-or-Treating and citywide trick-or-treating will occur on Friday, October 28, from 6 p.m. to 8 p.m.
Greater Vidalia Chamber
Greater Vidalia Chamber President Michele Johnson informed the Council that the Chamber will be holding its annual Business Summit on Thursday, September 22, from 8:30 a.m. until noon at First Baptist Church Vidalia. The event is open to the public and the Chamber may be contacted for tickets.
Public Comments
Social and Economic Equality for Disenfranchised Societies (SEEDS) Representative Chandra Woods spoke to the Council about the group's plans to host an event at Faison Park, which would feature food trucks and a movie for families. Mayor NeSmith spoke of his support of the event, which will occur October 21, and assured Woods that the City administration would be contacting SEEDS to see how they may help closer to the event date. Lyons Police Chief Wesley Walker informed the Council that the annual Faith and Blue event will be held at the Pit on Monday, October 10, at 6 p.m.
Next Meeting
The next work session for the Lyons City Council will be Tuesday, September 27, at 6 p.m., while the next regular meeting will be Tuesday, October 4, at 6 p.m.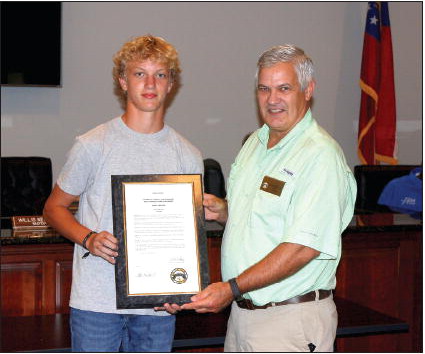 RALLY MASTERS WORLD CHAMPION — Racer Cash Driggers (left) was presented with a plaque by Mayor Willis NeSmith (right) in recognition of his victory at the All American Rally Masters World Championship in Akron, Ohio, this summer.