Posted on
First Rei'L Worldwide, Inc. Awards And Recognition Gala Huge Success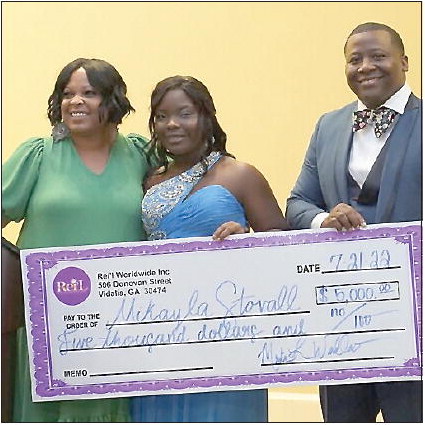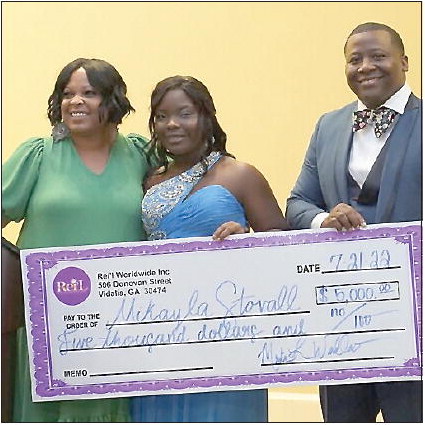 It was a star-studded event last Thursday night when more than 400 gathered at the Vidalia Community Center for the inaugural Awards and Recognition Gala for Rei'L Worldwide Inc. Luther Wardlaw, founder and CEO of Rei'L Worldwide Inc. stated, "It's a blessing to see the unity, diversity and oneness of the community tonight. Black, white, and brown alike are all here in support of this effort. This event is about giving the gift of hope. It's about inspiring others to keep pushing forward and reminding them that they are not alone." Super Bowl winner and Vidalia native Fred Stokes hosted the event while Quinton Aaron star of the movie, The Blind Side, was the keynote speaker. National gospel recording artists, The Wardlaw Brothers and Kim Ruff, were special guests performers, with other performances by Lyric Wardlaw and Toombs County's newlyformed house band, 5th Avenue, comprised of powerhouse vocalist Cynthia Greene and internationally- known musician, Thomas McClellan, Jr.
The Gala brought visitors from Florida, Illinois, South Carolina, Washington D.C., and many Georgia cities, including Atlanta, Macon, Augusta, Brunswick, and Dublin.
The night highlighted the work Rei'L Worldwide, Inc. has begun with children of incarcerated parents, formerly incarcerated individuals, and at-risk youth.
Also, during the evening, Lyons Mayor Willis NeSmith announced the Annie R. Jackson Humanitarian Award. This year's honorees for the Annie R.
Jackson Award included Valentina Hill, Paige Williamson, Andrea Hinojosa, Rodney "R.T." Stanley, Jr., Craig George, and Wilson Johnson.
The Annie R. Jackson Award is named in honor of Ms. Annie Rose Jackson who dedicated her life to serving others at the Alice Blount Academy formerly known as Blount Youth Home of Georgia. For more than 30 years Ms.
Jackson worked tirelessly on a daily basis to provide inspiration, redirection, and motivation to young men and women and so has directly impacted the lives of hundreds through- out the United States of America. Wardlaw said, "I am thankful that this award has now been sanctioned as a high honor. This award is most fitting and we now call on other members of the community to honor the life of Ms. Jackson by serving, inspiring, and motivating others. We do look forward to the 2023 Gala, but first we have a year's worth of work to give to those who are less fortunate, and those who may feel hopeless or helpless. The honorary nights are special and necessary, but the work is great and much more important."
At the event, Mi-Kayla Stovall, who has persevered through adversities and struggles as a child of an incarcerated parent, was awarded a $5,000 scholarship, while James Perdue and Tyler Gatlin received awards of excellence for moving forward after being formerly incarcerated (James Perdue) and a youth deemed at-risk (Tyler Gatlin). During the Gala it was announced that Rei'L Worldwide, Inc., is now in partnership with Reentry University program (www. reentryU.com). (is part nership allows for more than 30,000 formerly incarcerated individuals to have gainful employment, housing, financial literacy, and more.
"As we move forward with providing services and establishing meaningful relationships through the nation to better serve our clients, we keep the Great Commission at the forefront of our minds, and it is our hope that we can do our part as an organization to help change lives, decrease recidivism, boost the economy, decrease homelessness, close the revolving door of incarceration, and keep our communities safe." Wardlaw further stated, "It is so awesome to have a wonderful event such as this, right here in Toombs County, but as a nonprofit organization, there's no way we could do it without our sponsors, donors, and volunteers. So we are thankful for Trane Company, Interfor, Georgia Power, Keis Testing, Georgia Pine Straw, Dot Foods, Altamaha Bank, People's Bank, Memorial Health Meadows Hospital, Lark Builders, and Mount Vernon Bank.
"I'm thankful for J.R. Trippe Middle School basketball team under the direction of Athletic Director Lee McCloud III and Coach Alton McCloud for volunteering along with KeriLynn Nester and her cheer team of Brewton- Parker College, and the distinguished gentlemen of the Mt. Horeb Masonic Lodge. I am also so very thankful for each and every organization that bought a table and all those who found it necessary to purchase a ticket and attend. I'm absolutely speechless and overjoyed, thank you." Supporters attending the event included Senator Blake Tillery, Representative Leesa Hagan, District Attorney Tripp Fitzner, Austin Stacy from Congressman Rick Allen's office, Toombs County Commissioner the Rev. Alfred Cason, Mayor Willis NeSmith of Lyons, City Manager Jason Hall of Lyons, Lyons City Council members Cathy Benton and Tracy Johnson, chiefs of police of Vidalia and Lyons, Wesley Walker, and James Jerman, respectively, Commissioner Cali Hollis of Treutlen County, and so many others.
More photos and videos are available on the website. Also to get involved either through partnering, volunteering, or donating, please visit www. reilworldwide.org.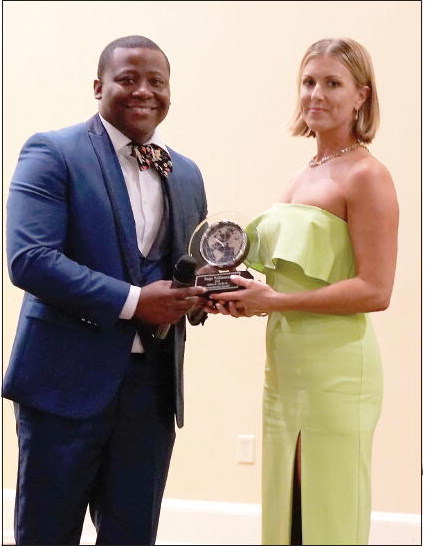 HUMANITARIAN AWARD —The Annie R. Jackson Humanitarian Award, which premiered at the Gala, honored Valentina Hill, Paige Williamson, (shown above receiving the honor from Luther Wardlaw), Andrea Hinojosa, Rodney "R.T." Stanley, Jr., Craig George, and Wilson Johnson.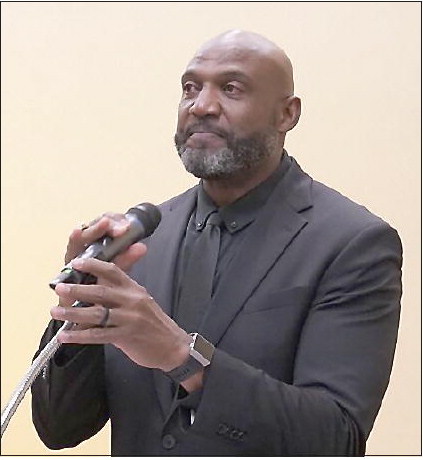 CELEBRITY SUPPORT — Super Bowl winner and Vidalia native Fred Stokes, left, hosted the gala while Quinton Aaron, star of the movie, The Blind Side, right, was the keynote speaker.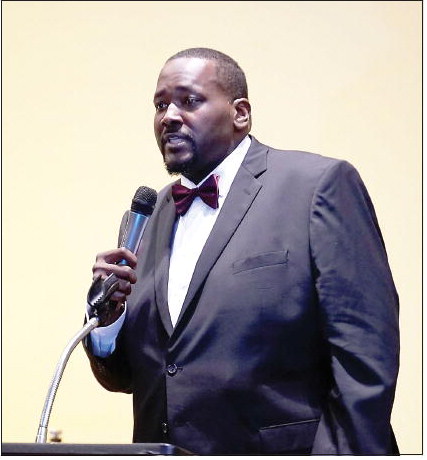 FULL HOUSE — Over 400 people from several states and numerous Georgia cities gathered at the Vidalia Community Center last Thursday for the first Awards and Recognition Gala for Rei'L Worldwide, Inc.