Posted on
Cheese Ball Appetizer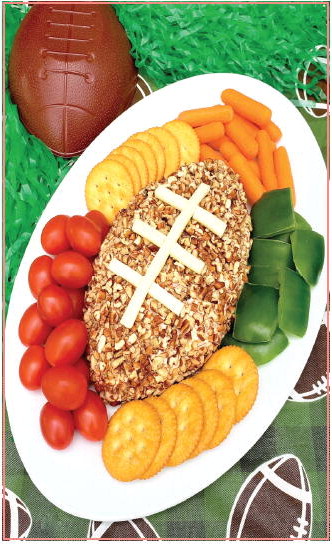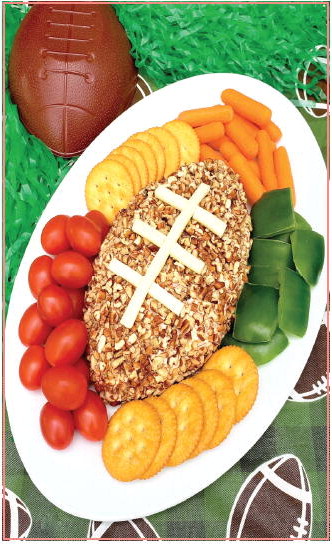 Are You Ready For Some Football with the Cheese Ball Appetizer!
Azure
Rountree
Fun, Delicious and Festive
M
aybe it's the thrill of the Friday night lights or watching your hometown team score that winning touchdown! What better way to celebrate your favorite football team than with good food and great friends, and the Cheese Ball Appetizer will definitely be the hit of your tailgate party. With softened cream cheese, shredded sharp cheddar, crisp bacon and the flavor of ranch seasoning, then topped with chopped pecans, this savory snack will have you and your guests ready to bring on the big game!
2 (8-ounce) blocks Cream Cheese (softened) ¾ cup shredded Sharp Cheddar Cheese 5 strips cooked chopped Bacon 1 (1-ounce) pack Ranch Seasoning Mix ¼ teaspoon Onion Powder ¼ teaspoon Garlic Powder ½ cup chopped Pecans Mozzarella String Cheese Vegetables & Crackers (for serving) In a large mixing bowl, stir together the cream cheese, shredded cheese, chopped bacon, ranch seasoning mix, onion powder and garlic powder. Once creamy and combined, place on a serving dish and with hands, shape into a football. Place in the fridge for 1 hour to set, then remove and coat with chopped pecans. Cut mozzarella string cheese to make the lace, then place on top. Add your favorite vegetables and crackers around the football, then serve.
Kid Friendly Recipes from the Kitchen of Azure Rountree is available at The Advance. A portion of the proceeds from every book sold will go to benefit children with special needs.