Posted on
Mrs. Johnnie Moxley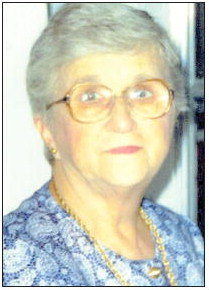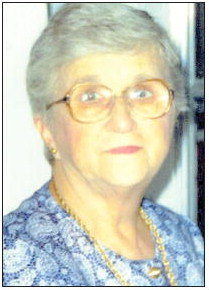 Mrs. Johnnie Mae Moxley, age 95, of Tarrytown, died on Sunday, May 23, 2021, at Memorial Health Meadows Hospital in Vidalia after a brief illness.
Mrs. Moxley was a native of Toombs County, and was a 1942 graduate of Vidalia High School. She lived in Tarrytown for most of her life. She was a homemaker and worked with the Tarrytown Post Office as Post Master Relief for 34 years. She was an active member of the Tarrytown Baptist Church, where she taught Sunday school, sang in the choir, served as Vacation Bible School Director, served on the Pulpit Committee, and was church hostess. She was preceded in death by her husband, Edison William "EW" Moxley; her parents, David Z. Atkins and Jennie Todd Atkins; 1 sister, Annie Pearl Stephens; and 2 brothers, Dewey Atkins and "JH" Atkins.
Survivors include 4 children, Steve Moxley and wife Caty of Derwood, MD, Sandra Quesada Martin and husband Lamar of Vidalia, Johnny Moxley and wife Jill of Martinez, and Michael Moxley and wife Dorothy of Valdosta; 1 sister, Blanche Reaves of Vidalia; 3 sisters-in-law, Sydney Newsome of the Taylor Springs Community, Wilma Moxley of the Kibbee Community, and Mary Atkins of Blackshear; 7 grandchildren, Spencer Quesada and wife Kelly of Port Wentworth, Donna Quesada Manuel and husband Travis of Savannah, Charles Moxley and wife Sarah of Washington, DC, Benjamin Moxley of Orlando,
FL, Angela Felts and husband Drew of Statesboro, Mary J. Clanton and husband Chad of Thomasville, and Josh Moxley of Martinez; 9 great-grandchildren; and numerous nieces and nephews.
A graveside funeral service was held on Saturday, May 29, 2021, at 10:30 a.m., at Ruth's Chapel United Methodist Church, with Dr. R. Clifton Drawdy and Dr. Jimmy Voyles officiating.
In lieu of flowers, memorial contributions may be made to Tarrytown Baptist Church, 301 Main St., Tarrytown, GA 30470.
Ronald V. Hall
FUNERAL HOME
'Memories, of a Lifetime of Love'