Posted on
Win Georgia,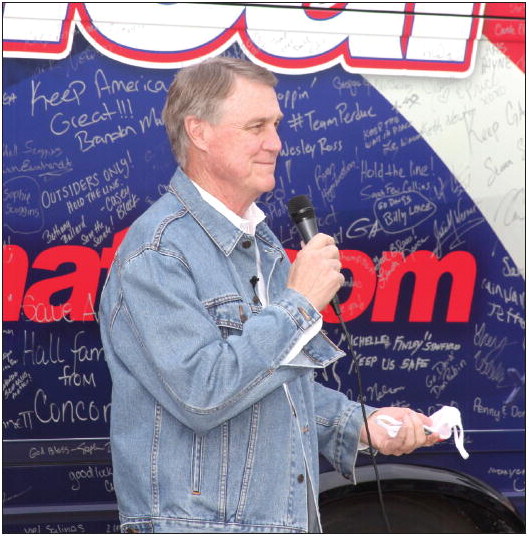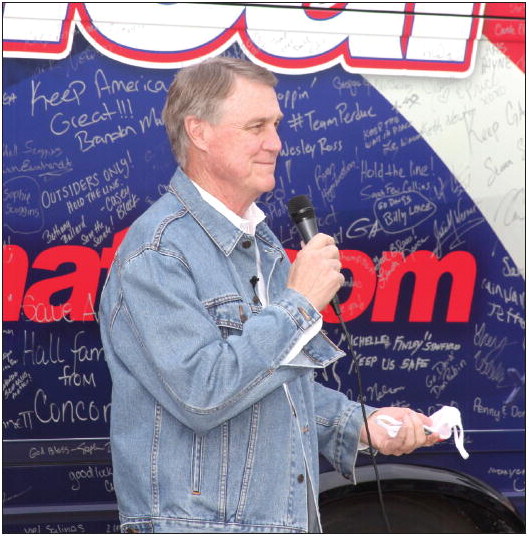 Save America
Perdue Campaign Stops by Uvalda
On any given Saturday morning in Uvalda the some 600 residents are usually busy doing yard work, feeding the livestock and making a run to the grocery store for the weekly shopping— just a slice of rural Americana like that to be found anywhere across the country; but, in Uvalda, December 13 was a departure from the normal routine. Excitement was in the air, especially around Chops Barbecue and Steakhouse on Georgia Highway 221. A very important visitor was scheduled to arrive there around 3 p.m. continued from page
Senator David Perdue, who was making a swing through South Georgia on his "Win Georgia, Save America" bus tour, was eagerly anticipated by a crowd of about 125 area residents that had gathered early to sit at picnic tables spread in front of the roadside eatery. The aroma of barbecue and catfish filled the air as the crew at the restaurant owned by Jason Chambers busily prepared a meal for Perdue supporters. Chambers, who hosted the event, is the father of Austin Chambers, a member of Perdue's support team. Right on cue at 3 p.m., the Senator's bus drove off of the main road and into the parking lot of the restaurant. A cheer went up from the crowd as Perdue stepped off of the bus. Among the faces in the crowd were Lorie, Brad and Sheila Tillman from Alston and Quince and Dorothy Anderson of Johnson's Corner. Brad identified himself as "very conservative and a big supporter of Perdue and the Republican effort, both financially and philosophically." He said he was interested in continuing the forward momentum begun under President Trump. Dorothy Anderson voiced her concern about the irregularities of the past election. "I don't like what the Democrats are doing. I hope we can win," she said of the Republican bids for the Senate.
In the next few days, Perdue will be crisscrossing the state and making stops in 120 towns "from Hahira to Hiawassee" to visit with rural constituents—like the Tillmans and Andersons— and to encourage early voting ahead of what has become one of the most high profile runoff races in state, if not the national, history. With two seats at stake that will determine the balance of power in the Senate, the country's future literally hinges on the outcome of these races. On January 5, Perdue will face opponent Jon Ossoff, a Democrat, in a bid for reelection to his Senate seat. While Perdue actually amassed more votes than Ossoff in the November 3 balloting, because neither contender achieved 50% of the vote they are pitted in a runoff. Perdue's seat is one of two Senate posts still up in the air. Republican Kelly Loeffler is in a hotly contested race for the Senate seat previously held by Johnny Isakson. Her challenger is Democrat Raphael Warnock, an Atlanta pastor. Loeffler and Warnock were the top vote-getters in the November 3 primary in a field of 20 candidates. Loeffler has served in an interim capacity since being appointed to her Senate seat by Governor Brian Kemp following Isakson's resignation.
Austin Chambers broke the ice with the crowd, noting the supporters would be hearing from not only Senator Perdue, but from his first cousin, former Georgia Governor and current U.S. Secretary of Agriculture Sonny Perdue, who was among those making the tour with the Senator. Bonnie Perdue, the Senator's wife, was also present. Chambers, who grew up in Uvalda, related to those gathered to hear the Senator, "We are making stops in towns across Georgia like this because we want you to know what is at stake. What is at stake is Georgia and our country. Twentyfour days from today Georgia gets the final word. Georgia gets to decide the direction this country is going to go."
He emphasized, "Folks, this is a battle between Atlanta and the rest of Georgia and if you don't vote, they are going to win. If they win, your taxes are going up and your guns are going to be gone. If you don't vote and they win, this country will never be the same."
Chambers noted, "This is the most important election of our lifetime. The direction they are going to take us if they win we will never be able to come back from. The only way we win is if we get out and vote. We showed in November there are still more people in this state who think the way we do and believe like we do than on the other side. But we have to get these people out to vote. We love Georgia and we've got to protect her."
Secretary Perdue, the first Republican governor in Georgia in 135 years who is credited with redirecting the dynamic of the state, said of Senators Perdue and Loeffler, "We trust these folks to be a firewall. The Senate is held in the balance. If (Senate Minority Leader) Chuck Schumer gets a majority, they have a blank check to do all the things they want to do. Folks, that is not the America I grew up in."
He added, "It's about future generations. There is not that much runway left in front of me, but I have 14 grandchildren."
Senator Perdue pointed out the enormous positive change that has occurred under the Trump administration. "He created jobs and turned the economy around. He moved the embassy from Tel Aviv to Jerusalem. He fired 10,000 people from the VA who were not doing their jobs. He cut taxes. He eased energy restrictions. How much do you pay for gas now? It's not $4 a gallon. Trump did that." He warned that if Democrats and Socialists take over the White House and Congress, much of what President Trump accomplished would be undone in the first six months. "Do you realize what Chuck Schumer said, that they will take Georgia and change America? AOC (U.S. Rep. Alexandria Ocasio- Cortez) said she wants the two Senate seats because she does not want to negotiate, she wants a majority and a Green New Deal without compromise." He warned, "They will have total control and they want total control permanently." The Senator appealed to the hometown values held dear by rural towns like Uvalda, "You don't grow here without getting the real deal, hard work, taking care of each other." He cited the American dream that is within reach but must be maintained. "Ronald Regan said freedom is never more than one generation from extinction. My mom and dad were public school teachers and I ended up being CEO at Dollar General," he said, acknowledging a Dollar General store within eyesight of his campaign stop on Highway 121. "The eyes of the world are on us. We (the Republican Party) have 40,000 volunteers coming to help us to win Georgia and save America. With your help we will make sure the road to socialism never runs through Georgia." In national news reports on Monday, failed Georgia gubernatorial contender Stacey Abrams, who has been hard at work drumming up support for Democratic contenders in the Georgia Senate races, said that there is evidence of massive interest among demographics prone to vote Democratic. According to Abrams, over 1.2 million Georgians have requested absentee ballots for the runoff election, which is just 100,000 less than the number requested in the state for the general election. "Of that 1.2 million, 85,000 are from voters who did not vote in the general election and they are disproportionately between the ages of 18 and 29 and disproportionately people of color," Abrams said.