Posted on
Montgomery Wins In Soperton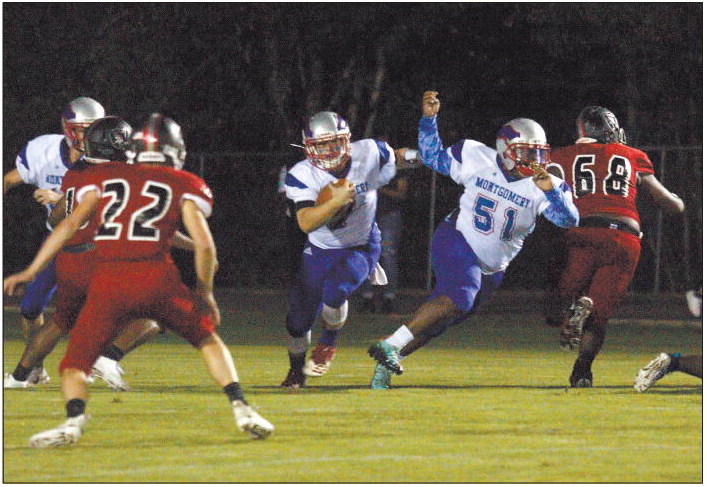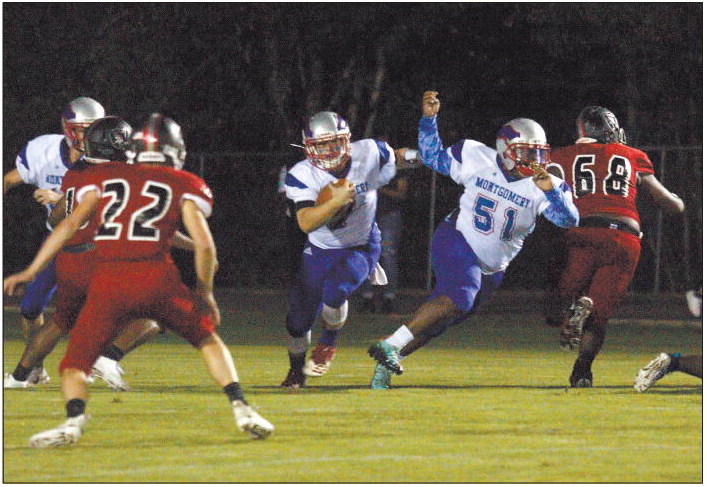 The Eagles of Montgomery County High School and the Vikings of Treutlen County High School faced off on the football field on Friday night in Soperton with MCHS picking up their second win of the season.
Treutlen was missing two key players that had been involved in a car accident, including quarterback PJ Smiley. Both were not seriously hurt, but were still a bit banged up for this game. Both teams lost a few more on the first play of the rivalry game with a bit of pushing and shoving got one player from Treutlen and two from MCHS ejected from the game.
Treutlen had the ball to start the game and began at their 39-yard line. After the scuffle they moved the ball across midfield to the Eagles' 42-yard line. Treutlen picked up good yardage from quarterback Logan Hughes and from Qamar Jordan as they moved to the Ea­continued from page
gles' 28-yard line. Treutlen had it to the 16-yard line, but penalties killed the drive and moved the back 20 yards. Cameron Wallace from MCHS then intercepted a pass to give the Eagles the ball at their 4-yard line.
In the first quarter of the game the Eagles got on the board first with a 65-yard pass play from Bo Davidson to Brandon Denmark. The PAT was wide left, but MCHS led 6-0.
Neither team could find the end zone over the remainder of the first half, sending the game to halftime with MCHS up 6-0. Early in the second half of the game the Eagles got a 75yard run from Denmark to extend their lead with less than 30 seconds off the clock. MCHS failed on the twopoint try, but led 12-0.
With 6:50 left in the third quarter the Vikings found the end zone one 3-yard run by Hughes after a nice drive from Treutlen. They added the PAT from Chris Mincey to close the lead to 12-7. With 2:50 left in the third quarter a 44-yard run by Christian Boyer from MCHS put them on top 18-7. Davidson then hit Wallace for a 17-yard touchdown in the fourth quarter, and then with just two minutes left Boyer added a 37-yard touchdown to make the final score of the game 31-7 as MCHS made the extra point.
This week the Eagles will be hosting Dooly County on Thursday night at 7:30 p.m. The Vikings will be at Portal at 7:30 p.m. on Friday night.