Posted on
REACH Announces $265,000 Goal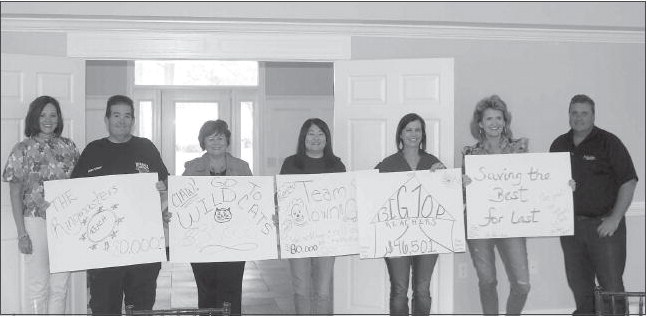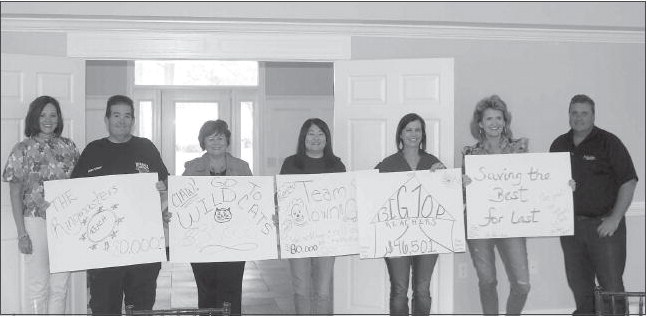 mrandolphadvance@gmail.com
The Greater Vidalia Chamber REACH Campaign officially kicked off on Thursday, September 21, as volunteers met to determine their individual team goals and names.
Each year, the Chamber raises funding for the upcoming year through the REACH campaign, which allows businesses to purchase memberships, sponsorships, and event tickets for the numerous events that the organization will hold throughout the upcoming year. Last year, the Chamber set a record, gathering over $233,000, which was $8,000 over the $225,000 goal.
"We are just getting started and you are already in the home stretch moving toward that goal," Chamber Chair-Elect Stephanie Williams told the volunteers. "It is really, really impressive. I can't wait to see where we end up this year."
She emphasized that having been both a Chamber Board member and a small business owner she learned the true value of being involved with the REACH Program. "This is awesome," Williams remarked. "Sometimes, small business owners are doing a little bit of everything, and it's a lot to keep up with where we can spend our dollars the best and how we can help out and be a part of the community. We are always struggling with that, and this REACH program allows me and other small business owners to sit down and do it all at one time and really build on how we want to give and support the chamber."
"Then, I got on the Board and got another perspective," she added. "As a Board member, what I am seeing now is that the REACH program really frees up the staff and Board members to do what they need to be doing, and it allows us to draw from people in the community that really share our vision and support what we're doing."
Williams reminisced on the past years for REACH, as the program began in 2019 with a goal of $145,000, which was exceeded by $5,000. Since then, the program has grown, and currently, at the beginning of the 2023 campaign, almost the entirety of the goal has been raised.
Chris Hopkins, 2023 REACH Program Chairman, also spoke on this year's success so far. "Appointing me for chair of a program like this is about the same as me being the man holding the steering wheel of a rocket ship. I am really not in control – you are in control," he told the volunteers. "What you're doing is awesome."
Hopkins shared that the group has already met 76% of this year's goal – a feat which has never been accomplished before. "These are race horses — the Chamber itself, this community, and the volunteer leadership. I've said it many times, but in this community the volunteer effort people put forth – whether it's United Way or something like this – I've never seen anything like it. It's good to be a part of it, to just be able to be associated with you and the volunteer effort you do."
Hopkins offered his help in making contacts with others throughout the program, and encouraged the group to continue to move forward with the same enthusiasm which they had shown thus far.
At the end of the kickoff, the volunteers divided into teams to choose their team names and individual team goals, which were announced at the end of the event.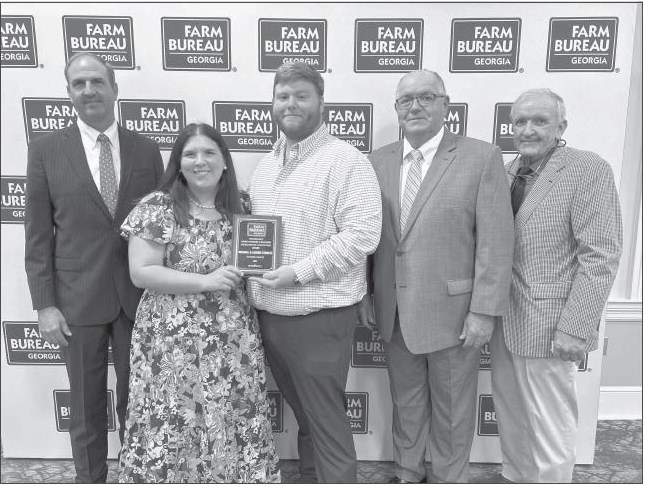 DISTRICT YOUNG FARMERS AWARD – Montgomery County Extension Agent Lauren Stanley and her husband, Michael Stanley, were awarded the Georgia Farm Bureau Young Farmers & Ranchers Excellence in Agriculture Award for the 7th District at a meeting on Monday, September 11. This award spotlights young individuals for their understanding of agricultural issues, leadership experiences and achievement, and their ability to communicate their agricultural story. L to R: Georgia Farm Bureau 7th District Director Ben Boyd, Lauren Stanley, Michael Stanley, Georgia Farm Bureau 7th District Director Gary Bell, and Georgia Farm Bureau President Tom McCall.