Posted on
Extending Frontiers in Shoulder Surgery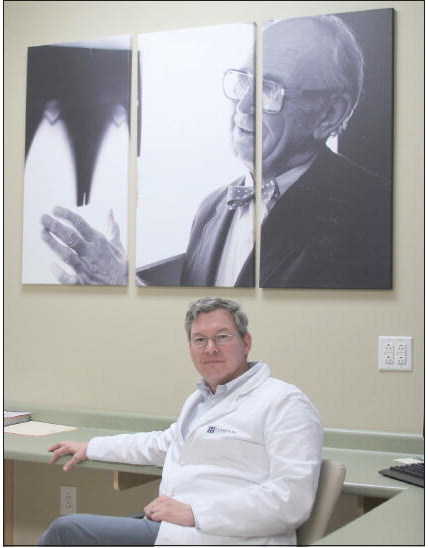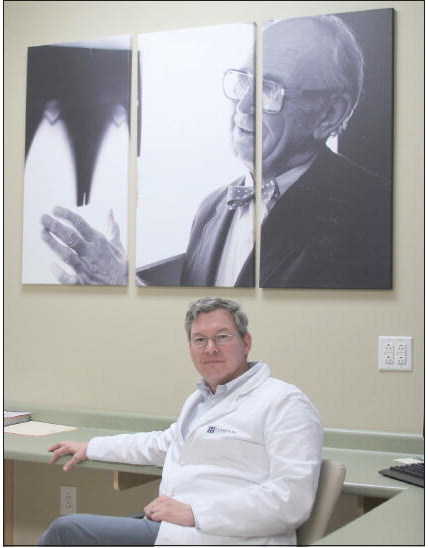 Orthopaedic
Surgeon Pioneers
New Technology in
Vidalia
While most people are probably not too well informed about shoulder surgery — until they need it — for Dr. Brent Ponce, this area of medicine is a passion; in fact, he is bringing new technology in this field into the Vidalia community.
In 2021, Dr. Ponce moved to Vidalia to operate the Hughston Clinic where he practices orthopaedic surgery — care of the musculoskeletal system which ranges from treating carpal tunnel syndrome to repairing shattered femurs. Within orthopaedics his area of specialty expertise is the shoulder. He has staff privileges at Memorial Medical Meadows Hospital (MHMH) where he just performed a groundbreaking medical procedure. Meadows Hospital has the distinction to being the first HCA facility in Georgia and second hospital in the state to serve patients with this emerging technology.
The Procedure
Dr. Ponce explained that the shoulder replacement procedure is revolutionary because it makes use of a pyrolitic carbon implant instead of metal and plastic. Traditionally, metal and plastic joint appliances are used for shoulder replacement surgery. "Pyrocarbon is less rigid, more forgiving and has good wear properties. With pyrocarbon having a modulus of elasticity closer to bone than traditional metal implants, it decreases forces that cause erosion of the socket. It is potentially an excellent option for someone who is younger with shoulder arthritis who is striving for pain relief with less activity limitations."
Pyrolytic carbon, currently marketed in the medical sphere as pyrocarbon, has been around for decades. It has been used in missile nosecones, at nuclear reactor sites, in vacuum tubes, and in personal protective gear, among many other applications. Because blood clots do not easily form on it, it is often used to line bloodcontacting prostheses, like prosthetic heart valves. Dr. Ponce noted, "It is inert, durable and lightweight. It has been used in surgeries to replace small joints in fingers, wrists and elbows." After requiring an investigational device exemption (IDE) study to assess its safety and performance, the FDA approved the material's use in shoulder surgery.
For the thousands of Americans that have shoulder replacements each year, working with a skilled surgeon and choosing the best implant for their specific case can be life changing. Dr. Ponce's first patient to receive a pyrocarbon hemiarthroplasty was a 50-yearold male with a long history of shoulder arthritis. To treat his pain, he tried antiinflammatory drugs, injections, and physical therapy. Unfortunately, these were no longer helping and constant pain was interfering with his quality of life. In this case, the dilemma was solved with a pyrocarbon implant. Dr. Ponce chose this option because he was looking to give this patient the freedom of a hemiarthroplasty with the functionality of a total shoulder replacement. Dr. Ponce noted that early after surgery, the patient had minimal discomfort and was in less pain than he had before surgery.
"Historically, the best option for that is a total shoulder replacement — replacing both sides (ball and socket) — the humeral head with a metal implant and the socket side with an ultra-high molecular weight polyethylene or 'plastic' implant. Younger patients often are more active and a replacement of the ball only, a hemiarthroplasty is often chosen because less activity limitations are placed on patients. The challenge in younger patients is you have to look at the patient's future activities or worry about the socket wearing down because the metal in the humeral head is harder than the plastic in the socket. In a total shoulder replacement, you may eventually wear out the socket and have to do another surgery." World Class Researcher
Staying abreast of the latest advances in orthopaedic health care is a daily discipline for Dr. Ponce who serves as the Chair of Research for the Hughston Clinic; in fact, he is among the top researchers in his field not just in the United States, but in the world. His extensive curriculum vitae is a testament to his experience and his expertise.
Dr. Ponce was no doubt inspired to become a doctor because of his father, who came to the United States from Lima, Peru, and completed his pediatric residency at Cincinnati Children's Hospital. Dr. Ponce's father has told his son that he was one of continued from page
the first— if not the first— Latin-American resident at the Cincinnati hospital.
Growing up in Cincinnati, Dr. Ponce earned an undergraduate degree in biology at the University of Cincinnati, graduating summa cum laude, and earned a medical degree on a military scholarship at Vanderbilt University in Nashville, Tennessee.
While at Vanderbilt, Dr. Ponce met his future wife, Sandi Sikes, who was at the time a nursing student at Georgia Southern University and happens to be from Toombs County. They were participating in a summer project in Philadelphia in the early 1990s. The two were among a group of medical professionals in training who provided immunizations to children following a severe measles outbreak. "There were nine cases of measles encephalitis in Philadelphia. Normally, one out of 1,000 cases of measles results in encephalitis, or severe braining swelling, that can be fatal. This means there were around 9,000 cases of measles demonstrating a high rate of children not being vaccinated."
After graduating from Vanderbilt, Dr. Ponce was a surgical intern at Wright-Patterson Air Force Base in Dayton, Ohio. He then served as a flight surgeon at a pilot training base in Columbus, Mississippi. "I was a primary care doctor, not a pilot. I flew frequently so I could speak the language of the pilots." It was there he began his academic career by contributing to the Air Force regulations with updating the manuals on airsickness management. He synthesized the latest scientific information on airsickness management in attempts to reduce pilot candidates from washing out due to airsickness.
After his assignment in Mississippi, Dr. Ponce and his family moved to Boston where he completed his orthopaedic residency at the Harvard Combined Orthopaedic Surgery Residency. He then did a shoulder fellowship at Harvard, and thereafter he served as an orthopaedic surgeon at the United States Air Force Academy (USAFA) Hospital in Colorado Springs from 2004 to 2006. During this time, Dr. Ponce was deployed at a forward staging base in Kirkuk, Iraq. "We stabilized injured soldiers and sent them to Baghdad and on to Germany," Dr. Ponce recalled. Following his tour of duty at USAFA, he then signed on at University of Alabama at Birmingham where he was on the staff for 15 years. Dr. Ponce began his career at UAB in 2006 as an assistant professor in the Department of Surgery, Division of Orthopaedics, and also served as an associate physician for the football team, the UAB Blazers. It was a natural fit since he was a collegiate athlete himself. While at UAB, he moved up to the ranks as a full professor and served as Vice Chair of the Department, Director of the Orthopaedic Specialties Institute Skills Lab, and Director of the Orthopaedic Research Fellowship.
It was at UAB where he blossomed into an academic leader and recognized skilled surgeon. He has authored nearly 200 peer-reviewed journal publications, as well as book chapters and monographs. He has been invited to several visiting professorships, given national and international presentations, and received multiple awards for academic contributions along with serving as past president of the Veterans Association Orthopaedic Society and the Alabama Orthopaedic Society. His growing recognition as a thought leader has led to several industry collaborations including Stryker, Acumed, Tornier/Wright Medical, Smith & Nephew, Orthopedic Designs North America to improve orthopaedic implants, particularly shoulder fracture and replacement implants. He is an active member of the American Academy of Orthopaedic Surgeons, American Orthopaedic Association and the American Shoulder and Elbow Surgeons and a reviewer for the Journal of Bone and Joint Surgery, the Journal of Surgical Education, and the Journal of Shoulder and Elbow Surgery.
In the throes of the pandemic, after some 'gentle nudging' by his wife to move closer to family, he joined the Hughston Clinic. In addition to seeing patients and operating, Dr. Ponce was recruited to Hughston Clinic to lead their research efforts and continue the academic legacy of Dr. Hughston. Photos of Dr. Jack C. Hughston (1917-2004) hang on the walls of the clinic where Dr. Ponce works in Vidalia. Widely considered as one of the fathers of sport medicine, Dr. Hughston's life has had a major impact on the way orthopaedic injuries are treated – especially in the arena of sports. Dr. Hughston was a visionary and many of his treatments continue to be used today. Dr. Ponce said of the icon, "Significant national sports medicine leadership with three past presidents of the American Orthopaedic Society for Sports Medicine, have come from the Hughston Clinic."
Dr. Ponce splits his time between Columbus, where he sees patients and operates on Monday, Tuesday, and a half day on Wednesday, to Vidalia on Wednesday afternoons through Fridays. Weather permitting, he flies between Columbus and Vidalia — otherwise it's a road trip. Happily, he gets to spend weekends with his family at their farm in New Branch, outside of Lyons or in their downtown Vidalia home.
Since the Vidalia office opened in June 2021, Dr. Ponce is staying busy seeing patients with the range of orthopaedic issues, but the majority of these are shoulder cases. Word has traveled fast. Patients are coming to the Vidalia office from Statesboro, Savannah, Macon and Tifton to see Dr. Ponce because of his reputation as a shoulder expert. Likewise, he is seeing patients in Columbus, many who are traveling far distances to be treated.
The walls of the Vidalia Clinic are lined with reminders of Dr. Ponce's journey as an orthopaedic surgeon, including a letter from the Governor of Alabama and the President of UAB thanking him after successful shoulder operations. Dr. Ponce also operated on famous American rapper Rick Ross, and notes that the celebrity makes a reference to the surgeon who repaired his shoulder in his book, Hurricane. 'He probably wouldn't recognize me," Dr. Ponce shared, but did comment that he would love for the African-American rapper he once helped to sponsor an underrepresented minority medical student for a research fellowship at Hughston Clinic. "The field of orthopaedics is disproportionately competitive, particularly for minorities, and research is a way for students to distinguish themselves in a positive way and open doors."
On the upcoming horizon, Dr. Ponce is one of six lead orthopaedists who form a core team of researchers from Canada, Spain and the United States including the Mayo Clinic in Rochester, Minnesota, and the Florida Orthopaedic Institute in Tampa, Florida. The team, which has 25 total participants, is focused on bringing the Stryker Mako robot into shoulder surgery. The robots are now being used in knee and hip replacement surgery, but have not yet been approved by the FDA for use on shoulders.
MHMH CEO Matt Hasbrouck said that the hospital's parent company, HCA, owns a number of Mako robots. "This type of surgery will be revolutionary and to have here one of the core six researchers advocating for this surgery, and for Vidalia to have the potential for being one of the first places in the world to use a Mako robot for shoulder replacement surgery, is pretty impressive. The community needs to know the talent we have here," Hasbrouck said of Dr. Ponce.
Expected approval for the Mako robot application in shoulder surgery is the mid-2020s. Although the Mako looks to provide more precision and hopefully fewer complications, its value in shoulder surgery must be carefully researched and documented, Dr. Ponce acknowledged.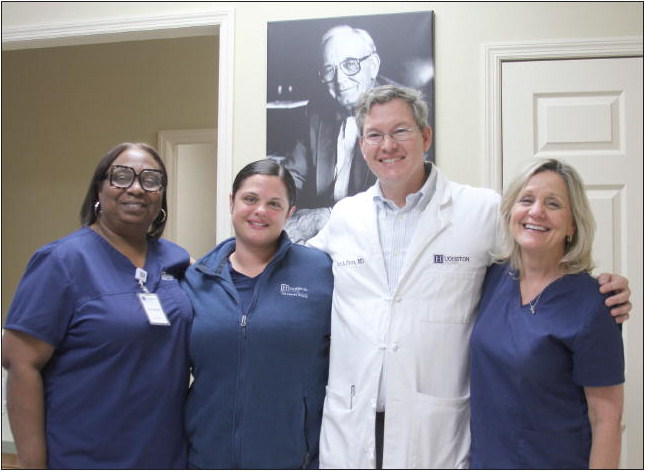 OFFICE TEAM — Dr. Ponce stands with his Vidalia office team, from left to right, Veronica Brown, office staff; Melissa Pinckney, medical assistant/medical secretary; Wendy Ritchie, x-ray tech.Photo by Deborah Clark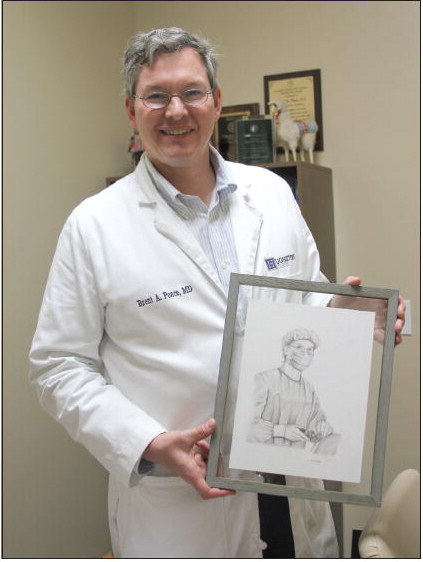 STUDENT'S GIFT TO MENTOR — Haley McKissack, who is now a medical resident at Emory University Hospital in Atlanta, was among Dr. Ponce's students at UAB, and thanked her mentor by gifting to him her self portrait.Photo by Deborah Clark