Posted on
Lyons Cub Scouts Looking for Leaders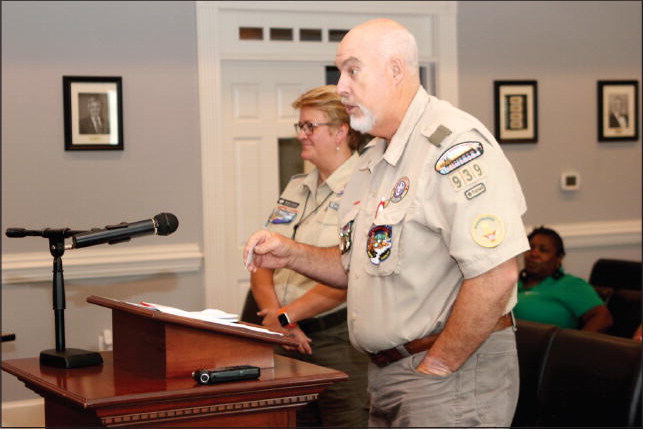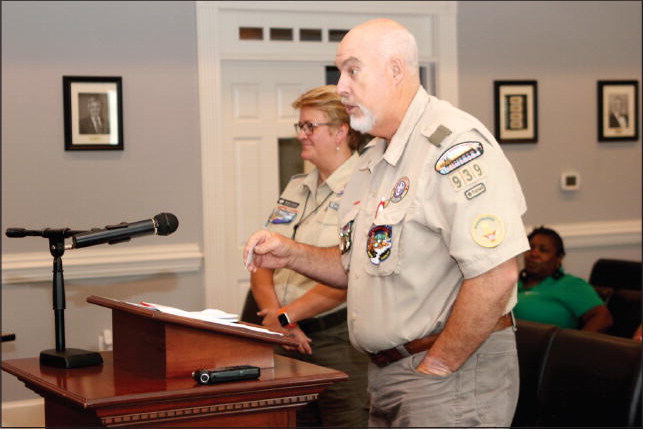 mrandolphadvance@gmail.com
Lyons Boy Scout Troop 939 Scoutmaster Kim Stephens and Boy Scouts Coastal Georgia Council Assistant Scout Executive Susie Curtis addressed the Lyons City Council on Tuesday, June 6, to inform them of their intent to create a Cub Scout Pack, which will be for ages 5-10, in Lyons.
"There is already a Cub pack in Vidalia; it is overrun with kids when we do our sign-ups in August at the schools," Stephens explained. "We are trying to get it to where the Lyons kids can stay here."
He continued to tell the Council that Lyons has excellent resources for the Cub pack, especially with the recent grant for renovations to Vincent Faison Sr. Park. "We have excellent parks within the City to camp out at," Stephens emphasized. "Also, the scouting program is really successful. We try to raise good kids in our community who can come back and take [Mayor] Willis Ne-Smith's place in the future."
According to Stephens, the Cub Pack is recruiting leaders. "We are trying to get adults and leadership in place before we actually go to sign up kids, because without leadership, the kids are there, but there is nothing there to do," he said.
Stephens said that although Troop 939, which is for boys ages 11-18, has been very successful in its community partnership and creation of Eagle Scouts, which is the highest honor a Boy Scout may earn, a cub pack is needed to recruit young boys to the program so they may later go on to become a part of Troop 939. He explained that currently, Cub Pack 939 is planned to accept boys and girls, ages 5 to 10, and will be called a "Family Pack."
"The parents have to be there [at Cub Pack meetings and events] with their children anyhow, so we are trying to make it a family affair, so that when we go to these parks, we have proper leadership for these kids," Stephens shared.
Curtis also spoke on the subject. "Usually, in order for a Boy Scout Troop to succeed, they need a 'feeder pack,' which is what Vidalia has become. When they become 11 years old, they cross over into Boy Scouts," she told Council. "Vidalia's pack is huge – it's at least 60-70 boys. But a lot of those boys we lost last year because they were riding all the way from Lyons, and it was just too much. Then, I got a lot of phone calls from families saying that they wanted sisters to go into the pack, too."
She continued to speak of the popularity of scouting in this area, as she informed the Council that the Coastal Georgia Council of Boy Scouts, which covers 22 counties, was third in the nation for the second year in growth. "We are letting that happen organically," Curtis remarked. "We are not pushing girls to join Scouts until they come to us. But we have three military bases in our council – Fort Stewart, Hunter Air Force Base, and Kingsland. So, they come already being a part of scouting."
According to Curtis, the Coastal Georgia Council has had over 34% growth for the past two years. "We are getting all kinds of attention nationally because we have good leaders like Kim Stephens and Keegan Spell in Vidalia. So, we are not going to sign up any kid until we have all the leadership," she explained. She also said lot of the leadership for cub packs comes from the parents.
Those interested in becoming Cub Pack leaders, or those who have questions about the program, may contact Scoutmaster Kim Stephens at (912) 293-2723.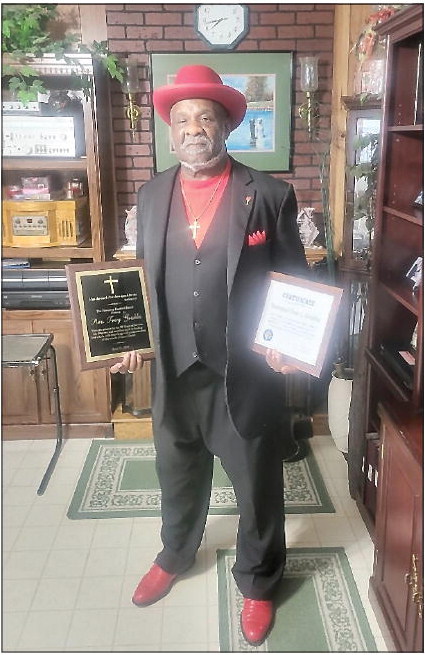 PASTOR'S ANNIVERSARY — Harmony Baptist Church in Statesboro and Mayor Jonathan McCollar honored Rev. Troy Grubbs with a plaque for 20 years of service on June 11, 2023. He received a certificate of recognition for his faithfulness, valuable services and contribution as a dedicated pastor. Rev. Grubbs lives in Ailey and is also a pastor of Mt. Chapel Baptist Church in Lyons.