Posted on
Heavy Equipment Pathway Graduates Second Set of Students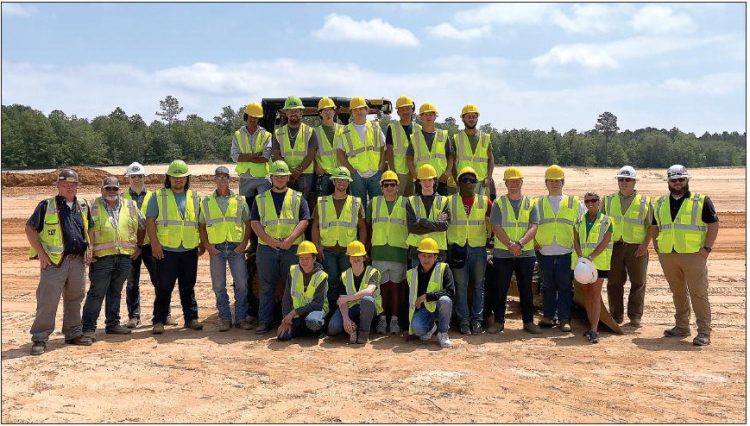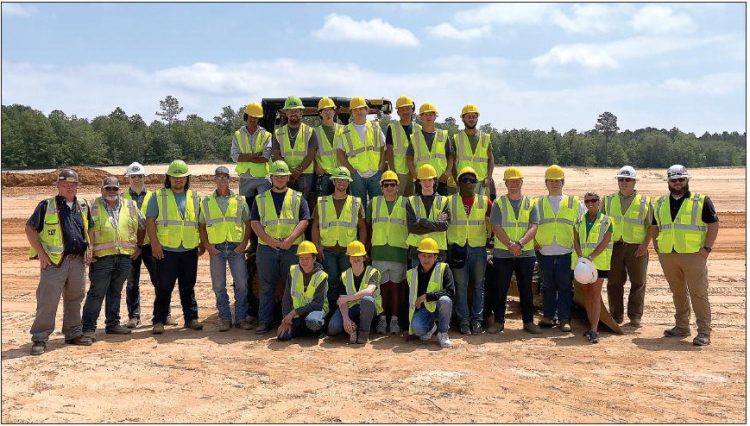 The Toombs County High School Heavy Equipment Pathway has graduated its second set of students, several of whom have already gained employment from local industries.
On Wednesday, May 10, and Thursday, May 11, 19 students enrolled in the "Intro to Heavy Equipment" course demonstrated their operator skills on Caterpillar 323 and 326 hydraulic excavators, as well as a Caterpillar D5K bulldozer.
Students were judged on several areas, such as walk-around pre-trip safety inspections, loading trucks, fine grading, and more. "It's not just a jump on the machine and get to work – these students are required to pass a safety inspection, just like they would be in the workforce," McLendon Enterprises Health and Safety Director Brent Holcombe emphasized.
These simulators allow students to work on tasks, such as trenching, navigating the machinery, and practicing safe operations. Each simulation exercise grades the student on their performance, notifying them of things they need to work to improve.
The class has allowed the students to make connections with local industries and potential employers, such as McLendon Enterprises, Yancey Caterpillar, and CW Matthews Contracting, who all worked to coordinate and judge the capstone project.
Once all the students completed the tasks, a small "graduation" ceremony was held, as each individual received a certificate of completion for the program. Though many of the graduates were high school seniors, several were juniors who are now prepared for the workforce.
Heavy Equipment Instructor Tom Brodnax spoke on the class. "We call ourselves the 'Dirt Dawgs,'" he explained. "We are the first program like this in Georgia. It's a great program, and it is spreading like crazy throughout the state of Georgia."
He continued, "Being able to complete the testing gives the students an opportunity to show off the skills they have and what they have learned. We are getting them ready for the workforce."
Opportunities Through Partnership According to McLendon Enterprises Equipment Manager Tim Adams, several opportunities have arisen for graduates of the Heavy Equipment Pathway, as businesses have gained interest in the program's success.
"The program is a huge success and wouldn't be without the students' willingness to do the work," Adams remarked. "Our vision that we had two years ago of giving students an opportunity to gain jobs in the workforce upon graduation is coming true."
He informed that several of these graduates will be working with McLendon Enterprises as apprentices throughout the summer. Caleb Jackson, Blake NeeSmith, Blake Huey, Ryan Galbreath, Levi Curl, and Ethan Story have all been employed by the company, and Adams said that more hires are to come from the program. "The program is working – we have these guys operating machines every day. We also have several bigger companies from across the state coming to recruit pathway graduates," he explained. "As counties keep growing and spreading, we hope to continue to spread qualified workers throughout the area."
Several seniors who have graduated from the course have also secured employment after graduation with various companies, including senior Clayton Porras, who will be working full-time with McLendon Enterprises as an operator after graduation.
Community Investment Adams and Holcombe also shared that the Heavy Equipment Pathway would not be as successful as it is without the investment of local businesses within the community, specifically, Yancey CAT.
"Yancey CAT has been a big partner with us throughout this pathway," Adams said. "They have gone above and beyond to make sure our program works. It would almost be impossible without them. Whatever we need for the kids — from machinery to hard hats to swag bags – they have generously provided."
Yancey CAT Representative Charley Courson commented on the company's investment. "This is really a great program that gives students the knowledge they need about these machines so that they can have confidence and not be intimidated when they go into the workforce," he remarked. "A lot of Yancey CAT's customers are partnering with this program, so it has just felt appropriate to join in on the endeavor. This work is industry-wide – it doesn't focus on one specific career, and I think that is great for our community."
Background During the 2021–2022 school year, Toombs County High School implemented a unique pathway option for students through the creation of the new Heavy Equipment Operations program. This Career, Technical, and Agricultural Education (CTAE) program is the first of its kind in Georgia and makes Georgia only the third state in the country to have this option for students.
The goal of this program is to equip high school students with the skills to operate heavy machinery and equipment. These skills will allow graduates to enter the workforce prepared to be a valuable accessory to industries and to earn good salaries. "In essence, where normal students entering the workforce after high school will make around $30,000, students who complete this pathway will be able to make upward of $40,000 to $50,000 per year," Toombs County Schools Superintendent Barry Waller explained. He stressed the need for these kinds of skilled laborers in local industries. "Both Chicken of the Sea and McLendon Enterprises have repeatedly shared that they need equipment operators."
This program is also an innovative option for students who do not plan to pursue college. Former Toombs County CTAE Director Carmen Roberts noted, "Most pathways are geared toward students going to college, which can be frustrating for individuals who do not wish to follow that plan. Having this pathway gives more choice in students' educations to prepare them for the future; it is a very necessary addition."
This semester marks the second completers of the new pathway, which consists of three courses.
PREPARING FOR THE WORKFORCE – Many of this semester's graduates of the Heavy Equipment Pathway will use the knowledge and skills learned in the course to enter the workforce, as many have secured jobs for the summer or after graduation. Front Row, L to R: Damien Gieselman, Riley Bradford, Ricardo Abarca-Alarcon. Middle Row, L to R: Charley Courson, Tim Adams, Will Rogers, Levi Curl, Tom Brodnax, Blake NeeSmith, Blake Huey, Drew Woodruff, Jody Poole, Brandon McCall, Noah Huey, Noah Boyett, Stacy Randall-Toole, Derek McLendon, Brent Holcombe. Back Row, L to R: J'Den Simpson, Caleb Jackson, Trevor Miller, Christian Ford, Eliseo Hernandez-Cruz, Carsynn Taylor, Jaden Mc-Cloud.