Posted on
Wheeler County FFA Wins State Forestry Championship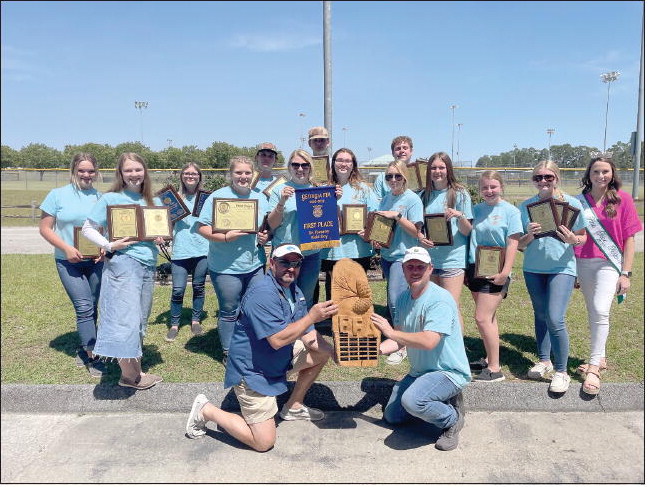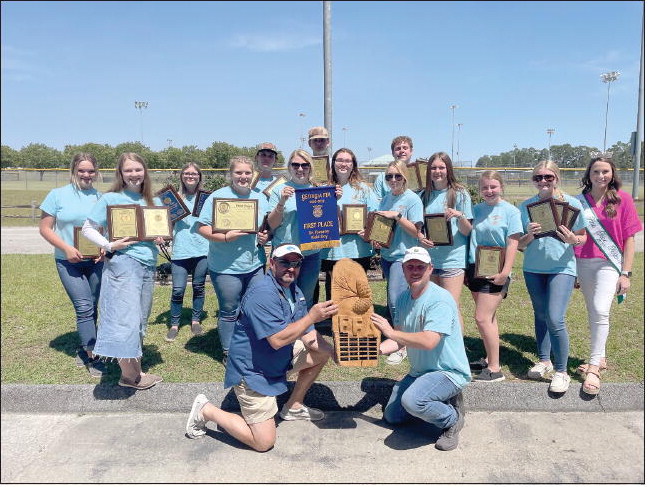 Each spring FFA forestry teams from throughout the state of Georgia compete at six area events to determine the twelve teams eligible to compete at the State Forestry Field Day. The top two teams from each area of the state move on to battle for the state title. The Wheeler County Senior team was the 1st place team from Area 4 which qualified them for the State CDE. In the junior division the Wheeler County Middle School team placed first and the Wheeler County High School team placed second to qualify for the state Forestry Field Day Event. The state Forestry Field Day Event is held in Swainsboro each spring in conjunction with the Swainsboro Pine Tree Festival. On Thursday, May 4, the Wheeler County FFA Forestry team took 1st place honors at the State Forestry Field Day for the 2nd time in School history. Not only did Wheeler FFA win the State Championship in the Senior Event, but their ninth grade Jr. team finished 3rd overall and the Middle School team was 7th overall at the state contest as well.
The Forestry Field Day Event is comprised of eleven members who compete in ten industry skill events. These events include land measurement, reforestation or tree planting, timber cruising for board foot volume, forest management, timber cruising for cord volume, ocular estimation, compass and pacing, forest disorders, tree identification, and timber stand improvement. Through these activities FFA members develop hands on skills for future forestry and natural resources related jobs and employment.
Many FFA members placed in their specific event and three team members 1st place overall receiving a plaque and a $20 cash prize, which was sponsored by Jimmy and Sandra Mock of Jefferson, GA. Those placing 1st included: Annabeth Ethredge in disorders with a score of 85, Faith Clark with a score of 99 in land measurement, and Haven Griffin with a score of 61 in ocular estimation. Marlee Veal placed 2nd in timber cruising for cord volume with a score of 89. Senior Team members included Chase Wooten, Lauren Humphrey, Lane Connell, Zoey Vann, Sierra Connell, Maryee-Grace Selph, and Owen Stokes.
The Wheeler County ninth grade junior team finished 3rd overall at the state competition, after placing 2nd at the area four event. Junior members placing at the state competition were Katlynn Herrington- 1st place in ocular estimation and Keaton pickle- 1st place in TSI. Junior Team members included Layla Gibbs, Lillian Bright, Lockland Bell, Konner Smith, Kelly Gonzalez, Peyton Williams, Aiden Lanier, Isabelle Sellers, and Trent Butler.
The Wheeler County Middle School junior team finished 7th overall at the state competition after qualifying for state by winning 1st place at the area four contest. Junior members placing at the state competition were Ava Dixon 1st place in cord volume with a perfect score of 100, Conley Murray-3rd place in ocular estimation, and Fisher Thorton-3rd place in Reforestation. Other Junior Team members were Ginnie Connell, Sadey Cravey, Kaitlyn Morgan, Layton Johnson, Kinlee Raiford, Noah Page, Molly Wright, Mackenzie Johnson, Kaleigh Scott, Kaden Knight, Savannah Purvis, and Chassity Knight.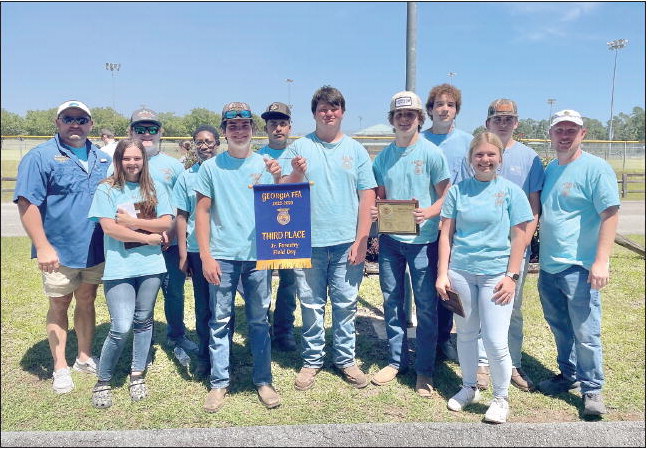 JUNIOR THIRD PLACE — (L to R): Front Row: Katlynn Herrington, Lockland Bell, Aiden Lanier, Konner Smith, Layla Gibbs, Back Row: Bryant Oliver, Peyton Williams, Isabelle Sellers, Kelly Gonzalez, Trent Butler, Keaton Pickle, and Les Bateson.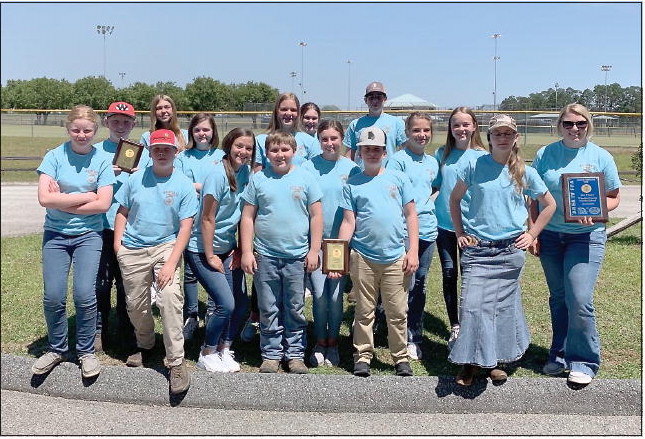 MIDDLE SCHOOL — (L to R): Bottom Row: Savannah Purvis, Kaden Knight, Molly Wright, Noah Page, Conley Murray, Ginnie Connell, Top Row: Fisher Thornton, Mackenzie Johnson, Kaitlyn Morgan, Ava Dixon, Chassity Knight, Kinlee Raiford, Layton Johnson, Kayleigh Scott, Sadey Cravey, and Hannah Henry.