Posted on
continued from page wavering commitment ….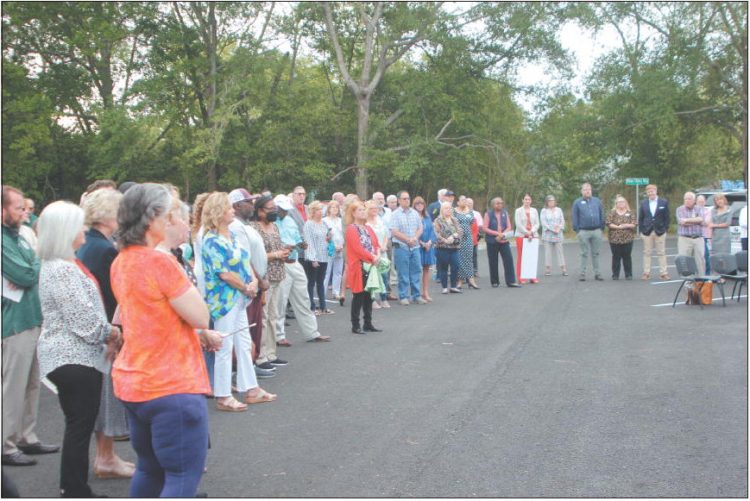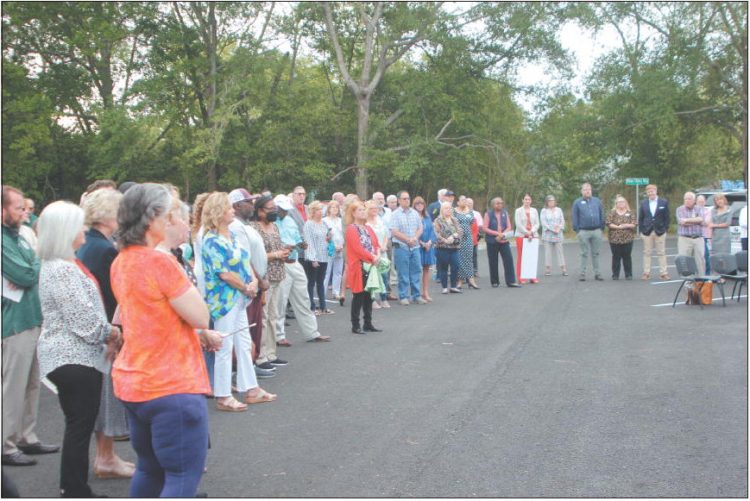 continued from page
wavering commitment and generous contributions, we have been able to embark on a much-needed renovation project that has transformed our library into a state-of-the-art facility. Your support has been nothing short of astounding, and we are deeply humbled by your generosity," Vidalia-Toombs County Library Board of Trustees Chairman Barry Dotson told the crowd.
"I want to extend my heartfelt appreciation to each and every one of you who contributed to this project, whether it was through financial donations, volunteering your time and expertise, or simply spreading the word about our fundraising efforts. Your dedication to our library and our community is truly inspiring, and we are grateful beyond words," Dotson said.
The library renovation was previously not set to begin until next year, and was not expected to be completed until at least 2026; yet, because of funds raised by the community, the Vidalia-Toombs County Library was able to obtain state funding, which allowed the $4 million renovation to occur.
"Our Llibrary is more than just a building with books. It is a cornerstone of our community, a place where people of all ages come to learn, explore, and connect,"Doston noted, adding,"It is a safe haven for our children to discover the joy of reading, a hub for lifelong learners seeking knowledge, and a resource for those in need of information and assistance. The impact of this renovation will be felt by generations to come, and it is all because of your support.
"This project has not only modernized our facilities but also allowed the library to expand its services, enhance our programming, and create a more inclusive and welcoming space for all members of our community."
During his address, Dotson thanked many of the people who made the renovation possible, such as Dr. Mark and Tonya Spivey, Senator Blake Tillery, State Library Director Julie Walker, and the library staff.
He then turned to Vidalia-Toombs County Library Board of Trustees Vice Chairman Howard Holman to thank him for his work in gaining fundraising for the project. "Many of you today may not realize that this project was not even supposed to start until next year — 2024, with an expected completion date of early 2026. Howard said, 'That's not good enough. We can do this now, and we should do this now.' He became the wind in the sails for this project, and the renovation ship sailed much sooner than we ever thought possible."
Dotson said of Holman, "He encouraged, cajoled, and yes, maybe even chastised some of us to remember our mission and our charge. We described him as a force of nature for this project. We are two years ahead of schedule, due in large part to this man — Howard Holman. He has been a friend and mentor to me and many others for a long time. Howard, thank you from the bottom of our library hearts."
Holman then addressed the crowd. "I'd like to thank Marlene Tomlin and the Friends of the Library. Marlene is incredible, and the Friends of the Library has helped to put on this event and provide goody bags to attendees. They've done a great job and are always so supportive."
He continued, "I just cannot say enough about our staff – they do a great job. Anybody that thinks less of the younger generation, come to work a day with these kids. They do a wonderful job."
According to Holman, the library received an average of 50,000 visits a year before the COVID-19 pandemic, and the staff hopes to continue that trend throughout the coming years. He also explained that unlike most libraries, the Dr. Mark and Tonya Spivey Public Library is owned by the Vidalia-Toombs County Library Board, who understands their duty to care for the library and help it continue to be its best.
Holman added, "Mike Walton stays quietly in the background keeping books. Brian Bishop, anytime we needed something from a politician, we called Brian. The 5 women – Rebekah Arnold, Lisa Chesser, BJ Davis, Pat Dixon, and Carol Rice – every step of the way, they were here. That's not to take away from anyone else on the Board who worked for this project, but these folks did a very outstanding job."
He noted, "When we needed someone with a construction background, Gary Campbell certainly filled that bill. From day one, he babysat this project with our architect Kevin Palmer and Carol Williams with Harry Moses Construction Company. Gary, thank you very much."
Holman also praised Ohoopee Regional Library System Director Cameron Asbell. "You do not know Cameron unless you have worked with Cameron," he explained. "She is an incredible, incredible asset to our community."
Holman commented, "Finally, the last person I want to thank would be the City, and [former City Clerk] Bill Bedingfield and [current City Manager] Nick Overstreet. Early on, when we needed support, we would ask for something and they would double it. Thank you to the County, we appreciate [Vidalia Mayor] Doug Roper, [County Commissioner] Wendell Dixon, and [County Commission Chairman] David Sikes.
continued from page
And finally, we would not be standing here without Senator Blake Tillery. He has quietly been in the background moving this project along, and if anyone ever asks me what happened with this library project, I'm going to tell them it was put together by friends of Blake Tillery," he concluded.
Spivey's Reflections
Dr. Mark and Tonya Spivey, whose significant donation was a catalyst for the project, addressed attendees to share their perspective on the project. "This place is amazing. The Board of Trustees has been great. We are blessed to be a part of this community, and happy to be a part of this," Dr. Spivey shared.
According to Vidalia-Toombs County Library Board of Trustees Member Pat Dixon, she reached out to the couple in Fall 2020 about the project and the needed financial contributions from community members. "They had excellent questions on the impact this would have on our adults and our youth," Dixon reminisced. "Thanks to Cameron, the staff, and our Board of Trustees, we provided them with many hard facts. The Spiveys saw the benefits for everyone, and as they say, the rest is history."
Tillery's Comments
Senator Tillery also spoke at the occasion. "Where do you start? These things don't happen without a push, and Howard Holman was the push," he emphasized. "He accomplished more on his back in a hospital bed than I'll ever accomplish in my life. Thank you, Howard.
"In science, when I learned from some of you standing in the audience, you taught me about inertia. Inertia says that things stay as they are until somebody makes them do something different. The inertia in the community, the force that makes things different, is you," he told the crowd. "We would not have gotten here had it not been for Dr. Spivey and Mrs. Tonya – thank you – and more. They made this possible."
Tillery added, "But this community has worked because of other names, too – because of Ladsons and Threlkelds and Godbees and Rices and Davises and Rollins and Dixons, and on and on, the inertia for Vidalia has been moving. Remember, inertia works both ways: things stay stopped because of inertia, but they keep moving because of inertia. Because of folks like that and names that I missed, we will keep moving because of inertia."
According to Tillery, this inertia also presents a challenge to the younger generations in the community to continue to work for the betterment of the community. "We have to be givers in this community if it is going to continue to be this way. It is not because of me – y'all have given me a position that allows me to stand up here and challenge you, but you have not given me a position to make it happen. You make it happen," he concluded, as he thanked everyone for their work and generosity for the library.
Library Director of the Year Award State Library Director Julie Walker also took to the podium to recognize Ohoopee Regional Library System Director Cameron Asbell as the Georgia Library Director of the Year.
"I was just here it seems like not too long ago awarding Senator Tillery our Library Champion of the Year award, so I think that this area and Vidalia is the epicenter of library excellence for the state of Georgia," Walker began.
Describing Asbell as a "Library Hero," Walker emphasized the importance of recognizing both accomplishments – the award and the newly- renovated library – at the same time. "Projects like this don't happen magically – it takes a truly fearless leader, someone who is not afraid of hard work, not afraid of embarking on an uphill battle, and not afraid of doubters. It takes someone who cares about her staff, her community, and the power of libraries. It takes a lot of determination, a lot of faith, and a fabulous sense of humor to see something like this through to completion, and Cameron has every single one of those traits," she remarked.
Walker continued, "I feel like maybe everyone standing here submitted a nomination for Cameron for this award, because our office was absolutely filled with them. We are so happy about that because we want her to be appreciated and recognized for her hard work. Being a library director of a regional system is not an easy job in any circumstances. The rest of Cameron's duties didn't go away because she was managing this construction project, but she never complained, she never missed a deadline, and she kept all of her libraries humming along, doing creative and good work all across her region."
She also commented on the library renovation. "The best gift you can give the children and families in your community is a shiny new library," Walker told the crowd. "Everyone here knows it took the whole village to make this happen, so I want to thank and congratulate all the local elected officials, Senator Tillery and all of our friends in the Georgia General Assembly, your library trustees, the Friends of the Library, your hardworking and dedicated library staff, and so many members of the community who contributed in ways large and small to make this dream a reality. I cannot be happier for you and I cannot wait to see every corner of this new library."
Library Hours
The Dr. Mark and Tonya Spivey Public Library, located at 610 Jackson Street in Vidalia, is now open six days a week for patrons to enjoy – from 10 a.m. until 6 p.m. on Monday through Thursday, and 10 a.m. until 2 p.m. on Friday and Saturday. For more information, call the library at (912) 537-9283.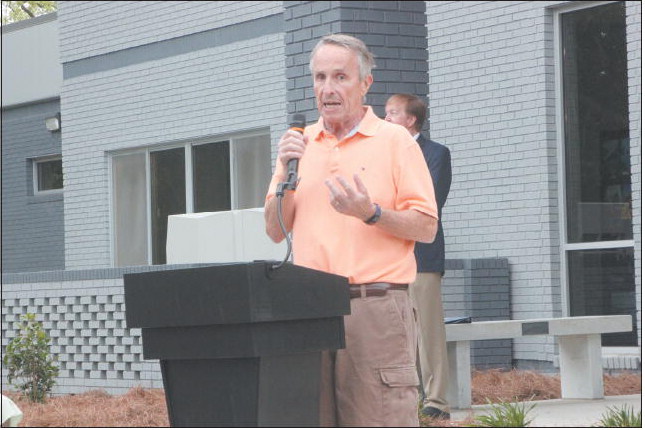 THE PUSH BEHIND THE PROJECT – Described by Senator Blake Tillery as "the push behind the project," Vidalia-Toombs County Library Board of Trustees Vice Chairman Howard Holman thanked several members of the community and allies who had helped to expedite the library's previous expected renovation date.Photo by Makaylee Randolph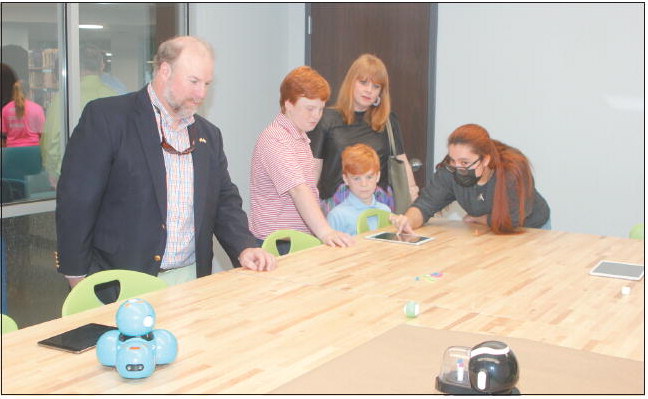 CHILDREN'S STEM ROOM – The library now features a STEM (Science, Technology, Engineering, Mathematics) exploration room for children, where they may learn about the subjects. Here, a family watches as a ball is controlled with the volume of their speaking voice.Photo by Makaylee Randolph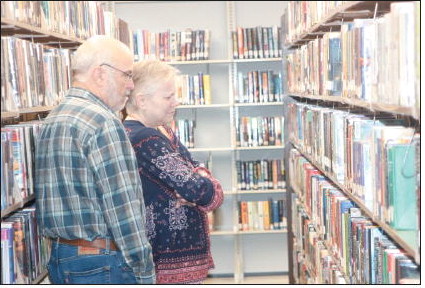 APPRECIATED BY ADULTS – The library is not only exciting for children, but also adults, who enjoyed perusing the new shelves and resources.Photo by Makaylee Randolph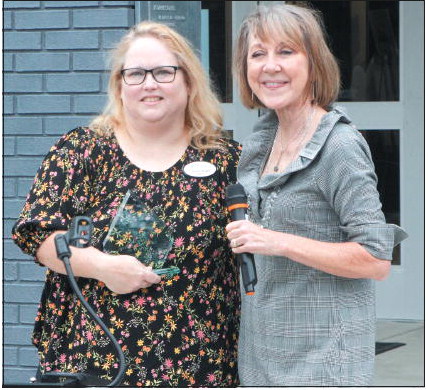 GEORGIA LIBRARY DIRECTOR OF THE YEAR – Ohoopee Regional Library System Director Cameron Asbell (left) was recognized by State Library Director Julie Walker (right) as the Georgia Library Director of the Year.Photo by Makaylee Randolph