Posted on
Lyons PD Introduces New Officer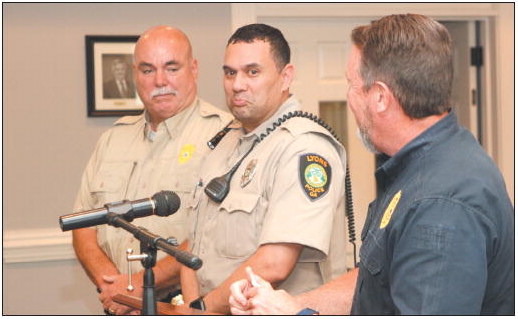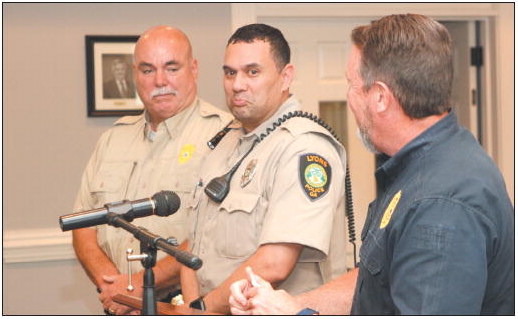 Lyons Police Chief Wesley Walker addressed the Lyons City Council to introduce the Department's newest certified officer, Danilo Cubacub, at the Council's regular meeting on Tuesday, April 4.
Walker informed the Council that Cubacub was a certified officer who previously served for 2 years at the Hazlehurst Police Department. "We are proud continued from page
to have him on board, and we are looking for some good things from him," Walker remarked. "He brings something a little unique to the table in that he is also a certified EMT. So, we are thinking of some ways that he can assist the department in specialized roles. One of the areas that we have talked about [his helping with] is more active shooter training with the schools – he would be a huge asset to that team. God forbid we have an incident like that here, but if we did, he would be a great asset to have on that team as we made entry to tend to people and take care of threats."
According to Walker, Cubacub is also currently enrolled in night school classes at Southeastern Technical College in Vidalia to earn his Advanced EMT certification to help him further his assets.
Action Items
Soapbox Derby Building
An intergovernmental agreement was approved between the City, Lyons Better Hometown Inc., and the Lyons Development Authority for the construction and lease of the new Southeast Georgia Soapbox Derby building at Partin Park. The new building will be used for the storage of soapbox derby cars, weigh-in station, and other resources to both give the Derby more space and to eliminate the need for the Derby to utilize the Ne-Smith Birthday House and Callaway Community Center spaces.
The facility will be built by the City, which will then sublease the space to both the Lyons Development Authority and the Lyons Better Hometown Inc. for the Derby. The leases will be 5-year leases, which cost $1 per year.
Lyons Development Authority Oath Mayor Willis NeSmith Jr. administered the oath of office to Lyons Development Authority Member Rebecca Rollins, who was appointed to the Authority last month. Rollins previously served on the Authority to fulfill an unexpired term.
Alcohol License
An alcohol beverage license was approved for Big Julio's Tienda Y Taqueria.
Rezoning
A zoning request by Montford Holdings to change a parcel from residential to commercial zoning was approved.
Reports
Main Street Association
Lyons Main Street Association Executive Director Daphne Walker informed the Council that she had applied for a grant from Altamaha EMC to help fund the Community Heart & Soul program, which takes a citizens-based approach to determining what matters most to those in the community, so that the community may be better improved. She said that the Lyons Development Authority and Main Street Association both planned to help fund the project if the grant went through.
She also shared that the feedback from the recent February meeting between local businessowners, community stakeholders, and Main Street Association board members had shown several needs and desires of the community, such as new real estate spaces along U.S. 1 for businesses, growth towards the Vidalia City Limits, further education on the downtown revolving loan fund, a mentor program, BOOST grants, and more.
According to Walker, the Southeast Georgia Soapbox Derby held a Rally Race last month, in which 4 new racers tried out the sport. She explained the Derby administration had decided to allow new racers to experience their first race for free.
Walker told Council members that Derby representatives had brought a Super Kids soapbox derby car to the recent Toombs County Special Olympics to inform community members of the opportunity for those with special needs. She also said that the Tales From the Altamaha production had been practicing diligently in preparation for their performances on April 20-29.
City Manager
City Manager Jason Hall reminded the Council that the City's annual Tire Amnesty Week is this week, April 10-14. Only automobile tires will be accepted; citizens within the city lmits should be placed on the curb near the right of way by noon on Thursday, April 13, as the City plans to complete the pickup on Friday, April 14.
The second phase of the housing study, which is being completed through the University of Georgia, will occur on Saturday, April 15, as pairs of volunteers work to complete curbside surveys of housing in a concentrated area. No residents will be contacted, the study will be merely observation.
The next City Council Work Session will be Tuesday, April 25, at 6 p.m., while the next meeting will be Tuesday, May 2, at 6 p.m.
Citizen's Concerns
Lyons Citizen Elisabeth Caldwell approached the Council about her concerns of the sidewalk accessibility and safety for the disabled. When summarizing, she told the Council that the main things she would like to see change is sidewalk accessibilities, education of the American Disabilities Act rights and a creation of a disabled support group, and improved street lighting.
Caldwell said she moved from Dodge County to Lyons in November 2020. Since then, while traveling home from her job at the Dollar General Market, she has noticed that there are no places where wheelchairs or powerchairs may join the sidewalk without traveling onto a residential or business driveway, and there was a lack of adequate street lighting. "Where you all use your legs, people like me use our wheels," she emphasized to the Council.
She informed Council that she felt that having a community of those with disabilities would not only connect those individuals but would also give the City a group which they may consult with for perspective when making decisions that may affect that population.
Caldwell shared her experience with working with the disabled population, as she previously worked with federal and state government agencies that focused on providing grants and funding to local governments to ensure accessibility and accommodations for this group. Mayor NeSmith reassured Caldwell that those issues would be looked into and asked for her guidance with those possible grants.
Workaversaries
Lyons Police Department Lieutenant Kevin Mathis and City Manager Jason Hall were honored for their anniversary of beginning to work with the City.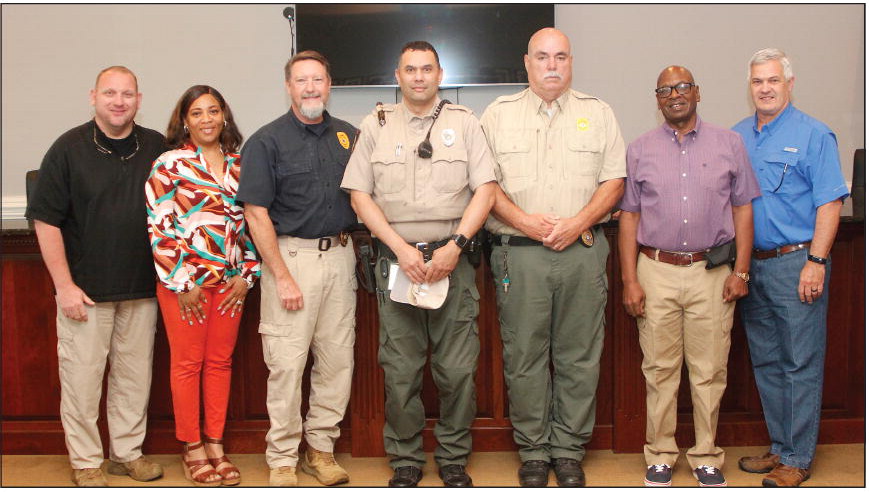 CELEBRATING NEW AND LOYAL EMPLOYEES – The Council celebrated Lyons Police Department Lieutenant Kevin Mathis and City Manager Jason Hall for their 'workaversaries,' while Officer Cubacub was celebrated for his decision to join the City. L to R: Councilman John Moore Jr., Councilwoman Cathy Benton, Chief Wesley Walker, Officer Danilo Cubacub, Lieutenant Kevin Mathis, Councilman Tracy Johnson, Mayor Willis NeSmith Jr. Not pictured: Councilman Rick Hartley, Councilman Ivy Toole.Photo by Makaylee Randolph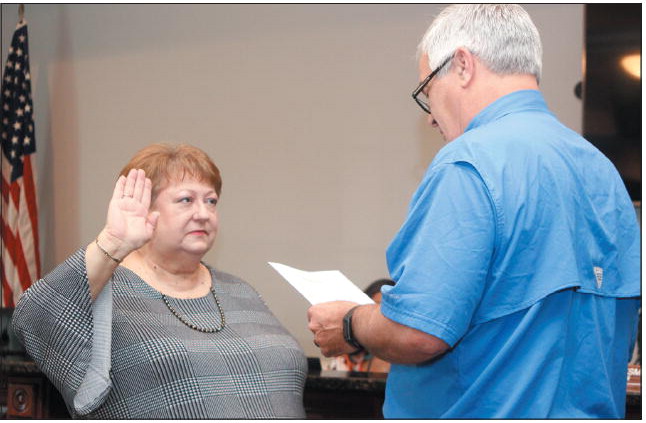 SWEARING IN – Lyons Development Authority Member Rebecca Rollins (left) is sworn in to the Authority by Mayor Willis NeSmith Jr. (right)Photo by Makaylee Randolph