Posted on
continued from page and hematology ….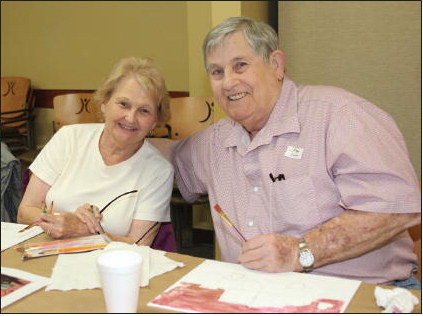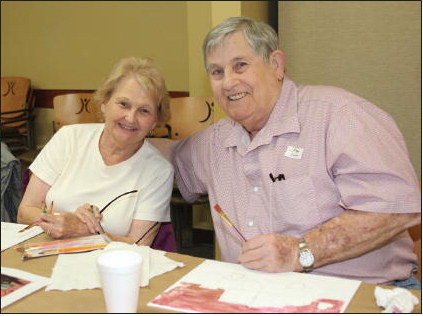 continued from page
and hematology care. LCCC's services at the Cancer Center include eight exam rooms and 13 chemotherapy chairs. The clinic offers infusion therapy, including chemotherapy and immunotherapy, an in-house laboratory performing all routine blood work on-site, an in-house specialty pharmacy, care management support, and financial counseling.
Walker said of the cancer care offered at Meadows, "What separates what we do from other health care settings is that we are so much about personal relationships. Patients are looking for hope and assurance. I get to feel like I am making a difference, and I know I have spent a majority of my day helping people have a better life," Walker said. Cancer Support Group Members Share Experiences Margaret is among the regular attendees at the Cancer Support Group meetings. The Vidalia resident was diagnosed in 2016 with multiple myeloma (a type of cancer in which abnormal cells reproduce in bone marrow). "Cancer doesn't have me, I have cancer," she said with conviction.
Margaret has had stem cell replacement and is still in treatment, but she is determined to stay active. In spite of being in treatment herself, she volunteers at the Cancer Center, offering moral support to other patients. "I am doing much better, and this is the best medicine," she said of the meetings and volunteering. Margaret said it is a blessing to be able to encourage someone else who is going through cancer treatment. "I feel grateful for the opportunity," she acknowledged, noting that she relies heavily on her strong faith in God. "We are lost without hope. It means everything."
Another regular attendee named Betty was diagnosed in 2011 with endometrial cancer. She was first treated in Savannah and underwent chemotherapy, and is now under the care of Dr. Ashlee Nicole Tillery, an obstetrician and gynecologist based in Vidalia. Betty is a quiet but a substantial presence in the sessions and lends strength to others in the group.
Shirley, who now lives in Hazlehurst, was living in Atlanta in 2003 when she was first diagnosed with breast cancer. The cancer returned, and Shirley is in treatment now, but she is optimistic about her prognosis as a new medicine is administered. "I feel the best I have in years," she said with her characteristically sunny attitude. She inspires others in the group to be positive just by being herself.
Diane, who is originally from Utah, moved to the South with her husband, whose family is from the area. After getting at job at Tumi, she moved to Vidalia. She was diagnosed in 2013 and is in remission, but she enjoys coming to the meetings.
Alton, who was raised in Cobbtown and is now living in Metter, was treated in Savannah for prostate cancer. After he recovered, he attended prostate cancer support meetings in Savannah, where he and other men who had been through the same treatment met to share experiences and support one another. It was just what Alton needed at the time, said his wife, Faye. Now, Alton and Faye drive to Vidalia from Metter to attend the meetings in Vidalia.
Joining the meeting for the first time in February were Hazlehurst couple William and Rhonda. William was diagnosed with throat cancer in August 2022 and underwent seven rounds of chemotherapy and 35 rounds of radiation. "It was rough but support from my wife, family and friends lifted me up. It was love and care that helped me to get through it. The treatment went well, and it was hard at times, but the staff here was excellent and very compassionate," William observed.
William recalled that when he was first diagnosed, a gentleman from Claxton in his 80s who had just gone through the same treatment called him regularly. "He took the time to call and check on me. I said I wanted to do the same for others, so when a friend in Florida had the same cancer, I called every week and checked on him. He just finished his last treatment."
William, who said he wants to share his story and help anyone he can, has returned to his work in the poultry business and recently started playing golf again. His first PET scan in January showed that he is now cancer free. "God has blessed me," he shared. Cancer Support Group Information The Cancer Support Group sponsored by Memorial Health Meadows Hospital in Vidalia meets every fourth Thursday at 5:30 in the hospital's private dining room. Dinner is provided and patients and their family members are encouraged to attend. For more information, call 912538-7777.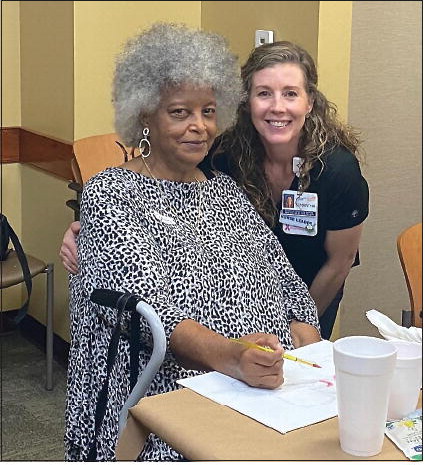 QUIET STRENGTH — Betty, who was diagnosed with endometrial cancer in 2011, is a cancer survivor who lends a quiet strength to the group. Above, she is shown with Samantha Walker, standing, at the February meeting.Photo by Deborah Clark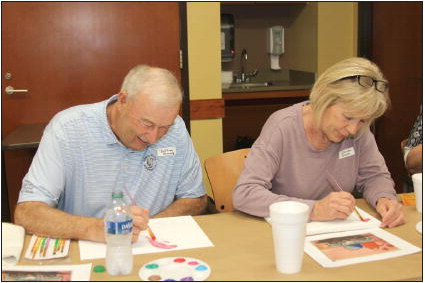 ART PROJECT — William and Rhonda, from Hazlehurst, attended the Cancer Support Group meeting in Vidalia in February. Above, they work on an art project which was part of the evening's entertainment. William was treated for cancer of the throat and said family, friends, and faith helped him to get through a tough time. He now wants to be of assistance to others who are having the same experience.Photo by Deborah Clark