Posted on
Greater Vidalia Leadership Class Learns About Economic Development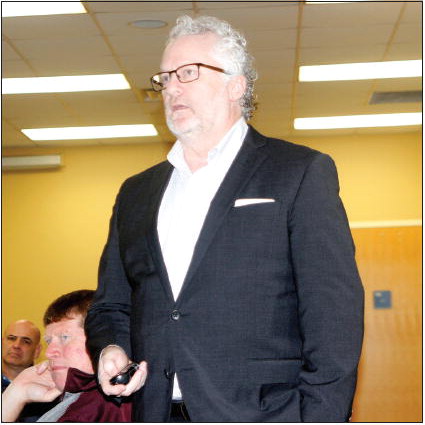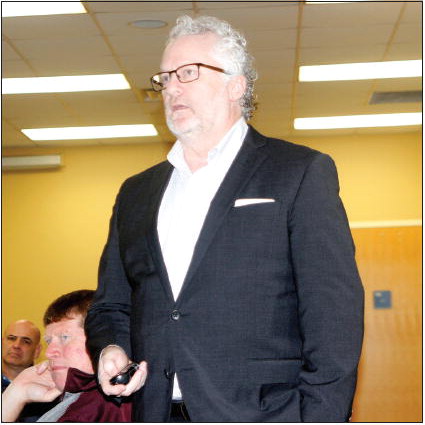 mrandolphadvance@gmail.com
This year's Greater Vidalia Leadership Class had the opportunity to learn about economic development in Toombs and Montgomery Counties and in neighboring communities in a special session on Tuesday, March 21.
During a presentation on economic development, stakeholders in the community were invited to hear Bulloch County Development Authority Chief Executive Officer Benjy Thompson and Georgia Ports Authority (GPA) Business Development Director John Petrino speak about current and future projects and possible local effects.
The Hyundai Story Background Thompson shared with the audience about how the Hyundai plant, which will make the continent's supply of Hyundai electric vehicles, came to reside in Bryan County.
According to Thompson, Bulloch, Bryan, Chatham, and Effingham Counties united to form a regional development authority in a quest to secure development along Interstate 16. After this collaboration, a few automobile companies, such as Jaguar Land Rover and Volvo, became interested in a megasite in Bryan County, but none of the deals worked out.
"In 2021, options to purchase that site were running out," Thompson explained. "It was owned by three families, and we were told we could only purchase the land if we brought in a project to develop on it."
At that time, Georgia did not own any megasites, but Thompson and the combined development authority worked to reallocate profits and ultimately purchased the 3,000-acre property. Soon, projects began to roll in, but concerns were raised which focused on electric vehicles vs. combustion engines. "Electric vehicles do not take as many parts as combustion engines, so people weren't thrilled at the idea because of there being less employees and jobs needed," he told the group.
It only took two proposed projects before the mega-site was filled: Project Blue, the Vinfast vehicle company that decided not to go through with the development, and Project EA, the Hyundai plant.
The Hyundai plant is the largest economic development project in Georgia history. It was received on January 6, 2022, and announced on May 20, 2022, a fast development which Thompson said excited the surrounding residents. A total of 8,100 jobs will be created on-site, promising an economic impact of $5.545 billion in opening. An additional $2 billion has also already been invested by nonaffiliated suppliers.
The plant has the capacity to build around 300,000 vehicles a year in its 17 million-square-foot facility. Production is expected to begin in 2025. How Does That Affect Us?
For the plant to operate at full capacity, several suppliers for parts of the electric vehicles are trickling down industrial spaces along Interstate 16. Bulloch County has already had two suppliers enter their empty industrial facilities, and Thompson said the trend seems to be continuing westward. "We met with suppliers in Korea in August 2022 and discussed with them resources the area offers," he said. "They could be coming your way soon."
He also explained that railway usage in this area will also increase, as the railway near the plant and the railways that run through Vidalia and surrounding cities are set to be connected to allow Hyundai to transport vehicles through more ways than just truck drivers.
"These projects have ripple effects," Thompson concluded. "They greatly affect communities around them." Georgia Ports Authority
Petrino informed the group that the GPA's Savannah and Brunswick facilities are ranked as among the top ports in both the nation and the world.
According to Petrino, the difference in the Georgia ports and those in other large cities in the nation is that the Georgia ports have room to grow, while other ports, such as those in Long Beach or New York, have reached their maximum capacity.
The facilities in Savannah and Brunswick continue to be bustling with activity, as they have earned the title of 2nd busiest automobile ports in the country. The GPA is working to further organize these busy ports, as container business will be directed to the Garden City Terminal, while noncontainer business will be conducted in Brunswick.
Inland, the GPA uses its Appalachian Regional Port, which is located in Northwestern Georgia, to import and export goods by train in an effort to diminish the amount of trucks on the highway.
Petrino also told the group that it is the GPA's ability to complete double moves — to allow ships to complete an import unloading and export loading in a single docking — that makes the Georgia ports highly sought after. "In our ports, these shipping lines don't have to worry about losing money because they are only able to do single moves," he emphasized.
The future of the Georgia ports is bright, as the Authority continues to work to expand the state's "Megarail" railroad line, which connects the Garden City Terminal with other cities, and the storage facility at the Garden City Terminal.
The only challenge that awaits the state's ports, as Petrino explained, is the need for the Talmadge Bridge in Savannah to either be lifted or the Savannah River to be dredged. "Last time the river was dredged, Congress had to approve it, and it was a project that spanned over a decade," he told the group. "We never would have imagined that there would be ships so large that we needed a deeper waterway or higher clearance to allow them to enter, but here we are. We are currently evaluating our options to see what the next move may be in the coming years."
Petrino concluded his presentation by encouraging the audience, as he said a total of 21,489,763 square feet of industrial space in Chatham County is under construction, meaning, more industrial growth would be coming further inland.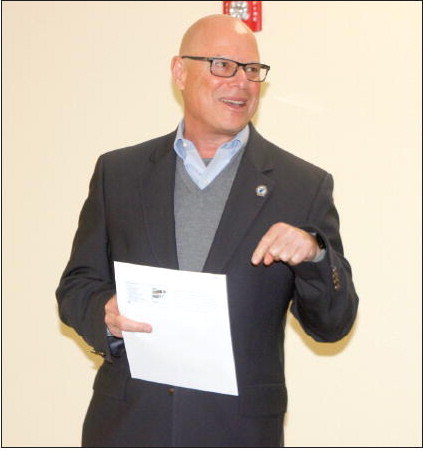 COMING DOWN THE INTERSTATE – Bulloch County Development Authority Chief Executive Officer Benjy Thompson told the session attendees that industry could be coming to the area, as Hyundai parts suppliers had been traveling down Interstate 16 in search of industrial space.Photo by Makaylee Randolph