Posted on
First-Ever Porchfest Hits The Streets This Saturday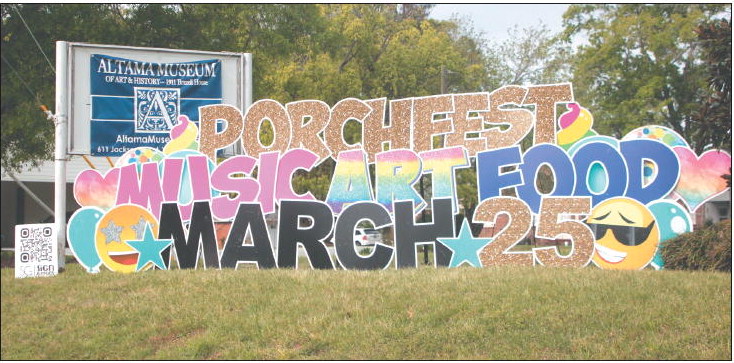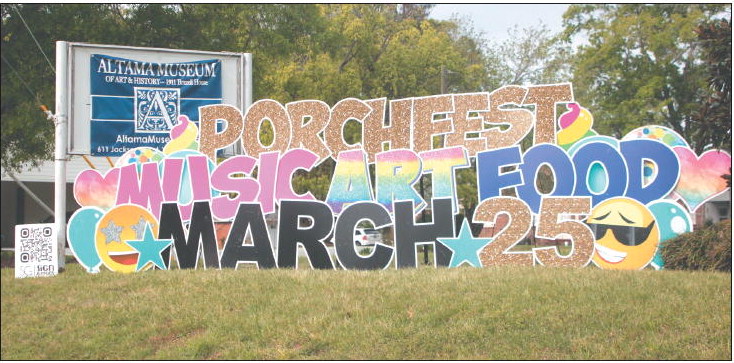 A new kind of community event hits the streets next Saturday, March 25, as residents of the Jackson Heights Neighborhood invite the public to enjoy musical performances from the porches of each home at Vidalia's first-ever Porchfest.
According to Porchfest Committee Chairman Wes Chapman, the festival centers around music, which is why there are a total of 28 artists scheduled to perform between the hours of noon and 6 p.m. on porches throughout the neigh- continued from page
borhood on Jackson and Durden Streets, from 2nd Street to Pinewood Drive. "We will have around 4-5 performances going on at a time, so attendees can go from porch to porch to find whatever genre they like," he explained. "When people arrive, they can get a map from the Altama Museum and it will show them where and when each group is playing. We've tried to make sure there is a little something for everyone."
The sheer of performances the event will offer in its inaugural year has been encouraging to the committee, Chapman said. "We thought that if we could have 15 performers, we could say we were successful, so to have 28 is truly incredible," he emphasized.
Along with music, there will be a pop-up artisan market located at the Altama Museum of Art and History on Jackson Street, which will feature 12 artisans, and the Museum will invite attendees to peruse the exhibits within the facility, from 10 a.m. until 4 p.m.
Food vendors will also be available from 11 a.m. until 6 p.m. at the Altama Museum to ensure that no one goes hungry while hearing local talent. "We wanted the focus to be on the music," Chapman remarked. "We are not bringing in big musical artists, but rather members of the community to showcase local talent. We're including art and food to make sure that we have a variety of options, but this is really a grassroots festival for music."
During the festival, guests will park in a designated parking area and travel from porch to porch by foot. "Bring your wagons, lawn chairs, and whatever else you would like. This is about spending time with local members of the community,' he added.
How It All Began
According to Altama Museum Director Jenn Martinez, the idea for Vidalia's Porchfest began when Chapman attended a similar event in another city a few years ago. "He was so impressed by the community spirit and said it was just a really fun event, so he wanted to bring it here," she explained.
At the same time, the Altama Museum has been looking for a signature event that connected them with community, which made Porchfest the perfect opportunity.
A group quickly began working and even attended the Brunswick Porchfest to learn the basics of the event. "We were trying to see what worked and didn't work, so that when we came back home, we could immediately begin planning," Martinez shared.
Organizers began searching for music acts – a task they believed would be extremely difficult – but soon found the community response to be overwhelming. "I really thought we would have trouble finding bands – there is no compensation for this event, and usually, people want to get paid," she said. "They're just doing it from the goodness of their hearts, and it has been incredible to see. We have even had to turn some people away because of how many people wanted to be involved."
The music festival also soon merged itself with the Altama's traditional artisan market, forming a celebration of both art and music. "We have 17 market vendors for this event – we normally have around 12 for our artisan markets, but the response to this aspect of the event has also been very positive," Martinez remarked. "We will offer everything from fine arts to handcrafted bath soaps and supplies."
Sponsors Chapman also explained that the event has been funded by a nonprofit Porchfest committee, which strives to bring the community together through events. "We could not do this without the help of our sponsors, they have been incredible," he stated.
Sign & Stamp Solutions is serving as the event's Platinum Sponsor, while Altamaha Bank & Trust and Dermatology Associates of Vidalia are the event's Gold Sponsors. Silver Sponsors include Memorial Health Meadows Hospital, Chapman Pharmacy, Barberitos, and Chick-Fil-A Vidalia.
Performers
The performers scheduled are: Coleman Family Cooperative The Oaks Baptist Ukulele Band Lo Wave Rachel Arnold Montie Nelson Noah Bullard George Holcomb Wabbajack Goodtime Buddies Venus Valensia Indulgence G2 Jeff Gavel Barry Barkley Band Savanna Poole Queen Porch Pirates Leon Stalls Brewton-Parker College Wind Quintet Hamilton/Randolph Duo The P/D/J Band Wheeler County Middle/High School Band Keeping Up With the Joneses Black Hammond Sandy River Studio Rhonda & the Relics For More Information
The Altama Museum of Art & History is funded in part by a grant from Georgia Council for the Arts. For more information on the Altama or Porchfest, contact the museum at 912-537-1911.