Posted on
SOAPS Spayghetti Dinner to Be Held February 28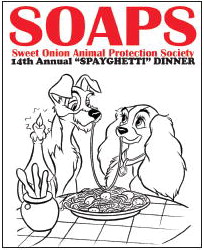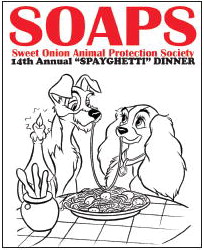 The Sweet Onion Animal Protection Society (SOAPS) will be serving its annual "Spayghetti" Dinner at the Vidalia Community Center from 5 p.m. until 7 p.m. on Tuesday, February 28.
Since reorganizing in 1999, SOAPS has rehomed over 19,500 stray and abandoned animals from Toombs County and the surrounding area. The organization has also provided numerous vouchers to pet owners to help with the cost of having their dog or cat sterilized.
The nonprofit organization is funded through volunteers and donations, as several individuals with a heart for animals work together to help every pet find a loving home. The annual "Spayghetti" Dinner is just one way that SOAPS gains funding for this effort. This year, over twenty sponsors have donated to the cause.
Tickets for the dinner are $10 each, and must be purchased in advance from Altamaha Animal Clinic, Vidalia Veterinary Clinic, Kilgore Animal Hospital, Ingley, Roper, Moore & Co. LLC, General Store 30474, and Palmer & Associates Insurance. The meals will be picked up at a drive-through pickup line. No sales will be available at pickup.
For more information on SOAPS or the "Spayghetti Dinner," visit the organization's website, at www.sweetonionaps. org. Donations can also be mailed to SOAPS, addressed at P.O. Box 210 Vidalia, GA 30474.