Posted on
Miller Heading To GSU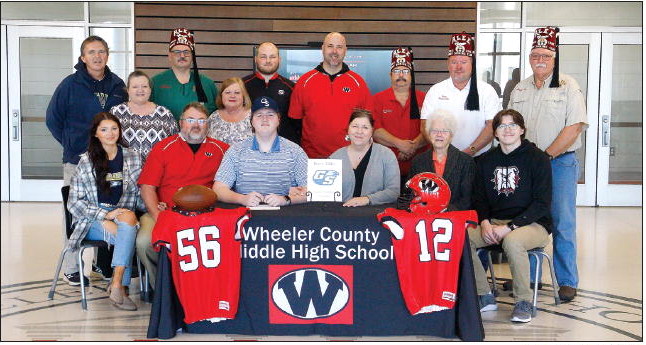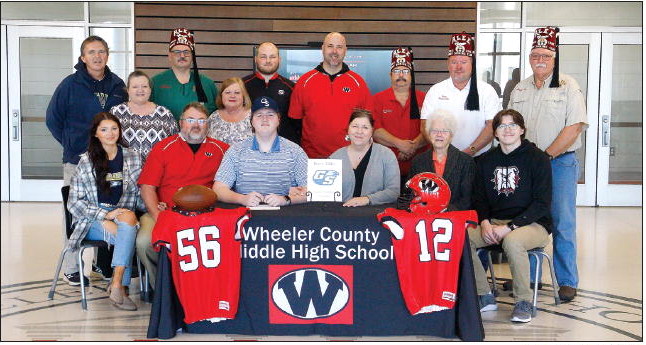 On Monday of this week at Wheeler County High School, Bryce Miller signed his letter of intent to play football at Georgia Southern University in Statesboro. Miller has always wanted to go to GSU, and when the offer came in he jumped at it.
There is a bigger story behind Miller and this opportunity to play at this level at a Division 1 college. Miller had a medical condition as a child and originally, the doctors weren't sure if he was even going to be able to walk. He went through several surgeries through the Shriners Children's Hospital and has continued to work hard and created this opportunity for himself.
Miller stated, "It was a long process, but it just felt so right when I got this call. It is big for my family. A lot of them are from Statesboro so this has always been the offer that I have wanted. I have to thank my mom and dad for all of their support, my grandmas for everything they have done, my brother for being a great role model, and my sister is my biggest fan.
"It really has been a great journey. These guys from Shriners that are here today, what they have done for me is just insane. For one, I must thank God for walking me in this path, and for all the people that are a part of this. This is just a great moment, and I am so happy to have this chance."
Miller's father Sheldon added, "During this whole recruiting process things have been great. We got to talk to a lot of good schools and meet a lot of great coaches, but Georgia Southern is where he wanted to be the whole time. When that opportunity came for him it was a no-brainer for us. My entire family is from Statesboro, and just knowing that we can drive an hour to see him play on Saturdays is just great.
"He has always been a student of the game, from watching his older brother to his knowledge of the game, it is just crazy. To watch him develop into the football player that he has become has just been an amazing ride for him, for us a family, and for me as a father and a coach. I never coached him, I am a defensive guy. I have been hands off with both of them coaching, which has really let me enjoy the process more as a father with both of them. This is just a great day for us."
Coach Thomas Smith said, "Bryce has been around the program since he was a kid. He really came into his own as a junior when he made First Team All-Region. He started to get some interest from colleges then, but this year it expanded. But his dream school was always Georgia Southern. With this year we were a power running team and went for over 3,000 yards and a lot of it was behind him. It was a secret where we were heading, and he just did his job. He has had a big career here at Wheeler, and I am just excited to see what his future holds."