Posted on
Garden Dreamin'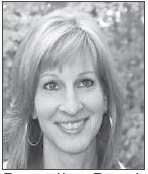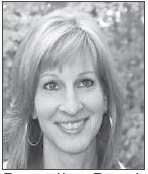 It happened again this week. I opened the mailbox to find a thick Burpee catalog stuffed inside amid a few bills and a folded newspaper. Like popping an antidepressant drug, I could feel my mood instantly lift and improve. I opened the cover and thumbed through the thin, glossy pages as I walked toward the house.
The marketing folks at Burpee understand people like me. They know that after weeks of cold, gray weather, seeing their catalog — with its seeds, plants, and gardening supplies — will result in sales. I'm their target customer — not just because I live miles from a garden supply center, but because I'm such a sucker for a full page color photo of a ruby red tomato (page three, by the way). On the opposite page, Burpee's proprietor, George Ball, wrote a personal note to me. It says, "Today's tomatoes originate from one ancestor, Solanum pimpinellifolium, a mountain plant laden with hundreds of peasized berries. Our ancestors thought them delicious and bred varieties for larger fruit size with better flavor. Behold today's myriad 'maters." That's right! The man who runs the mega gardening supply company used the term, "maters!" He's one of us!
The big question for the marketing folks isn't whether or not I will order something from their catalog, because they know I will. The real question is: How much will I order?
Burpee color-coded the pages this year for easy navigation. Pages with a purple border spotlight annuals, veggies are on pages lined in green, and pink stands for perennials. Five days in and I've folded the corners of five or six pages into dog ears, and I've circled about 20 items in the catalog.
I browse through the pages and dream — dream big. In my mind's eye, I envision myself tending flowerbeds the size of football fields with every variety of flowering plant that will thrive in zone seven (Northwest Georgia). On page 97, I've circled Cleome, "Sparkler 2.0 Hybrid Mixed Colors." The last time I visited my Aunt Wilma Nell Lanier Roberts' Garden City home — maybe in 2009 — I admired the tall cleome plants growing in her backyard. She called them spider flowers or spider plants. I will grow some this year.
And also this year, I plan to grow some glads like the "Fordhook Ruffled Pastel" ones on page 102. I once had a couple dozen gladiolus, but as the oaks and hickories grew, my flowerbed got too shady for them, and they've all but died out.
On page 112, there's a lovely photo of "Big Blue" salvia with a honey bee crawling around looking for nectar and pollen. I'm sold! And sign me up for the orange butterfly weed (milkweed) on page 121, because I want to do all I can to help the Monarch butterflies.
My eyes drift over to other photos on another spread — big, colorful bouquets of snapdragons and strawflowers. Somehow, I resist those. I don't know how.
This year's catalog features three full pages of varieties of zinnias. I grow zinnias every year in honor of both of my grandmothers who grew at least a row of them in their gardens. In fact, my Grandmother Lanier (Maggie Mae) called them, "Old Maids." I love them so much that I'm tempted to buy a pack of every color and variety.
In the vegetable department, something called a "Yardlong" asparagus bean catches my eye. It's an heirloom pole bean with 18-inch-long pods. I like to try growing new things every now and then, and these weird green beans might be the ticket this year.
My mouth waters as I look at the melons, the okra, and even the hot peppers — and I don't even eat really hot peppers. What's wrong with me?
Look, some people have gambling problems. Some battle the urge to drink alcohol or do drugs. Others are addicted to food. Me? I have a plant problem, and it's bad — really bad. I work hard to resist the urge to spend all of our money on garden and flowerbed plants, seeds and supplies. The struggle is real! Prayers are appreciated.