Posted on
Another Anniversary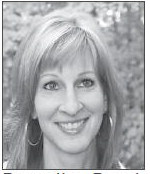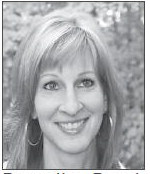 Years ago, a reporter asked Johnny Cash to describe his idea of paradise. He bowed his head for a moment, then looked up and said, "This morning, with her, having coffee." He was, of course, talking about simple moments spent with the love of his life, June Carter Cash. I've always loved that story, and I thought about it last week, when my husband and I celebrated 33 years of marriage. Our anniversary always causes me to pause and reflect on our simple wedding, our simple relationship, and our simple moments through the years.
When you know, you know, and it didn't take many dates to realize I loved Gene, I cared about him, and most of all, being with him made me happy — a simple revelation, but something I had been searching for. He made me laugh, and when I thought about the future, I saw him in it.
Our engagement was boring by today's standards. Gene didn't whisk me away to a high mountain top, get down on one knee, and present me with a velvety ring box containing a piece of jewelry worth more than his car. Our engagement was more of a casual discussion after dinner one evening. Afterwards, he asked, "Do you want to go ring shopping?"
"Ugh," I said. "I really don't care about big diamonds." He had a simple pearl ring that had belonged to his mother stashed away in a shoebox in his closet. He showed it to me, and I liked it.
"This is fine," I said, and I meant it. I shared the news with my family and friends, but our big news kind of fell flat. Some family members doubted that we would make it to the altar — not because we didn't get along, but more because there was a lot of family tension floating around in the air during that time.
Then one day at work, a coworker asked me where my engagement ring was. I lifted my left hand with the pearl secured around my ring finger.
"It doesn't count unless it's a diamond," she quipped, holding up a large, sparkly marquise on her own hand. The comment was sharp and hurt my feelings, as did many other comments I endured during the weeks leading up to "our day."
I guess I was a reluctant bride to be. A few years before our engagement, I had watched a sister and a brother get married — big, expensive productions with diamond rings, showers, parties, bridesmaids and groomsmen, dresses, tuxedos, fittings, beautiful flower displays, candles, music, rehearsal, rehearsal dinners, receptions, arguments and stress. Not long after their vows, both of those unions began unraveling before our eyes. Both eventually ended in divorce — more money, arguments, and stress followed by feelings of failure.
"I don't think I want one of those big weddings," I told Gene as we began the planning phase. "Something small and simple is fine with me — maybe just family…" He agreed, and we invited our immediate family members and aunts and uncles. I also asked Syd Little, a close friend from college, to help me that day. I asked my sister to stand by my side. Gene asked his father to be his best man. My father gave me away.
Gene had been raised Catholic, but no longer attended church services. I had been raised in a small Methodist church and was very fond of my childhood pastor, so we asked him if he would conduct the ceremony. Reverend Tom Hall Ivey agreed after we went to his home near Lake Tobesofkee for three or four premarital counseling sessions, so that's what we did.
I had a simple white dress made by a seamstress in town and paid $10 for the material, thread and zipper and paid $30 for her labor. I ordered a small wedding cake from a bakery two blocks from the wedding venue and very affordable flowers made of red roses and baby's breath. I picked these items up myself just hours before the ceremony.
My parents arranged for a sit down dinner after the ceremony and for a photographer to take a couple of dozen photos. Mom asked her piano teacher, Emily, to play two musical selections on the piano — Elton John's "Your Song" continued from page
and "Don't Know Much" by Linda Ronstadt and Aaron Neville.
On January 27, 1990, I met Gene at Victorian Village in Macon and surrounded by antiques, beloved family members, and God, we held hands, proclaimed our commitments to one another, and tied the proverbial knot. And that was that. I took Gene's last name, but kept my maiden name as my middle name because I couldn't stand the thought of losing that part of myself.
Thirty-three years later, our marriage endures. It is as basic and comfortable as Johnny Cash's words describing his idea of paradise. I have had the honor of loving Gene and being loved by Gene, and I know that doesn't sound very exciting to some folks, but it means the world to me. We are a simple couple, and ours is a simple love. May we have many more years together.