Posted on
A Season of ThanksGIVING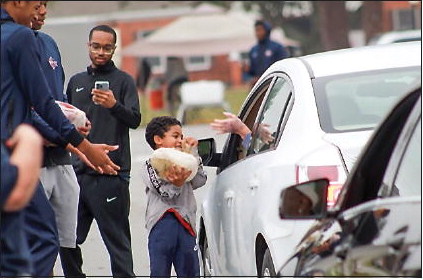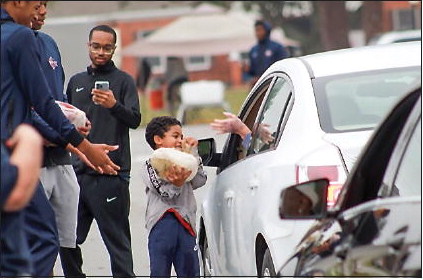 Several organizations and groups in the area got into the spirit of Thanksgiving in the past month as they completed acts of service and generosity to those in need.
Dot Foods
Dot Foods began the season of giving as it donated $30,000 worth of food items to local food pantries on October 28. This act continued the company's longstanding tradition of giving back to the community. The donation is a part of Dot Foods' Neighbor-to-Neighbor program and benefited six area food pantries, including His Works Ministry Outreach & Food Bank and Southeast Georgia Community Projects in Lyons.
Each food pantry was given a shopping list of available products in the current Dot Foods inventory and selected items that would fill specific needs at each location. This event happens every fall as the Neighborto- Neighbor program, launched in 2014, undertakes charitable work in the surrounding areas which are part of Dot Foods' 13 U.S. Distribution Centers. The program's focus on local pantries is important to the company, as it means assistance is going directly to help the communities that Dot employees call home.
Tri-County Family Connection Citizens lined up on roadways in the neighborhood of the Montgomery County Middle/High School as the Tri-County Family Connection distributed 370 free frozen turkeys to community members.
"As you know, there are so many needs in rural Georgia. It was a beautiful sight to see families who came out to receive a turkey," Tri-County Family Connection Executive Director Theotis Summerset commented. "We are grateful for our partners who helped to make this happen and are looking forward to making it happen again."
Summerset said that the group will be distributing 400 hams to families in the community on Saturday, December 10, from 9:30 a.m. until 11:00 a.m. at the same location, Montgomery County Middle/High School.
Cancer Center Nurse
Gives Back
A local nurse from the cancer center in Vidalia is keeping her tradition of generosity at Thanksgiving, as she has collected boxes of goods to distribute to patients, ensuring they are able to have a Thanksgiving meal. LPN Cierra Rollins has worked tirelessly during the month of November for the past three years, making sure that her patients do not have to worry about having food at Thanksgiving. "My patients have enough troubles without worrying about how to feed their family a Thanksgiving dinner meal," she emphasized. "I just want to help make sure it is a great holiday for them."
Collections of nonperishable food items were divided into groups on Friday, November 18, to make boxes for each family, which will be given to the families throughout next week. "I am so glad to have the opportunity to help make Thanksgiving special for these patients," she remarked. "I get to know a lot of these patients throughout their treatments, and I always want to make sure that I do everything I can to make life easier for them, so they can focus on their battle with cancer."