Posted on
Scouting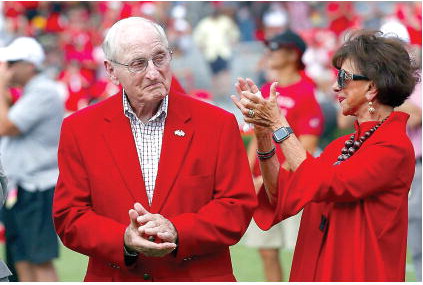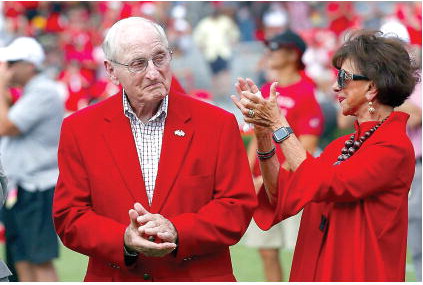 Toward midseason, though, fans started to see progress. Victories over ninth ranked Florida, Clemson, Kentucky, North Carolina, Georgia Tech, and a Sun Bowl win over Texas Tech were hi-lites of Dooley's first team, which finished 7-3-1.
Dooley, the ex-marine officer, ran strict practices and his teams were always disciplined. In his next season, the 1965 team really started to show what Dooley's Dawgs could do. Eventually this team would run out of gas due to injuries; but not before Georgia upset Alabama 1817 on National Television in their opener. The Bulldogs hit a fourth quarter play that Dooley had designed in practice and called the "fleaflicker." According to the principles, quarterback Kirby Moore, wide receiver Pat Hodgson, and the late Bob Taylor, the play never had worked in practice.
The play really wasn't a "flea flicker." It was a hook and ladder. The pass, from Moore to Hodgson, covered about 13 yards. Hodgson bobbled the ball momentarily as he his knees touched the ground while he was lateraling the ball back to Taylor, who streaked into the endzone to pull the Bulldogs to within a point at 17-16.
Dooley elected to go for 2, and Moore rolled right and found Hodgson in the back of the endzone for the 18-17 upset. After a 24-10 win over Vanderbilt, the 1965 Bulldogs traveled North to Ann Arbor to play defending Big Ten and Rose Bowl champion Michigan.
This early season "Top 10" battle in Ann Arbor against the Wolverines was important enough to be covered by Sports Illustrated's John Underwood, one of that magazine's greatest writers.
Underwood's description of Dooley was right on at that time. Underwood wrote: "The probability is that Vince Dooley is about to become a great football coach before his time. Georgia is back on top, or near it, and the accomplishment is Dooley's miracle. He is a splendid organizer, already a tough enough recruiter to beat Georgia Tech to the state's best high school players. He is enough of the exmarine to be dispassionately demanding of his players, and enough of a leader to be inspiring."
Georgia would beat Michigan 15-7 on that cold day in Ann Arbor.
After the game Preston Ridlehuber, who had a touchdown pass in the second half of the victory, told Underwood, "As individuals we're nothing. What's so wonderful about this team is that this team knows that. When we play together, we're something. Michigan hit as hard as any team we've played against but, man, they were suckin' wind at the finish."
The feeling of going north and beating the defending Rose Bowl champions is a feeling I'll never forget. My whole family sat around the living room listening to Dooley's Dawgs pull the upset.
The team's plane was met at the Athens Regional Airport by more than 10,000 people.
Unfortunately, after a Clemson win and a 4-0 start, that team lost 10-3 to Florida State on the road after Bob Taylor, who scored the "flea flicker" touchdown against Alabama, broke his leg in the first half.
Injuries mounted as the season progressed and the depth wasn't there yet.
The team also lost to Kentucky, 28-10 on the road, to Florida 14-10, Steve Spurrier's only victory over Georgia as a player, and 2119 to Auburn. That was Georgia football under Vince Dooley. And fortunately for the University of Georgia, he was there for 25 years. Dooley did have opportunities to go to other schools. Oklahoma came calling early in his career. On December 14, 1965, Dooley got the offer. On December 18, he let Georgia know that he was staying in Athens. Of course, Dooley won Georgia's first concensus National Championship in 1980. The Bulldogs were also champions in 1942 in all but one poll. After the 1980 season and before the Sugar Bowl against Notre Dame, Dooley also had to turn down a million dollar offer from Auburn.
The Tiger faithful, including then Alabama Governor Fob James, had been so confident of their offer that they did not have a back-up. Dooley won six conference titles at Georgia, the first in 1966. Others were in 1968, 1976, 1980, 1981, and 1982. His last game was a 34-27 victory over Michigan State in the 1989 Gator Bowl game. He finished his Georgia coaching career with an overall record of 201-77-10 when he retired. It would be hard not to remember Dooley without mentioning the changes he made in college football.
Georgia, under Dooley and President Fred Davidson, and Oklahoma's Board of Regents, were the two big name schools behind a lawsuit against the NCAA, whose rigid control of the television airways was not in the best interest of the schools.
In June of 1984, Supreme Court Justice John Paul Stephens wrote the majority opinion that the NCAA was restraining trade.
This is the main reason that college football has evolved into the wonderful Saturday afternoon extravaganza on television that it is today.
When Vince Dooley retired, he became one of the best gardeners in the South. He created a unique and spectacular garden around his home.
The University of Georgia Department of Horticulture, honored Dooley by naming a rose after him, along with the Dooley hydrangea, a unique variety that was developed in his garden.
I would be remiss if I didn't mention his wife Barbara. Dooley always credited her with keeping him on an even keel and not getting too full of himself.
In the Sports Illustrated
Michigan game-Underwood article in 1965, Dooley explained how he and Barbara were driving to the beach after his remarkable 7-3-1 first season at Georgia.
While driving, he asked her, "Do you know how many good football coaches there are in the South right now?"
She replied, "No honey, but I do know there's one less than you think there is."
And finally, he became a well-known citizen of Athens, his adopted hometown, where he will be missed and remembered and loved forever by its populace.