Posted on
Indians Fall To Pierce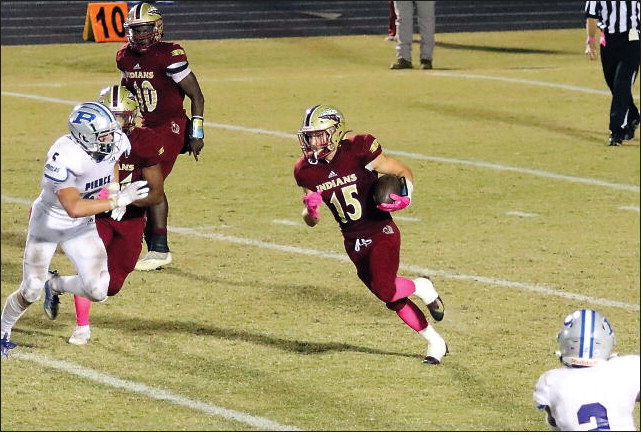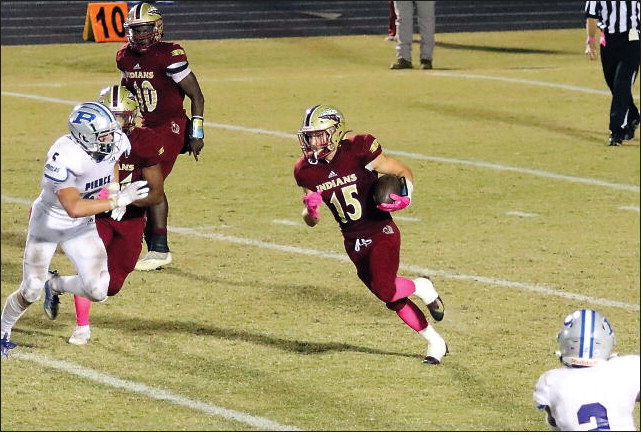 It was a tough night for the Indians of Vidalia High School as they hosted the Bears of Pierce County last Friday night. Vidalia lost the game 42-12 as they fell to 6-3 on the year and are 2-3 in Region play. It all started on the opening play of the game as the Bears returned the kickoff for a touchdown. They added the extra point to take a 7-0 lead just seconds into the game.
VHS settled down, though, and kept them off the scoreboard over the remainder of the first quarter. Early in the second quarter Pierce added to their lead with a passing touchdown. They added the extra point to lead 14-0 over the Indians.
With just over eight minutes left in the first half the Indians got on the board with a rushing touchdown. VHS missed the extra point, but it was now 14-6.
Pierce answered back with a touchdown with five minutes left in the half. They added the PAT for a 21-6 lead. The Bears scored one more time in the first half as they connected on a passing touchdown with under a minute to play. With the extra point they held a 28-6 lead at halftime over VHS.
Vidalia received the ball to start the second half and took less than a minute to add to their piont total. After the touchdown they tried for a two-point conversion but did not get it. That made the score 2812.
Pierce picked up another touchdown with nine minutes left in the third quarter to push their lead to 35-12. They scored one more time in the third quarter to hold a 42-12 lead over VHS heading to the fourth quarter.
Neither team score in the fourth quarter of the game as Pierce took the win, 42-12 over the Indians.
This week VHS will take the short trip to Lyons to face archrival Toombs County. Kickoff is scheduled for 8:00 p.m. in The Pit.