Posted on
Big Week For Toombs County Volleyball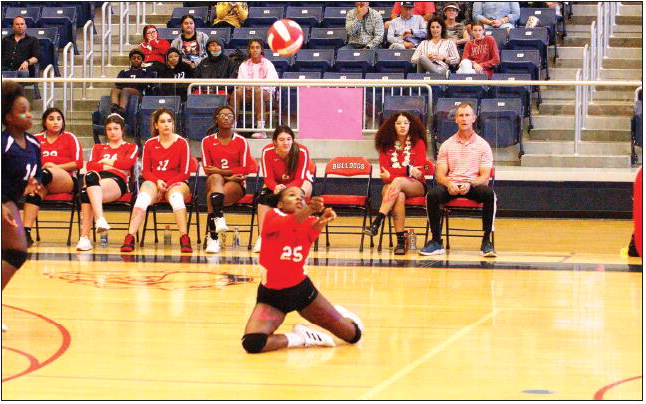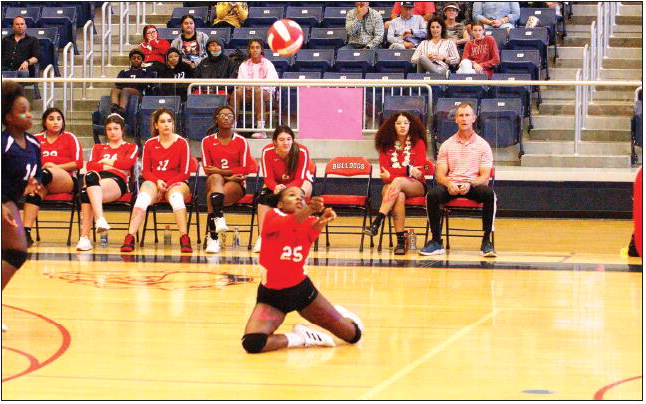 On Tuesday of last week, the Toombs County High School volleyball team had Senior Night as they hosted rival Vidalia High School and New Hampstead High. The Bulldogs split their matches as they won over VHS, but fell to New Hampstead. They then were on the road on Thursday night against Bryan County and Brantley County.
Tuesday vs. VHS
In the match against Vidalia, Toombs started slow but ended with a big comeback. Senior Vivianna Rodriguez went to the service line with the Indians leading the set 19-13. Rodriguez served 12 straight points to close the first set 25-19. The Dogs won the second set 25-15 to pick up the match win. Rodriguez finished the match with 17 service points and 5 aces. Senior Zariaha Newkirk also had a huge night with 13 kills. Other key players in the match were Scarlett Stanley, who had 5 digs and 5 kills, Martasia Burton, who had 7 assists, and Anabel Cruz who contributed with 6 assists and 6 service points. vs. New Hampstead
In the second match versus New Hampstead, the Dogs lost in three sets 2225, 26-24, and 11-15. Standouts in the New Hampstead match were Cruz with 8 service points, 4 Aces, and 7 assists, and Martasia Burton, who also had 7 assists. Newkirk helped with 7 kills and Anna Patrick contributed 3 kills.
JV
The JV match with Vidalia was led by Makayla Brewton, who had 14 service points followed by Estrella Barbosa, who had 8 service points. Arianna Hill and Emma Wright both had 6 service points each.
Thursday JV
It was a good night for the Lady Net Dogs on Thursday. The JV team started the night with a three-set win against Bryan County 25-15, 17-25 & 158. The JV was led by Brewton (9 Service points, 4 aces, and 6 kills), Barbosa (7 service points and 6 assists), Emma Wright (6 service points, 2 aces, and 3 assists), and Alivia Patrick (5 service points, 2 aces, and 5 kills). The JV team moves to 9-3 on the year. vs. Bryan
The Varsity Lady Net Dogs started their match play with Bryan County and won in straight sets 2510 and 26-24. Makenzie Kilgore had 10 service points, 5 aces, and a block. Newkirk had 7 service points, 5 aces, 4 digs, and 7 kills. Cruz contributed 6 service points and 6 assists. Kortney Mahone added 5 Digs and Patrick had 2 big blocks and 3 kills. vs. Brantley
In the second match, the Toombs County Lady Net Dogs beat Brantley County in straight sets 2518 and 25-21. Leaders in the second match were Cruz (8 service points, 3 aces, and 7 assists), Kilgore (7 service points, 2 aces, and 2 kills), Brewton (5 service points, 2 aces), Newkirk (5 digs and 8 kills), Mahone (5 digs), and Patrick (6 kills and another big block). The Varsity Lady Net Dogs are now 19-10 overall and 10-4 in the region.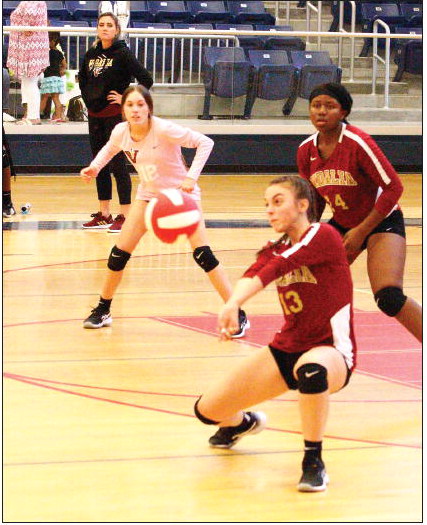 Vidalia's Katelynn Mann sets up a point for the Indians during their match with Toombs County.Photo by Mike Branch