Posted on
Newly-Refurbished Alamo City Park Debuts October 7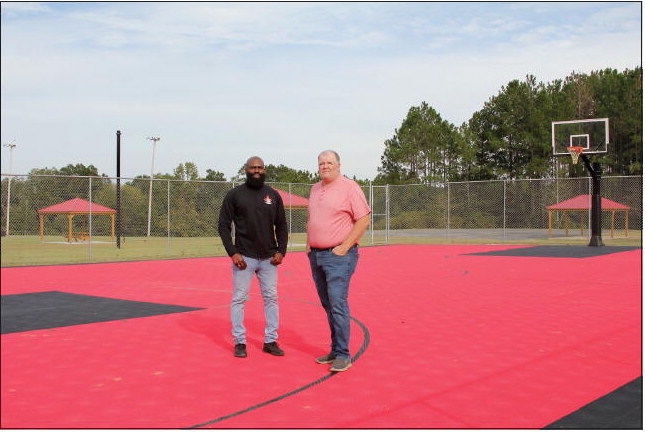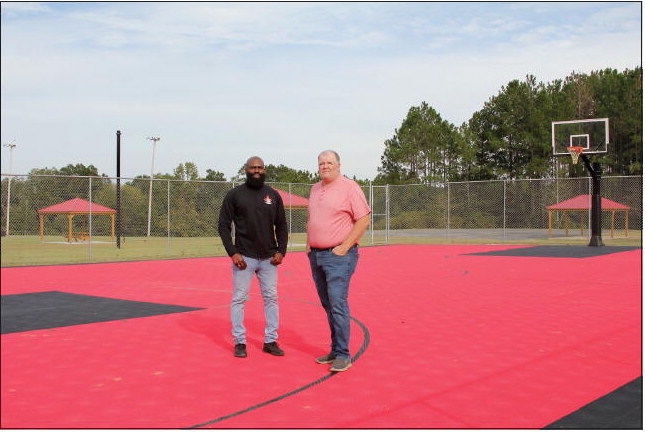 Dondrea Geter grew up in Alamo and often visited the old city recreation park near the Wheeler County Middle/High School to shoot hoops with friends at an area they called "the asphalt." In addition to an old block building and an open field surrounded by nonfunctioning lights, the asphalt basketball court was about all that was on the grounds. "There was no Boys and Girls Club. That's about all we had," Geter recalled. Over the years the 15-acre site on Railroad Street had been allowed to slip into obscurity and was largely forgotten until Geter came back home. Fast forward to 2022. After earning a doctorate and pursuing a career in education, Geter was elected to the Alamo City Council, and one of his first endeavors was to orchestrate something positive for his constituency and the community.
He presented an ambitious plan to revive the park to the City Council and applied for a matching $100,000 grant from the Department of Natural Resources. This meant the City would have to put up $200,000 up front until the DNR reimbursement was received. Alamo is not a rich community. Where would the matching funds come from?
A lot of people were pessimistic about such a large-scale project, but Geter believed that a park that could provide recreation for residents, especially youth, was a good investment in the community. He stayed focused. The grant did, indeed, come through and the City was able to meet its financial obligation through ARP funds and savings.
In a project that would take a year and a half, work on the park began. An asphalt parking area with handicapped access was added to the front of the site. The old basketball court where Geter and his friends once gathered got a new, plastic mesh covering, new goals, lighting and fencing. Five picnic pavilions with grills were located at the top of a hill near a newly-refurbished and now handicap-accessible bathroom.
As the project nears completion, playground equipment is being added and a splash pad and nature trail are on the horizon. A director and park committee will oversee the park's management and any further development. Signage that outlines park rules will be posted out front and lighting and surveillance equipment that will be monitored by local law enforcement, will add security.
Geter is proud of the park and of the new Wheeler County School across the street. He feels both additions are testaments to the progress being made in his hometown. "We want the park to be a place where residents can hold reunions, celebrate birthdays, play games and have good accommodations."
Geter's visions for the park include a boardwalk and birdhouses along the planned nature trail. The park will not just be a place for recreation, but also a hands-on setting for teaching young people about wildlife and conservation.
The newly-refurbished park — recently renamed New Eastside Park — will be officially launched at a ribbon-cutting on October 7 at 9 a.m. The event is being held in conjunction with the annual Wheeler County High School Homecoming, slated the same day. Geter said all of the park pavilions have been rented by former WCHS graduating classes that will simultaneously christen the new park and celebrate the homecoming festivities. "We have reservations from the classes of 1983, 1984, 1998, 1999 and 2007, and we are still getting calls from others," Geter said. The pavilions are available for rent. Call Alamo City Hall or visit its website for more information.