Posted on
continued from page gram that ….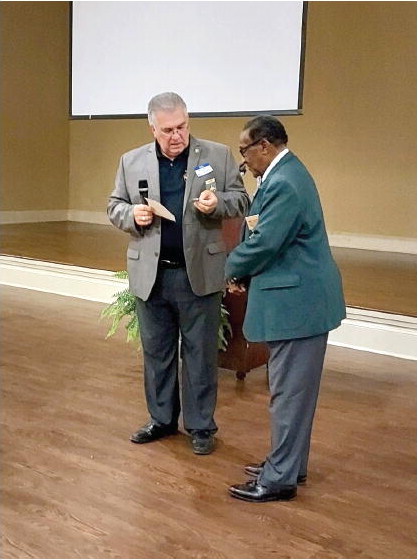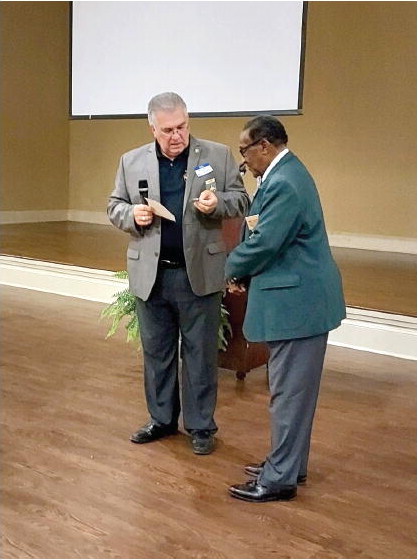 continued from page
gram that has positively impacted many lives.
In 2010, Johnson founded Community Project Hope, Inc., (CPH) a Christian-based program that offers the justice system an alternative to prison for juveniles who committed less serious offenses.
By the time Johnson started CPH, he had already been hard at work in the community. He started the Concerned Citizens Coalition in Vidalia in 1987, a political voice for the community, and was a tireless advocate for the Sons of Allen, a faith-based program organized at St. Paul AME Church in 1984 that encourages and supports young men. He also hosted television and radio talk shows focusing on politics and current events, and served on the Vidalia Housing Authority and Concerted Services Board.
Former Middle Judicial Circuit District Attorney Hayward Allen, who is among the many people with whom Johnson has worked over the years to make Community Project Hope a success, was keynote speaker last week as Johnson retired from his CPH duties. Allen was introduced by current Middle judicial Circuit District Attorney Tripp Fitzner, who is also well acquainted with Wilson and his mission, as well as the relationship Johnson and Altman forged as they worked to help young men in trouble.
Fitzner said Johnson and Altman share many fine traits. "They never met a stranger, and they both have a spirit for helping other people. Their legacies are the lives they have touched."
Fitzner noted, "We live in a time where we are constantly reminded of our differences. These men will work with anyone, as long as those individuals want to help other people. Those are the kinds of leaders we need more of."
Altman, who became District Attorney the same year Wilson started CHP, said that from the beginning Johnson realized in order to make CHP successful, he would need the backing of the District Attorney's office, law enforcement, and the community. "He recognized that people did not necessarily deserve a second chance, but they needed an opportunity to earn a second chance," Altman said.
The former DA said of Wilson, "He took a common sense approach for a program that really works. He got the churches involved. He got people involved. He knew that everybody can talk the talk but not necessarily walk the walk." Altman added, "It was a struggle sometimes, but he got people to walk."
Altman said of Johnson, "He is a man of justice. He is a man of compassion. When he saw someone who needed help, when he saw an issue to be addressed or a problem that needed solving, he would work hard to get it done."
Altman added that Johnson always honors his obligation to his church, his community, his family, even to strangers. "He is a man of courage who would stand up when others would sit down, speak up when others were silent. When things were not going well, he did not give up. He is what you would call a hero."
Wilson is also a man of God whose faith dictates his decisions, Altman shared. "He did not hesitate to get on his knees to ask for guidance. "God is not through with him yet. There is a lot of work left to be done." Altman concluded.
Sheriff Alvie "Junior" Kight, praised Johnson's contributions to Toombs County, noting, "He is a Godsend to the community." The sheriff presented Johnson with a commemorative pin that is inscribed with the words: Integrity, Professionalism, Commitment and Honor.
As the evening came to a close, Johnson took a moment to thank those who had come to pay tribute to him. "I am honored to stand before you. I can't tell you how much I appreciate this. God chooses people to do work for His kingdom building, but you never do it by yourself; there are others to lead and help. I want to thank those people." Johnson credited his wife, Laronce, with her support of him through the years, as well as the Rev. C.O. Adams, Jr., of St. Paul's AME Church, who provided the name for the CHP, and the Rev. Ronald Miller and his wife, Rose Marie, who assisted by writing letters to the court system on behalf of young men CHP was trying to help.
"There is always someone who is sitting behind bars who made a mistake," Johnson said of the legacy CHP will continue. As he officially stepped down from CHP, Johnson took off the green jacket that has become so familiar to so many as he worked on behalf of CHP. He donned a burgundy blazer as he continues his role as chaplain for the Sons of Allen. "I want to continue my mission of bringing men to Christ because when I get to the gates of Heaven, I want to be able to walk in."
A native of Vidalia, Johnson is one of 11 children born to Seymour and Selena Johnson. He graduated from Dickerson Training School in Vidalia (later named J.D. Dickerson High School), and joined the Air Force. While he was in the service, he started a musical band that led to a 22-year career as an entertainer. He became the first black salesman for a wholesale pottery industry in South Florida, simultaneously performing as the lead singer for Wil Johnson's All-Star Review at high-end Miami hotels.
He later moved back to Toombs County and established an ornamental iron works company and married his first customer, Laronce, to whom he has been wed for 35 years. The couple has three daughters, nine grandchildren, and three great-grandchildren.
Johnson renewed his membership in his childhood church, St. Paul AME, and became president of the local chapter of the Sons of Allen. The organization was named for Bishop Richard Allen, founder of the African Methodist Episcopal Church.