Posted on
Toombs BOE Cites Students and Staff
The Toombs County Board of Education recognized several students and staff members for excellence at its regular monthly meeting on Thursday, September 8.
Lyons Primary School Top Performers Six students were recognized for having the top math and reading iReady Diagnostic Assessment during the meeting. Each student was presented with a certificate and a gift card by their principal. The top performers were: Jase Bateman, kindergarten reading; Abigail Williams, kindergarten math; Grace Coleman, first grade reading; Annaleigh Hester, first grade math; Naomi Young, second grade reading; and Trenton McClendon, second grade math.
WOW and Extra Mile Awards Per monthly practice, certified and classified staff members were recognized through the WOW and Extra Mile Awards, which are nominated monthly by staff members. The Extra Mile Award, which is given to teachers and administrators who are making a positive contribution to Toombs County Schools by going above and beyond what is expected of them, was presented to Toombs County Middle School Band Teacher Morgan Brantley and Toombs County High School Chorus Teacher Matthew Kersey. Brantley and Kersey were recognized by the Board for their willingness to volunteer to take over the responsibilities and classes of the middle school chorus teacher, who retired unexpectedly.
The WOW Award, which honors classified staff members who display exceptional service and dedication to the school system, was awarded to Toombs Central Elementary School Early Literacy Paraprofessional Jammie Dykes. The Board honored Dykes with this award for her diligent work to help students succeed, team player attitude, and willingness to help wherever needed.
Additional Security Measure Approval
Personnel
Board members approved moving forward with a plan to upgrade door access control systems at each school, which would link the system with the security cameras and the Centegenix alert badges. This project continues to be developed, and the Toombs County Schools administrators have ensured the public will be updated upon finalization of the details with the development.
Several personnel decisions were also made during the meeting, which included determination of which teachers and staff will receive extended-day salary compensation. Those employees are: Phillip Morris, Wesley Bratton, Melanie Hart, Brad Braddy, Christi Gillis, Jodi Foster, Kim Arnold, Melissa Batton, Hayne Brant, Meredith Brodnax, Keitha Broomfield, Kendrick Dixon, Jared Goodwin, Katie Goodwin, Marilyn Grantham, Michael Hart, Charlie Hartley, Kasey Jackson, Brad Jeffcoat, Matthew Kersey, Chasity Knight, Nicole McDaniel, Don Mims, Heather Moore, Angie O'Connor, Suzanne Smith, and Peggy Snow. Nanci Solarzano was approved as a Toombs County Middle School (TCMS) teacher, while the retirement of TCMS Teacher Jodi Foster was accepted. The following recommendations were approved for classified positions: bus driver Jessica Soles; Toombs County High School (TCHS) School Food Nutrition workers Amber Wise, Meagan Hayes, and Christine Shivers; Toombs County groundskeeper Kyelle Harvey. Resignations were accepted for Lyons Upper Elementary School paraprofessional Marsha Copeland and Toombs County groundskeeper Cody VerSluis. Toombs Central Elementary School Nutrition employee Haley Denmark was promoted to the School Food Nutrition Assistant Manager position at that school.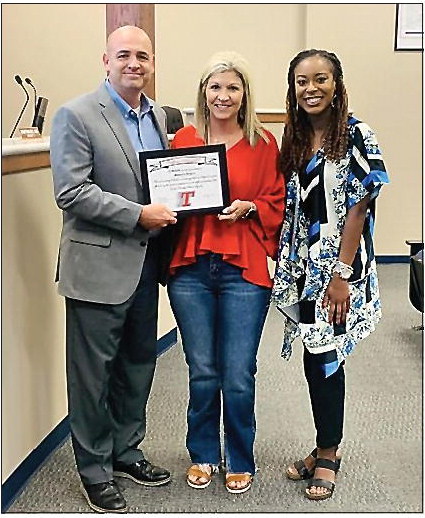 WOW AWARD — The monthly WOW Award was presented to Toombs Central Elementary School (TCES) Early Literacy paraprofessional Jammie Dykes for her dedication to students' success, team player attitude, and willingness to lend a hand. L to R: Superintendent Barry Waller, Dykes, and TCES Principal Destiny Levant.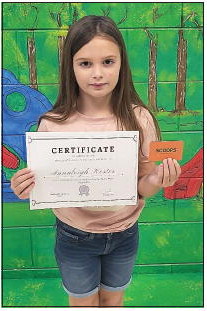 Annaleigh Hester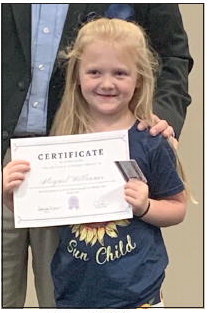 Abigail Williams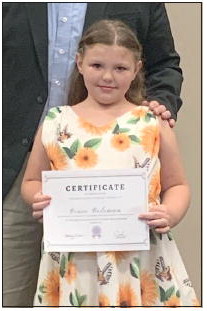 Grace Coleman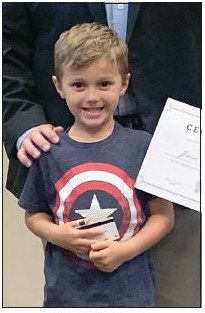 Jase Bateman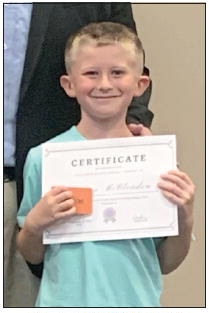 Trenton McClendon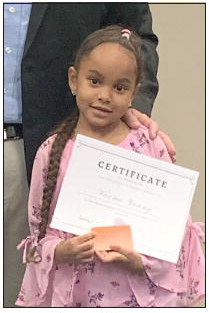 Naomi Young