Posted on
Firefighters Rescue
Driver in Fiery Crash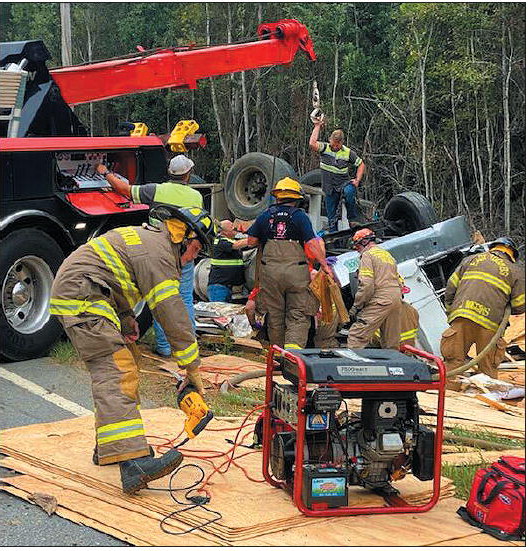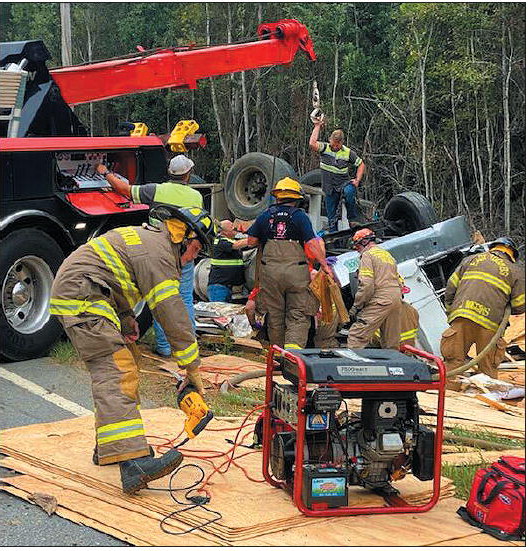 mrandolphadvance@gmail.com
Toombs County Firefighters successfully saved a semi- truck driver from an impending inferno as his truck caught fire after an accident on Georgia State Route 130 last Friday. During the late afternoon of September 9, an 18-wheeler left the roadway and flipped over before coming to rest in a ditch adjacent to the roadway. The driver the vehicle, who has not been named by law enforcement, was trapped inside the wreckage and had to be extricated by the Toombs County Fire Department using "the jaws of life" and other resources to free the victim. Toombs County and Vidalia Fire Department Captain Robert Tillman praised the unity between several local law enforcement and emergency services agencies. "When the call came out, I called Firefighter Ray Mc-Donald, who lives in Petross, to go straight to the scene and assess the situation so that we knew what we were dealing with," Tillman explained. "Firefighter McDonald immediately recognized that the driver was trapped underneath the truck and that we were going to need a lot of resources."
Tillman said that after hearing this information, he contacted Lieutenant Jonas Blackwell to bring several fire trucks and extrication equipment to the scene. Upon arrival, Tillman realized how difficult the rescue would be. Power was still connected to the truck, which was leaking diesel fuel, and the frame was upside down and weighted in a difficult position to connect continued from page
to for removal. "We immediately stationed a guy on the ground in full gear, so that if anything happened, he could react and wet everything down," Tillman said. "I was looking at the wreckage and it hit me that I needed Cooper's Towing that was nearby." According to Tillman, this realization that a tow truck was needed for the rescue came from his knowledge of emergency responders using wreckers to lift things in a television show, "Heavy Rescue." The firefighters requested help from Cooper's and continued checking on the trapped victim until the truck arrived. Upon arrival, the tow truck lifted the truck slowly, so that firefighters and other responders could make small adjustments to ensure the victim's safety, such as cutting the hood off the truck to prevent any further harm to the driver. "We lifted it just high enough to go in and grab the victim, but when we got it up just enough, the truck caught fire," Tillman recounted. "We had one team of firefighters extinguishing the flames and another working to get the victim out. All I could think was, 'I'm not leaving my patient to die and burn to death.'" The group worked together and pulled the man to safety. Tillman praised the work of the team. "Not once did they flinch or run when things got tough. They stayed and did what they were trained to do," he remarked.
Toombs- Montgomery Emergency Medical Services (EMS), Toombs County Fire Department, Cooper's Towing and Recovery, Montgomery State Prison Fire Department, Montgomery County Sheriff's Office, and the Toombs County Sheriff's Office are all among the agencies that responded to the incident. Firefighters Wesley Ward, Josh Dixon, Jeff Blount, Bobby Arnold, Ray McDonald, and Captain Robert Tillman, along with others, were also instrumental in the recovery of the driver.
"We were working in unison," Tillman explained. "I gave a command to my guys, and they followed it completely. The surrounding counties and agencies did not hesitate to bring help to stop traffic and make sure we had everything we needed to complete the task. That kind of local togetherness is such an awesome thing and we are very grateful."
Tillman added, "I do believe without Cooper's Towing, it would have taken us four times as long to complete the rescue, and probably would have been a completely different outcome."
Tillman said that the danger and intensity of this situation is not uncommon to the firefighters. " We were all at home with our families, and responded when we heard the call. That's not out of the ordinary. Often, we receive calls and leave from our homes not knowing if our families will ever see us again. Arriving to the scene and seeing smoke and flames as the truck teeters, knowing that you can't leave the patient, but not knowing if you'll survive, it takes courage. I'm proud of our guys and their willingness to serve and do whatever necessary to help others." The driver of the truck was transported to Memorial Health Meadows Hospital before later being transferred to Augusta Medical Center, where he is currently recovering from a fractured pelvis and several lacerations. Georgia State Patrol is continuing to investigate the accident.