Posted on
String of Burglaries Strikes Area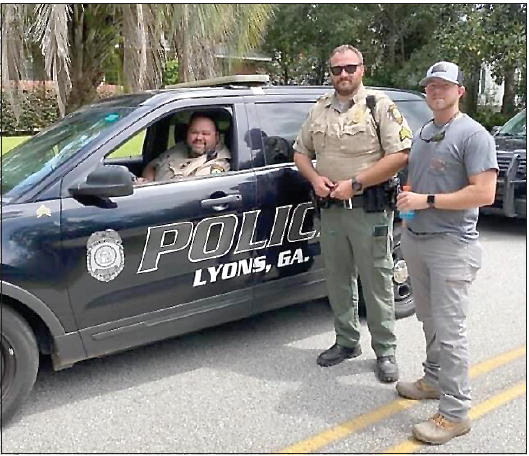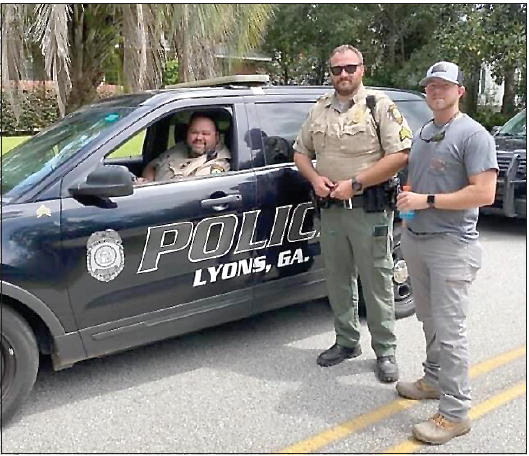 mrandolphadvance@gmail.com
Citizens of Vidalia and Lyons are being encouraged to lock their cars at night as a series of burglaries and suspicious activity have plagued the area. Lyons Police Chief Wesley Walker reported there have been four vehicles, most of which were located on the eastern side of the city, that have been broken into since Wednesday, August 17. "I want to remind the community to not leave valuables in their vehicles and to always lock their doors," he remarked.
The criminal activity continued on Sunday night, as thieves broke into multiple houses and vehicles throughout neighborhoods in Lyons. Walker said officers immediately responded to the issue and had the two juvenile suspects, a 16-year-old and a 17-yearold, in custody by Monday evening. "With the help of the public through social media, we were able to locate the suspects and take them into custody quickly," he explained. "This is a great example of how law enforcement needs the help of the community to do their jobs. I would like to personally thank all those that helped out, as the community's help led to a speedy resolution in this case."
Downtown Vidalia has seen an uptick in burglaries as well, as many business owners report suspicious activity and break-ins. The Mortgage Firm Vidalia Branch Manager Melissa Hightower said that her office, located on Jackson Street, was broken into on Sunday, August 14. Hightower said there appeared to be no major damage, as the thieves merely rummaged through the contents of the building and took a single television.
The Sound Solution II, located at 202 East 1st Street, was robbed a week later, early Monday morning, August 22. The Vidalia Police Department was able to pull footage from the business's security cameras to gain images of the criminals, and is currently seeking the public's help in their identification. In the footage, two men can be seen repeatedly hitting the door until it shattered, allowing them access into the building. The business owner said his cameras caught the event around 2:54 a.m. on Monday night, and that upon the suspects' attempt to enter the merchandise area of the store, the motion sensor alarm scared them into fleeing without taking anything. "It bothers me knowing they did this for absolutely nothing," business owner Alex Shokoh- Alai said. "They did not get anything. But they cost me money and time. I had to come over to the shop that morning and stay until the guy could come to fix the door. It was a huge aggravation." Shokoh-Alai commended police for their quick arrival, which he estimates to have been around 4 minutes, and hopes that the individuals will be caught soon. His advice was simple for fellow business owners in the area. "Be prepared. Get some cameras and security because it will happen to you, too," he remarked. "I didn't think it would happen here, but it did." According to Downtown Business Owner Carla Carpenter, suspicious activity is also continuing to occur on Jackson Street in Vidalia, as she said her business's security cameras have recorded suspicious activity, specifically trespassing and masked individuals with bags. Carpenter took to social media to share this information with friends and other locals within the area. "I've been a victim of burglary before, and I learned then that if you see something, you need to say something," she commented.
Other downtown businesses continue to report break-ins and burglaries, as the events continue daily.
Vidalia Police Chief James Jermon said the Vidalia Police Department has been working tirelessly to catch these criminals. "We've truly been doing old-fashioned police work," he commented. "We haven't had as much of the public's help in these cases, so we've had to work hard to identify these individuals. Our efforts are working, though as we are currently obtaining warrants for several suspects."
Jermon advised the public to remain vigilant and to take measures to try to prevent theft and burglaries. He said that actions such as making sure doors are locked, securing all keys, avoiding pile-ups of mail, and removing valuables from under carports can deter criminals. "They are mainly seeking anything they can pawn to get money," he said. "If the items are hard to get to or they believe someone is home, that will help to discourage them from violating."
public for their help in identifying two juveniles who were breaking into cars within the city, as the suspects were captured within a day of the crime. Here, a victim of one of the car break-ins poses with the officers who helped to capture the violators. L to R: Officer Ben Glosson, Sergeant Chris Morrison, and John Luke Edenfield.