Posted on
Congressman Tours New Wheeler School
Construction in Last Stages; Classes Start September 6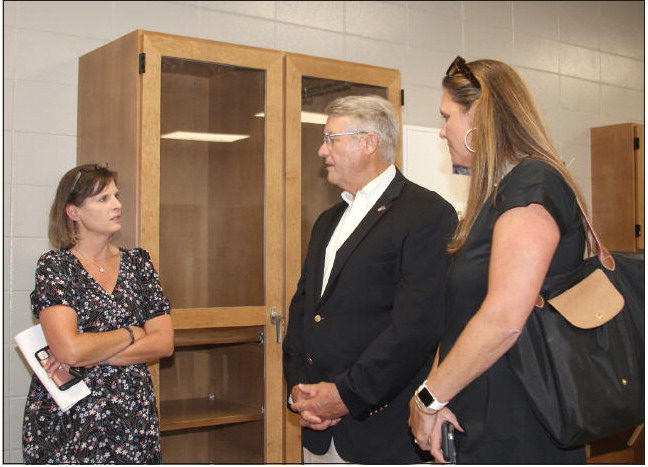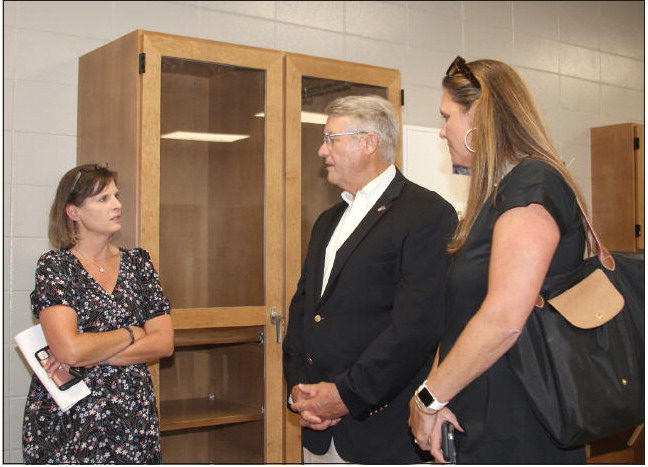 Congressman Rick Allen (R-12) stopped in Alamo last week to visit the new Wheeler County School that will open its doors to students on September 6. Construction crews have been working diligently through the hot days of summer to finish the building so that teachers, principals, office and food service staff, can soon come inside to prepare for the first day of school.
The two-story building will house pre-K through 12th grade students, and it features a cutting edge design and the latest technology to ensure safety and a learning environment on par with the best schools in the state.
Allen, who toured the structure with some of his staff members, was impressed with what he saw — both in terms of the building and in the work ethic displayed by the construction crew. As he observed workers laying the terrazzo tile in the building's foyer and expertly tapping into place the oak floor in the gymnasium, the Congressman said he liked seeing people at work, and that it was obvious these skilled craftsmen took pride in their tasks.
Referencing the carpenter's progress on the gym floor, Allen observed, "He's flying through his work. He knows what he is doing. He is very skilled." Allen said that when he talked to some of the construction crew, he discovered that many were construction managers. "They went to tech school and now own their own companies. Entrepreneurs like them are the lifeblood of our economy." On his web page, the Congressman notes, "Before the COVID-19 pandemic hit, we had the greatest economy in the world. I firmly believe that we must expand our skilled workforce to get our economy back to prepandemic prosperity. There is no doubt skilled workers will play a key role in economic recovery, and ensuring our future workforce is equipped with the right education and training to meet workforce needs is essential."
As a small business owner in the construction industry for about 40 years, the Congressman has experienced firsthand how difficult it can be to find skilled and qualified workers.
He supported the Strengthening Career and Technical Education (CTE) for the 21st Century Act that was signed into law in 2018. He noted that this law "helps to change the narrative that a four-year college degree is the best option for all of our students. This bill bolsters Americans who wish to pursue different paths, such as career and technical programs, which are leading to some of the most in-demand and highpaying jobs available today."
He added, "This legislation has already begun to bridge the gap between our business and education communities, and is leading to a renewed sense of optimism that we will see for years to come in our workforce.
The Congressman is a senior member of the House Education and Labor Committee and is the ranking member on the Health, Employment, Pension and Labor Subcommittee. This subcommittee addresses a variety of issues ranging from early childhood programs like Head Start, to career and technical education, to school safety. He has also served on the House Subcommittee on Early Childhood, Elementary, and Secondary Education.
Congressman Allen acknowledged that technical schools are a great option for many high school graduates because college is not a good fit for everyone, but regardless of higher education and career paths, building a solid educational foundation from a child's first day in the classroom is essential.
He observed, "The thing that bothers me the most is the graduation rate. If students are not reading at third grade level when they finish the third grade, they are probably not going to graduate from high school. In this country, as vast as it is, how in the world can we have children reading at third grade level when they finish the fifth grade?"
Representative Allen said of the new school in Alamo. "It's beautiful. I love the design. It's a great idea to consolidate (classes) because the cost of educating a child has doubled in the last 20 years." Ironically, teachers' salaries have not increased commensurately.
"We need to recruit teachers and I understand the issues with that," Allen said of the teacher shortage. While salaries are a big part of the problem, keeping up with reports mandated by the federal government is another. "We passed the "Every Student Succeeds Act," and we were able to get some of the compliance issues removed to allow teachers to teach rather than deal with an overload of information that creates barriers to getting the job done. "
Representative Allen noted, "If you look at what this country spends on education and where we are ranked in the world, we are not getting all of the bang for our dollar. We have got to complete with the rest of the world. We have to up our game because there is global competition for talent." He concluded, "We've got to solve education problems in this country. We have to find out what motivates each child and start early."
He pointed out that the Republicans on the House Education and Labor Committee developed a vision for the future of higher education. "Our vision is aimed at simplifying and improving student aid, promoting access to postsecondary education, empowering students to make informed decisions by strengthening transparency, and limiting the role of the federal government by reducing bureaucratic red tape."
Closing in on Completion The new school is 95% complete, said Superintendent Suzanne Couey who has been making four or five trips a day from her office in Alamo to the new school in the final stages of construction to oversee the delivery of furniture and supplies ahead of opening day. She is confident that students will be able to start on September 6 as planned, although some finishing work will still need to be completed after school hours. "They say they can do it and I believe them," Couey remarked about the JCI construction crews overseen by project manager J.C. Guyton. She has not been disappointed so far with the company's ability to deliver, despite some unforeseen setbacks early in the project like the removal of an old, previously undetected foundation, supply chain issues, and inclement weather that delayed site preparation.
While teachers will be in meetings at the system's Old Elementary School two weeks prior to the opening date, they will be given the final week before school opens to arrange their new classrooms. Landscaping will continue after September 6 as the school's playground and courtyards are completed.
The $36 million, 167, 264-square-foot school is being built with a state grant and proceeds from a special local option sales tax. It is the third school being built on the hilly site overlooking the county seat of Alamo.
"We are excited to welcome our students back and anxious to open the school to our community. Unfortunately, we will not be able to hold a dedication ceremony or public open house before school starts because finishing details will not be compete," Couey said.
She noted that the system is planning to hold meetings on September 1 and 2 for parents and students to explore the building and learn about safety plans and new procedures. "We will definitely let the community know when the open house/dedication is scheduled because we are proud of our beautiful building and hope everyone else will be, too."